08-24-2016 14:00
The NFL's TOP MUDDERS for 2016
by Will Strome, Columnist, NFLWeather.com | 08-24-2016 14:00
1. Eddie Lacy, Green Bay Packers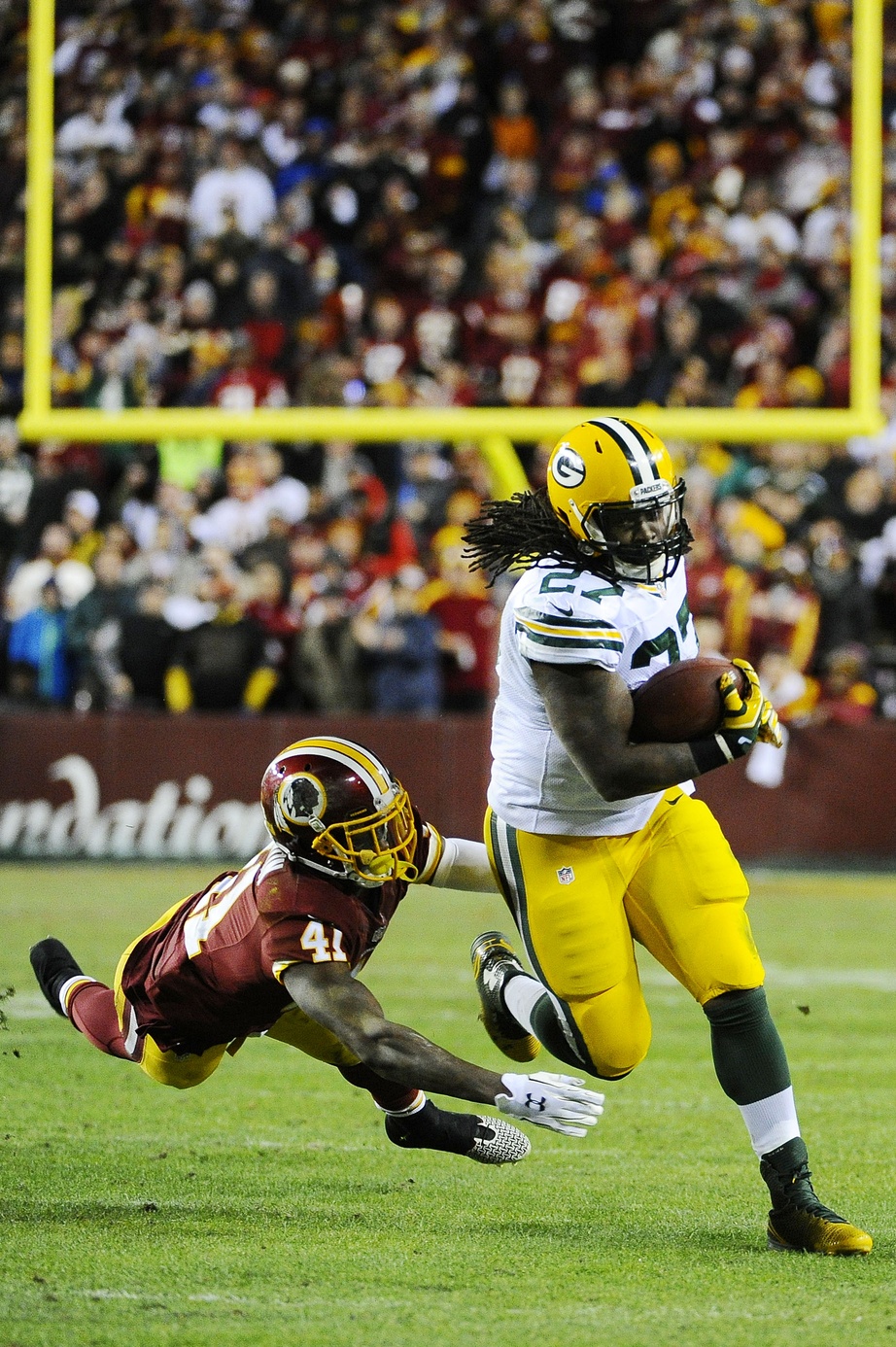 Eddie Lacy. Photo courtesy of USA Today.
Spearheading the punishing Packers' ground game is former Heisman Trophy winner Eddie Lacy. Entering his fourth season, Lacy has established himself as the ideal short-yardage and goal line rusher in the NFL…when he's healthy, that is. Despite battling nagging injuries, Lacy still averaged over 4.0 yards per carry in 2015 but only found the end zone three times, a career-low.
But in poor weather match-ups when Lacy is healthy, Lacy is a battering ram. In six career weather-impacted match-ups, he's rushed for 593 yards on 114 touches and seven touchdowns. Last year alone in a pair of rain games, the former University of Alabama running back averaged over 114 yards on 20 carries per game (roughly 5.7 yards per carry). Green Bay is 3-0 in poor weather when Lacy doesn't cough up the pill.
Eddie Lacy will likely have a handful of weather-impacted match-ups to look forward to this season with three December home games at the frozen tundra of Lambeau Field, a trip to Chicago in mid-December, and if hurricane season hits Florida in early September, know that Green Bay opens the season at Jacksonville. According to NFLWeather.com, Green Bay has hosted six poor weather games since 2012. For 2016, Eddie Lacy leads the Pack and is #1 on NFLWeather.com's list of the NFL's Top Mudders.
2. Jamaal Charles, Kansas City Chiefs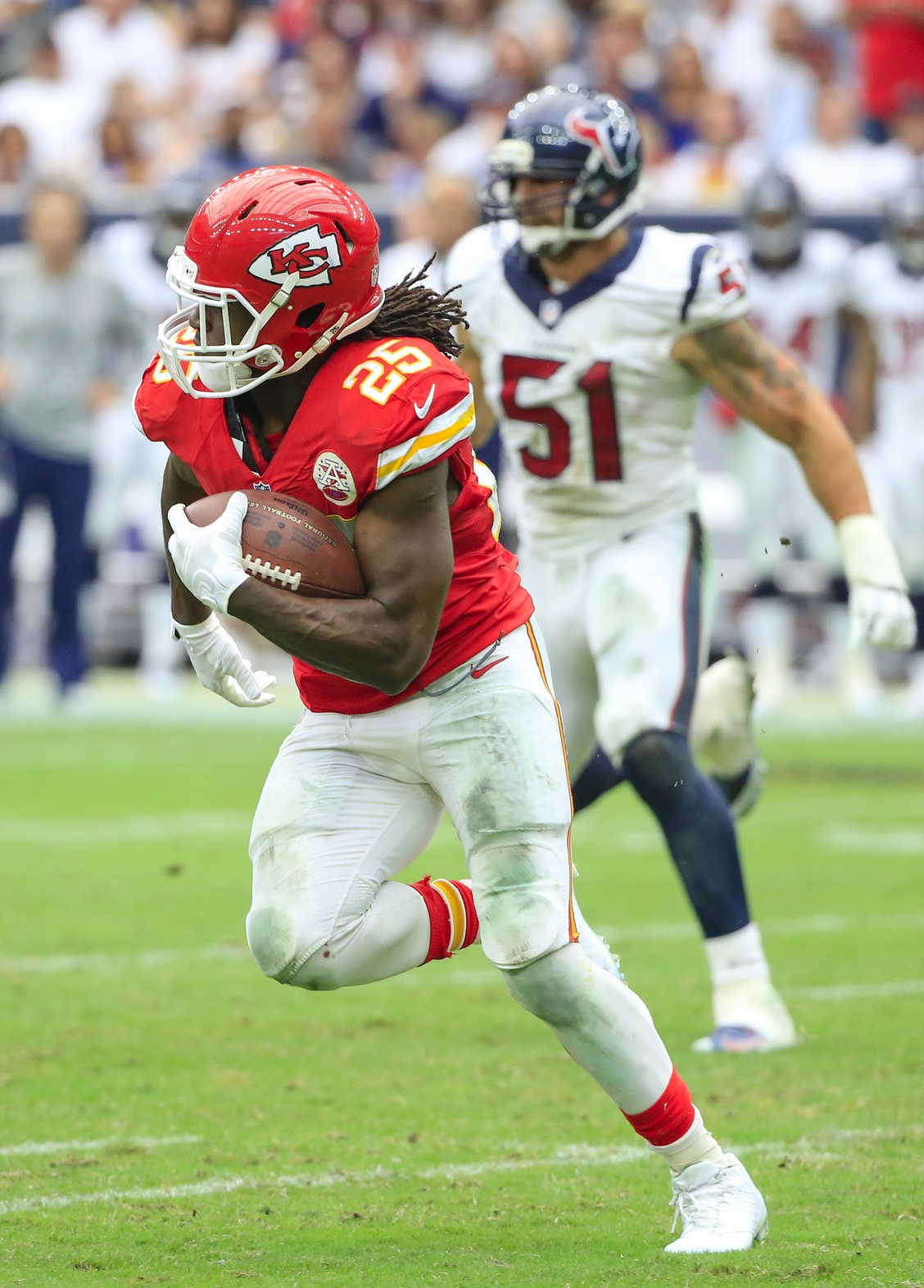 Jamaal Charles. Photo courtesy of USA Today.
Yet another top tier running back that can't seem to stay healthy for a full season, Jamaal Charles will continue to be the top ball carrier in Andy Reid's rushing attack. However for the first time in a long time, he'll have some competition from Charcandrick West and Spencer Ware, who shined in damp and dreary weather conditions during Charles' absence last season.
Heading into 2015, Charles was arguably the best all-purpose rusher in the rain, averaging roughly 6.6 yards per carry when the weather took a turn for the worse. But a groin injury last season allowed West and Ware to platoon at RB in KC's pair of weather-impacted matchups. With Charles sidelined for both rain games, West and Ware combined for 220 yards on 37 touches (almost 6.0 ypc) and zero fumbles.
With the versatility of weapons in the KC backfield, it's no surprise that the Chiefs had the sixth-best rushing attack in the league and were tied with Carolina and Buffalo for most rushing TD's in 2015. According to the NFLWeather.com Historical Analytics, Kansas City has averaged at least two poor weather match-ups a season. That trend should continue with a trio of December home games and a late-November divisional matchup at Mile High Stadium in Denver.
3. Latavius Murray, Oakland Raiders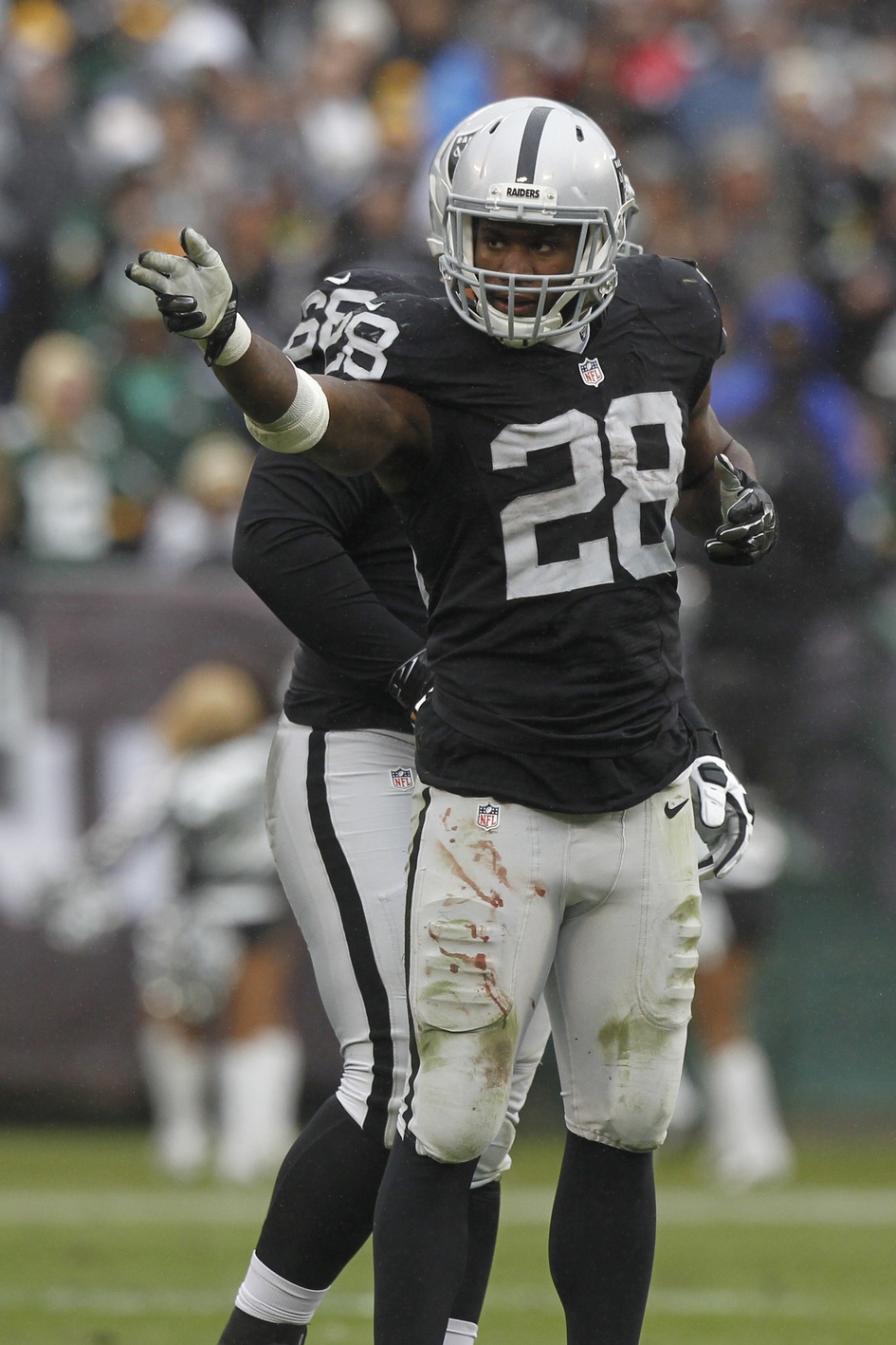 Latavius Murray. Photo courtesy of USA Today.
Despite only competing in three career weather-related games, the former sixth-round draft pick has already asserted himself as a premier back in lousy weather. Murray had the third-most carries in the league last season for the Raiders, 266, and the team has already indicated in multiple press conference interviews that that number could easily rise this season. So when Oakland gets hit with a gameday downpour, Murray will be the go-to option both early and often.
In his last two weather-impacted games, not only are the Raiders 2-0, but, Murray racked up 166 yards on only 26 carries (almost 6.4 ypc) and two touchdowns. One thing that Murray doesn't have, that most other RB's on this list do have, is experienced and reliable depth behind him (Marcel Reece is suspended for first three games of this season). With this being the case, Murray will absolutely dominate the workload and when conditions heavily damper the passing game, he'll be relied upon even more so in all offensive situations. With a road game against the Broncos slated for New Year's Day in Denver, hopefully we'll see what he can do in the snow as well. In 2016, Latavius Murray jumps up to #3 on our list of the NFL's Top Mudders.
4. Matt Forte, New York Jets
A staple in the Chicago offense for almost a decade, Matt Forte has finally moved from the Windy City, landing in the Big Apple. Both the Bears and Jets were top-10 teams in the league in '15 in rushing attempts so he's basically transitioning from one run-heavy scheme to another. Despite missing a handful of games last season due to injury, Forte still accumulated over 200 carries for the eighth consecutive season, making him an ideal lead back for New York's weakened rushing attack, following the departure of Chris Ivory.
Over the last three seasons, the 30-year-old veteran has featured in five weather-impacted matchups with the Bears posting a 5-0 record. Since 2013, Forte has rushed for 467 yards on 107 carries and two TD's in those games.
According to NFLWeather.com, the Jets have played in five weather impacted games since 2012 meaning there's a great chance he'll partake in a snow or rain game at some point in '16. The Jets travel to Buffalo on New Year's Day (last year the heavy snow in upstate New York forced the league to move this matchup to Detroit) and head to New England the week prior. The Jets host the Patriots at 8:30pm in late November and Indianapolis the following week for another frigid primetime kickoff.
5. Todd Gurley, Los Angeles Rams
A wildcard to make the list, having played all his home games in a dome last season, but the second-year star out of Georgia really made a case for himself last season in the rain against the league's top rushing defense. At Seattle, in a downpour during his rookie season, Gurley rushed for 85 yards on 19 carries and a touchdown against the Legion of Boom who didn't allow a single 100-yard rusher during the regular season. The statistics might not seem like much, but any back that averages over 4.0 ypc against that particular front seven is genuinely impressive.
Gurley is in an ideal situation with the Rams right now, a team that ranked seventh in rushing a year ago. Even though last year was his rookie campaign, the Rams turned Gurley into a workhorse as he finished the season ninth in the league in touches, 229. With first overall-pick Jared Goff likely to take over the reins at some point this season, there's no reason why Gurley won't see even more touches than the year before to alleviate the pressure on the rookie QB.
While Los Angeles weather updates often consist of smog reports, Gurley will get plenty of opportunities to showcase himself in weather related games this season. A cross country trip to New England in early-December and followed by a visit to rainy Seattle two weeks later. places Todd Gurley at #5 on NFLWeather.com's list of the NFL's Top Mudders.