09-29-2012 11:00
Wet Weather to Help Jaguars Defend Against Bengals
by Will Strome - Columnist, NFLWeather.com | 09-29-2012 11:00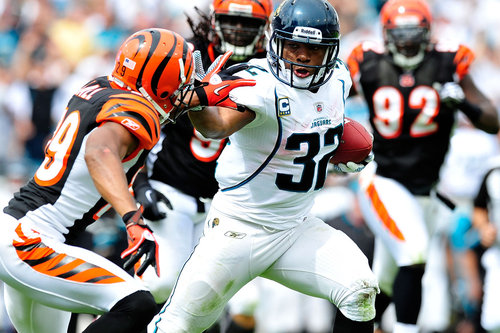 When the Bengals head south to take on the Jaguars, NFLWeather.com reports a 40% chance of rain with the potential for late thunderstorms. Furthermore, a high just shy of 90 will make for an extremely muggy afternoon.
To few fans surprise, A.J. Green has transformed into one of the premier receivers in the league. Those unfamiliar with his collegiate work at Georgia are now blown away by his explosiveness and sheer athleticism across the field. Speed, size, agility and soft hands; the kid has it all. And if the rain doesn't, Jacksonville will desperately need to shut him down on Sunday. A slippery and muddy grass surface inside EverBank Field just might be enough to slow down some of the weapons in Cincinnati's new and improving offensive arsenal.
Andy Dalton has more than just one option to turn to and second-year man out of Toledo Andrew Hawkins has filled the void left by Jerome Simpson. Hawkins has 12 receptions for 208 yards and two touchdowns but only two catches in each of his last two games. Jacksonville (1-2) will do everything possible to shut down Green so Dalton will look to Hawkins and tight end Jermaine Greshman to be more of a presence in the passing game. But will the Floridian rains have an impact on Cincinnati's play calling?
Unfortunately for the visitors the rain seems to be an ally for the Jags at home. A 2-0 rain record since 2010 including a 41-14 trouncing of the Tampa Bay Buccaneers a year ago. Blaine Gabbert's first outing in the rain ended with a win over their cross state rivals and a 217 passing yard performance including a pair of touchdowns and interceptions. The Bengals (2-1) on the other hand have lost their last two rain games on the road and Dalton has yet to play in stormy weather away from home. But last season when the Bengals hosted the Browns on a rainy Ohio day Dalton threw for 270 yards and a touchdown and most importantly, zero picks en route to a 23-20 win capped by a game winning fourth quarter drive.
Jacksonville needs to apply pressure and limit Dalton's time in the pocket. The Bengals rank eighth in yards per game (391.7) and fourth in passing (291) and still manage to grind out just over 100 yards rushing. It's a versatile offense against a Jags defense that gives up over 400 yards per game. The best way for the Jags to prevent the Bengals from torching their defense is to simply keep it off the field.
Despite having an offense that averages an AFC-worst 17.3 points per game, Jacksonville averages over 120 rushing yards per game and 4.5 yards per carry. Maurice Jones-Drew is playing like his old self again, averaging 5.3 yards a carry and fought for 314 yards and touchdown as the Jags offensive workhorse. And what better a scenario than all MJD show, grinding it out in the mud against the second-worst rushing defense in the NFL with 155 yards allowed per game. Given the rain and a recovering Laurent Robinson (probable, concussion), the Jags will limit Gabbert's attempts to avoid turnovers so MJD will be the primary focal point of the offense. But that doesn't mean Gabbert can't make his own success through the air. If MJD starts doing some damage, the play action fake could burn the Bengals big time.
Not many people are expecting much out of Jacksonville this season but a watered down secondary and a rainy afternoon could be the recipe for success. Both teams have strengths in their offenses but mammoth holes in their defenses. Both teams have experienced kickers with substantial boots. The real question ultimately comes down to which sophomore quarterback will rise up and take control of this one? If Jacksonville can't capitalize on the field conditions, Cincinnati will very quietly be sitting right next to the Baltimore Ravens atop the AFC North with a 3-1 record.