11-28-2015 12:00
RIVALRY WEEKEND: GIANTS vs. REDSKINS
by Will Strome, Columnist, NFLWeather.com | 11-28-2015 12:00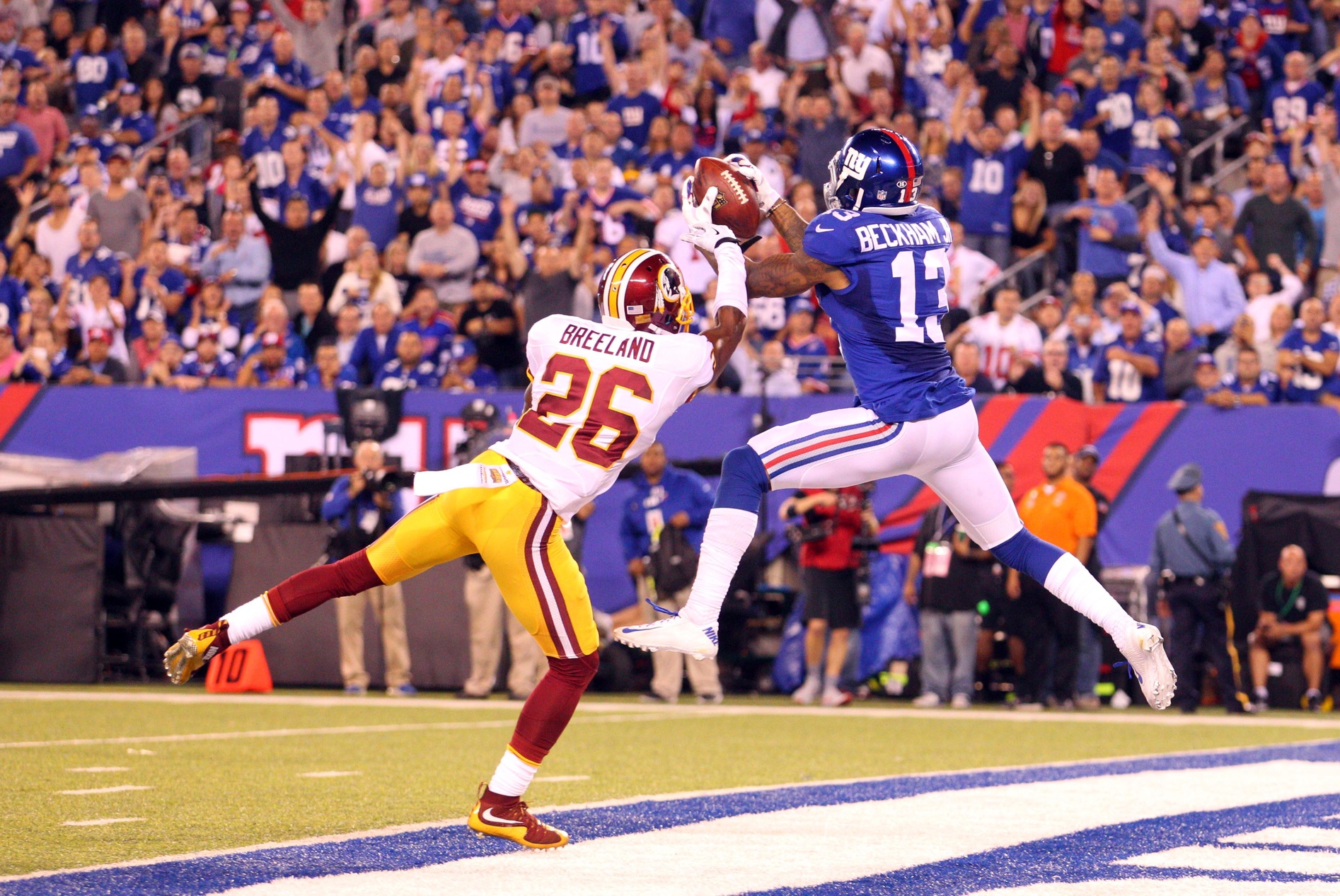 Odell Beckham Jr | Bashaud Breeland. Photo courtesy of USA Today.
The NFC East has been chalked-full of sloppy play all season and with poor weather in the forecast for Sunday's divisional bout between the Washington Redskins and New York Giants, it's safe to say little will change when rains roll through the Chesapeake.
According to NFLWeather.com, temperatures will be in the mid to low-50s with a 5mph wind that shouldn't be a factor. A drizzle could potentially turn to showers which could be trouble for FedEx Field's grass surface. The playing surface is notorious for draining very poorly so even if the rains hit Saturday or early Sunday, the field could be an absolute mess. Thankfully both sides have prepped for rain on a handful of occasions already this season.
In an interview with the Redskins ESPN Blog back when Hurricane Joaquin was rolling through the east coast, head coach Jay Gruden was quoted telling reporters: "I want to see the quarterbacks throw a wet ball, just see how we handled it in general," Gruden told reporters. "It could be a lot worse out there on Sunday. It may not rain at all, we don't know yet. I thought it was beneficial to all our guys. It was good to see our quarterbacks throw it and our receivers catch it in the rain."
Washington (4-6) last hosted a regular season rain game in 2013 and was promptly spanked by the Kansas City Chiefs, 45-10. The 'Skins couldn't establish any sort of ground game with a committee of running backs totaling 65 yards on only 17 touches.
According to NFLWeather.com Historical Analytics, Washington is 0-3 since 2011 in weather related games with a rushing attack that failed to eclipse 100 yards in each loss. Offensively, the 'Skins have stuck to a one-two RB punch with Matt Jones and Alfred Morris but a banged-up Morris could mean a heavy dose of carries for Jones who averages one fumble every two games. While the 'Skins offense can't run the ball for the life of them in the rain, it doesn't help that the defense regularly surrenders on average over 150 yards per game and a touchdown.
New York (5-5) has regularly played in at least two weather-impacted games a since 2012, posting a 5-4 record overall with four wins in their last six matchups. One Giants victory in poor weather was a soggy 20-6 win over Washington to close out the 2013 regular season. The NY front lines paved the way for Jerrel Jernigan, Peyton Hillis, Andre Brown and Curtis Painter to rack up 122 yards on 35 touches and a score. Eli Manning finished the afternoon completing 10 of 24 attempts for 152 yards, one TD and one pick.
Against New York, the Washington offense was nonexistent. Kirk Cousins played in his lone professional rain game and finished the afternoon dropping back 49 times but only completing 19 of his attempts for 169 yards and a pair of picks. If Washington is forced to rely on Cousins, they're in major trouble. On the other hand, New York is a different story with Manning dropping back on average over 35 times per game in the rain.
Even though both teams have a dangerous aerial attack heading into week 12, whoever can control the clock and run the ball with the most ease will be sitting atop the NFC East on Monday. New York is 5-0 in the rain when the running backs get 20 touches or more so if the Washington defense fails to step up and subdue the Giants ground game, it looks like we will finally have a team with a winning record in the NFC East.