12-05-2015 08:00
Wash-out Expected for Dolphins & Ravens Play-In Game
by Will Strome, Columnist, NFLWeather.com | 12-05-2015 08:00
It's a make or break matchup for both the Miami Dolphins and Baltimore Ravens when the two wildcard hopefuls go head-to-head in a soggy Sun Life Stadium on Sunday. Despite firing head coach Joe Philbin weeks ago, Miami's wildcard hopes are, surprisingly, very much alive. What's not surprising are the Floridian rain storms expected to hit south Florida all weekend, just in time for a pivotal matchup against the Ravens on the exact same "in the hunt" boat as the 'Phins.
According to NFLWeather.com, 20 mph winds will be swirling around the grass surface stadium with light rains rolling through south Florida. Thunderstorms are expected to hit the area on Friday and Saturday so the grass surface should be an absolute disaster.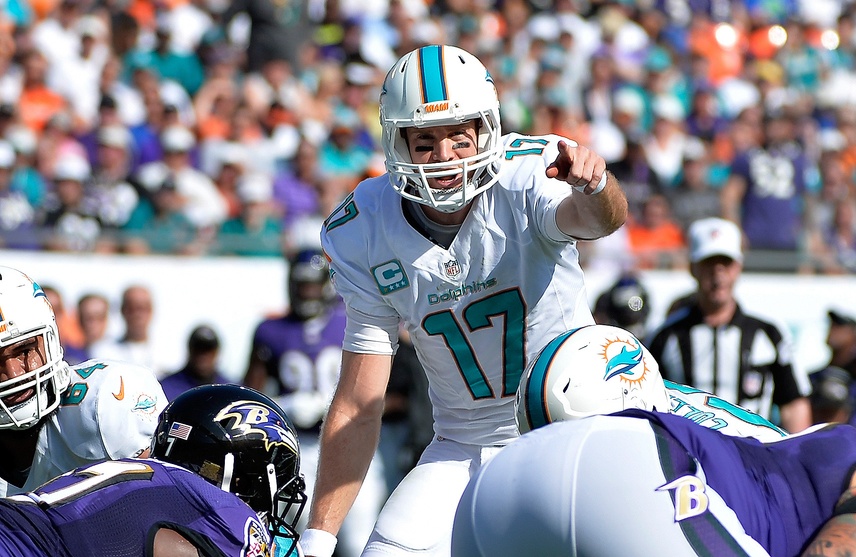 Ryan Tannehill. Photo courtesy of USA Today.
But this is all familiar territory for a Dolphins side that has expected and had to prep for rain prior to a handful of their regular season matchups thus far. Miami (4-7) has played in three weather-related games this season and almost had a fourth when east coast rain storms narrowly avoided the team's divisional matchup in New York against the Jets.
This season alone, Miami is 1-2 in the rain and a dismal 1-5 since 2012. It's glaringly apparent that the Dolphins struggle to run the ball when Mother Nature takes a turn for the worse. In three games this season, Lamar Miller averages only 43 yards per game but has two rushing scores and caught a TD.
Ryan Tannehill hasn't exactly been stellar in rain games this season with two turnovers but he does a solid job of utilizing all of his offensive options. The top receiving option for Tannehill in the rain has changed from game to game which makes it very difficult for the defense to focus on one specific threat. Jarvis Landry is the most dangerous receiver but Rishard Matthews, Jordan Cameron and even Lamar Miller could see a lot of looks.
Baltimore (4-7) hasn't played in a weather impacted game since 2013 and only 1-2 in the rain since 2012. Poor weather certainly doesn't deter Baltimore from taking to the air but things could be very different on Sunday without starting QB Joe Flacco. In his three rain games, Flacco has averaged over 42 passing attempts but at least one interception in each outing. Former Viriginia Cavalier and Houston Texan Matt Schaub will be the starter for the second straight week.
In the rain, it's clear the Baltimore passing attack prefers tight ends over any other wide out target. In two of the three weather games, Dennis Pitta (injured all of 2015) has seen the most targets with a seven reception for 125 yards and two TD performance back in 2012 and six grabs for 48 yards and a score in 2013.
Like Miami, Baltimore struggles to establish the ground game. With Justin Forsett done for the year, the bulk of the carries will be going to straight to Javorious Allen who will be making his professional rain game debut. But if Baltimore can't get something going on the ground early, then the fate of Baltimore's potential postseason berth lies in the arm of Matt Schaub.