09-30-2015 00:00
Can Baltimore Weather The Steelers and Michael Vick?
by Will Strome, Columnist, NFLWeather.com | 09-30-2015 00:00
It's doubtful that a little rain in Pittsburgh on Thursday night will alleviate any animosity in this bitter rivalry when the Steelers host the winless Baltimore Ravens.
According to NFLWeather.com, Western PA is expecting an off and on drizzle with a high of around 53° and seven mph winds to the north come game time. Scattered showers will be rolling down from Buffalo, through the area prior to kickoff, and on to Washington D.C. so Heinz Field's typically worn down grass surface should be even worse on Thursday night.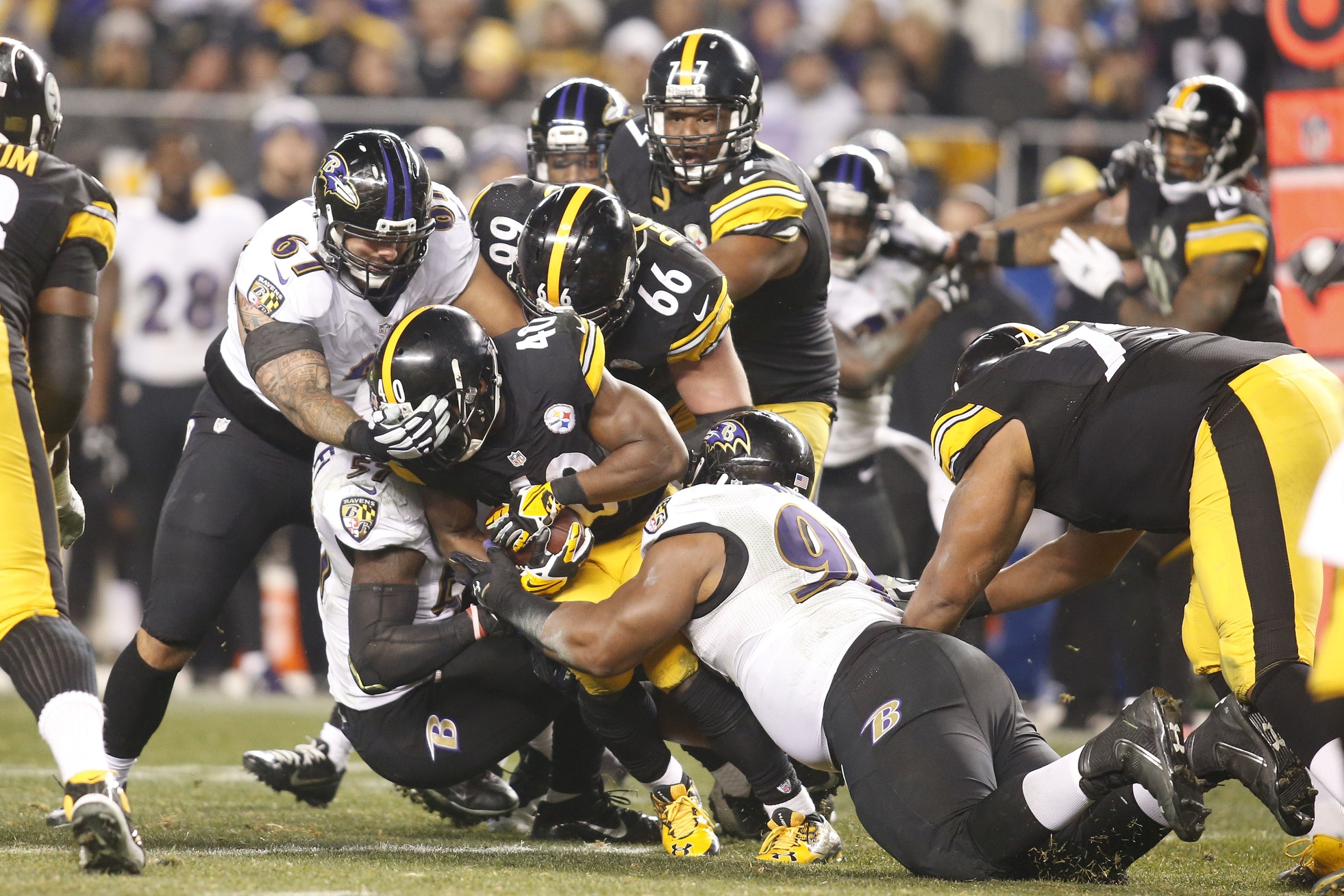 Ravens at Steelers. Photo courtesy of USA Today
Pittsburgh's already played one rain game this season and it went miserably. The opening regular season game of the NFL season saw last year's AFC North champions get downed in New England, 28-21, with kicker Josh Scobee missing two 40+ yard field goals and the Pats' passing attack dissecting the Pittsburgh secondary.
But, the Steelers (2-1) rebounded the following week and are typically a tough team to beat in weather-impacted games, posting an impressive 8-2 record since 2012 and 6-1 at home. When hosting in the rain, the Steelers offense averages almost 25 points per game.
However, it's hard to forecast the Steelers offensive game plan this week with Michael Vick lining up under center. According to USA Today Sports, Ben Roethlisberger will miss a few weeks after suffering a left knee injury during last week's 12-6 win at St. Louis. With Big Ben down, Vick is in but the veteran southpaw has been forced to fight through the natural elements a number of times since 2012.
In the rain, Vick is 2-3 over the last three seasons and his touchdown-to-interception ratio is a solid 5:1. In four of those five games, Vick dropped back 30 or more times and racked up over 190 yards in each. After watching Big Ben toss 38 attempts against the Pats in the rain, expect pass-heavy Pittsburgh to continue airing out the pigskin unless a heavy downpour looms. In which case, we know that Vick can run the ball.
The Baltimore Ravens (0-3) haven't played in a rain game since 2013 and are 1-2 over the last three seasons.
Baltimore, like Pittsburgh, clearly does not let Mother Nature dictate the offensive play calling. In a trio of rain games, Flacco dropped back 38 times or more and threw for over 245 yards. Despite those mouthwatering fantasy numbers, Flacco averages two turnovers a game.
One side of Flacco's game we can count on is his dependency on tight ends in poor weather matchups. In rain games, Flacco's tight ends average 11 targets a game so expect Crockett Gillmore to have a big night. If he's unable to play, rookie Maxx Williams will get the start against a defense that let Rob Gronkowski have a field day.
While both Pittsburgh and Baltimore favor the passing game, Le'Veon Bell and Justin Forsett will see the bulk of carries for their respective teams with Bell expected to catch a few balls out of the backfield. If Baltimore is going to land that elusive first win of the season, they'll need Forsett to establish himself by grinding out hard-earned yards in the mud and take some of the pressure off a shaky Flacco who's QBR of 46.5 is ranked 24th in the NFL.
While the weather forecast is changing daily, we know that Le'Veon Bell is in. Michael Vick is in, Ben Roethlisberger is out, and should they lose this week, the Baltimore Ravens are out.