01-20-2017 11:00
Game On: STEELERS TAKE ON PATRIOTS…Again!
by Will Strome, Columnist, NFLWeather.com | 01-20-2017 11:00
Both of these storied franchises have met in similar potential Super Bowl-bound circumstances before, twice since 2002, but never have the Patriots hosted the Steelers in a clash for the AFC title in Foxboro and in the previous two bouts, never was weather much of a factor. Well, it looks like the scenery and conditions have changed. Pittsburgh will head to New England for the AFC Conference Championship game on a chilly Sunday evening inside Gillette Stadium.
According to NFLWeather.com, game time temperatures will only top out in the mid-to-low 40's and most of the time it will feel 5-10 degrees colder than what the thermometer reads. Even though precipitation isn't expected around kickoff at 6:40 pm EST, there's a small chance once the temps drop in the second half that rain or flurries could fall from the overcast skies. As of Thursday, the forecast called for winds to max out around 10-12 mph, but who knows if winter conditions will worsen in Foxboro before Sunday.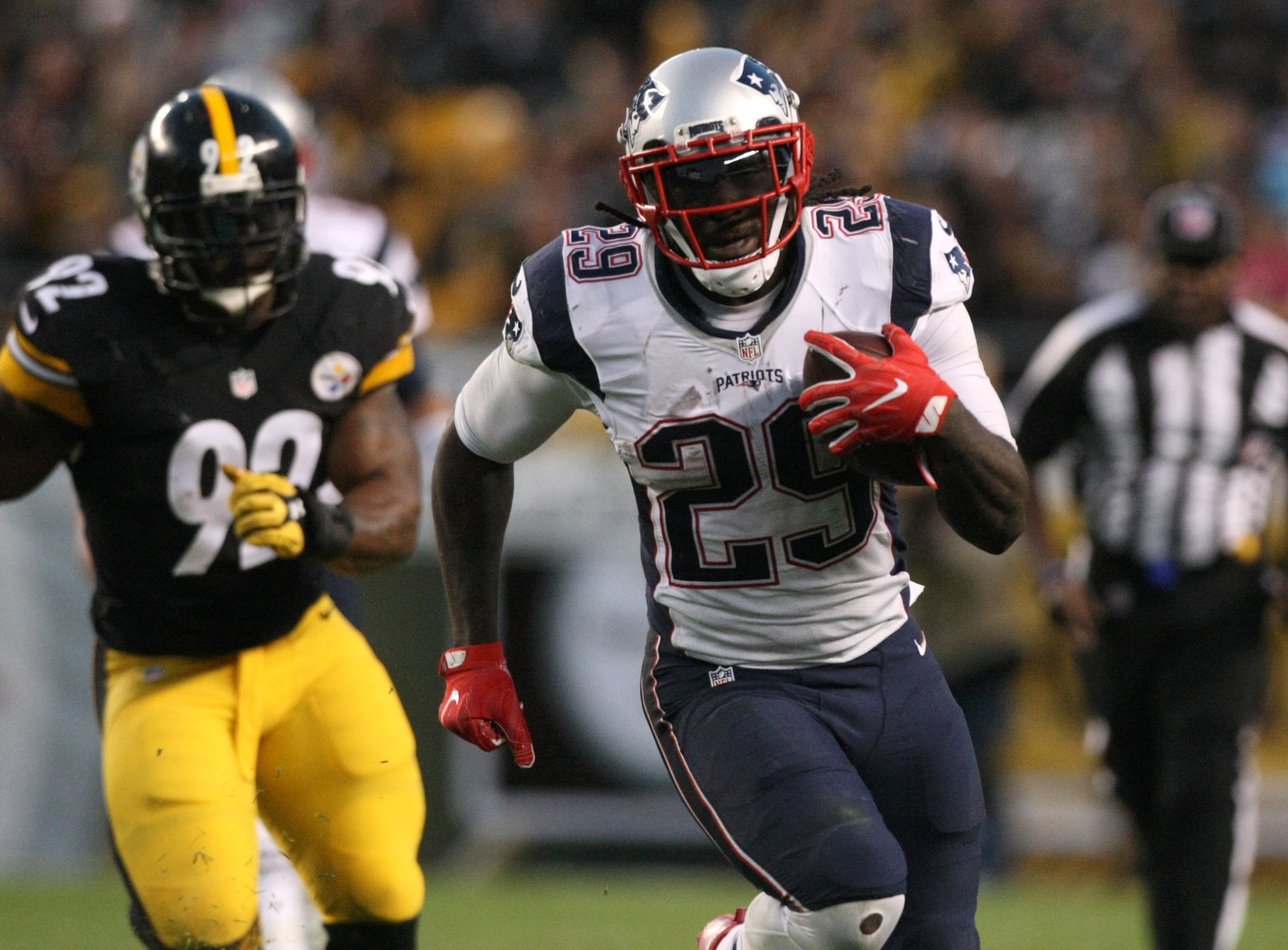 LeGarrette Blount. Photo courtesy of USA Today.
But a frigid winter front shouldn't faze either team, having both played in sub-freezing temps just a week ago during victories in the AFC Divisional round. In fact, four of Pittsburgh's last five games dipped below 32 degrees while the other two were still below 40. The Steelers ended up winning all six games but experience in arctic conditions alone won't nearly be enough to get an early edge on Tom Brady heading into Sunday's showdown in New England where the Pats seemingly never lose, especially when the season is on the line.
It's no secret that the Patriots are almost unbeatable at home in the month of January, but the team hasn't exactly been flawless as most would expect. The Pats are 10-3 at home in Jan. since 2010 but surprisingly less than half of those contests featured freezing temperatures. When the temp does dip below freezing, according to the NFLWeather.com Historical Analytics, New England is 13-2 at home and 18-4 overall since 2009.
Much of that success can be credited to the team's unshakeable leader under center, three-time Super Bowl winning MVP Tom Brady. Tom Terrific doesn't seem to let the elements ever get to him who is 9-1 in his last 10 games impacted by weather and has anchored an offense that's averaged over 35 points per game. Even when weather concerns are in the forecast, Brady still averages 36 passing attempts per game and little will change against Pittsburgh given this matchup between two high powered offenses could turn into an explosive shootout.
Julian Edelman, who's seen double-digit targets in seven of the last eight games, will be Brady's go-to option followed by a pair of questionable wide outs in Chris Hogan and Malcolm Mitchell. If one of the two can't go, newly acquired veteran and former Arizona Cardinal Michael Floyd could have a decent afternoon. Tight End Martellus Bennett, who was limited in practice on Thursday with Hogan and Mitchell, has filled in nicely for Gronk this season and will see plenty of action close to the red zone along with short yardage passing situations, especially if precipitation ends up falling or winds heavily pick up.
New England has plenty of solid receiving options but the one weapon they won't have Sunday is a superstar wide-out like the Steelers have in Antonio Brown. A.B. saw double-digit targets in 11-of-16 games this season and when weather is a factor, he seems to get involved even more. In early December during a trip to snowy Buffalo, Brown saw 11 passes come his way and during the 2016 playoffs alone, he's been targeted 20 times. If New England can't disrupt AB's chemistry with Ben Roethlisberger, the Pats could easily get upset this weekend.
Speaking of Roethlisberger, it's a legitimate argument that there might not be a better quarterback in the league to have under center in crummy conditions, especially in the postseason. The large-framed scrambler has lead Pittsburgh to a 12-2 record in weather impacted games since 2012 and most impressively, only turned the ball over six times. If he can avoid the turnovers like he did a week ago in Kansas City's frozen tundra, Big Ben and company could keep this one close.
But that will also depend on how much of a factor Le'Veon Bell will be against a New England defense that allowed less than 90 rushing yards per game during the regular season. Pittsburgh had to endure freezing temperatures in each of the last two weeks and prevailed, much in part thanks to Bell's unstoppable play. Over the last two games, Bell has amassed 237 yards from 59 touches and two scores. That doesn't even include his contribution to the passing game which featured four catches from seven targets. Six times this season Bell was targeted seven times or more so expect him to be heavily involved in both the rushing and passing game, as per weekly tradition.
His counterpart across the field and former teammate when he was a Steeler, LaGarrette Blount, will be out to haunt his old club. Blount is an ideal bruising back for harsh playing conditions and he should see a slightly heavier workload than Dion Lewis since Pittsburgh has had more trouble against the more pounding RB's in the league this season. Blount only saw eight carries last week, the first time he saw single-digit touches in a game this season so expect that number to potentially double.
Like the Pats, Pittsburgh has had plenty of January success over the last few years and lucky for Steeler Nation that the Black and Gold have an even better road record than at Heinz Field. Since 2009, Pittsburgh is 6-2 on the road in January. and 10-3 overall and when temps are below freezing, the Steelers are an astonishing 7-1 on the road and 14-4 overall. As the snow falls, apparently so does the Steel Curtain given the defense on the road in freezing conditions has surrendered a mere 17.8 points per game over the last seven seasons.
Envisioning the Black and Gold beating Brady in Foxboro this weekend seems next to impossible. After all, it's been over five years since Pittsburgh last beat the Pats and a win in New England is one of the few feats Big Ben has yet to conquer in his Super Bowl-winning NFL career. After two AFC Championship losses at home within a three-year span, even though it was roughly 15 years ago, the Steelers are still itching for revenge. Let's not forget that revenge is a dish best served cold and it'll be colder than a witch's tit in Foxboro on Sunday.