01-13-2017 15:00
Steelers vs Chiefs Divisional Round
by Will Strome, Columnist, NFLWeather.com | 01-13-2017 15:00
The Chiefs and Steelers have both endured seemingly every type of weather distraction this season. So, it seems only fitting that the Sunday forecast in Kansas City is calling for arctic conditions featuring freezing temperatures and mixed precipitation for this black and blue AFC Divisional Playoff bout.
According to NFLWeather.com, two-to-four inches of snow is predicted in the Sunday forecast with temperatures teetering around freezing. But, if the temperatures go up as the game goes on, the snow could potentially turn to a freezing rain. Even though pregame temps will be around 30-32 °, the minimal seven mph wind chill will make it feel closer to mid-to-low 20's. The grass surface inside Arrowhead Stadium has already taken a beating this season, and if the snow eventually turns to rain, the pace of the game could come to a muddy and grinding halt.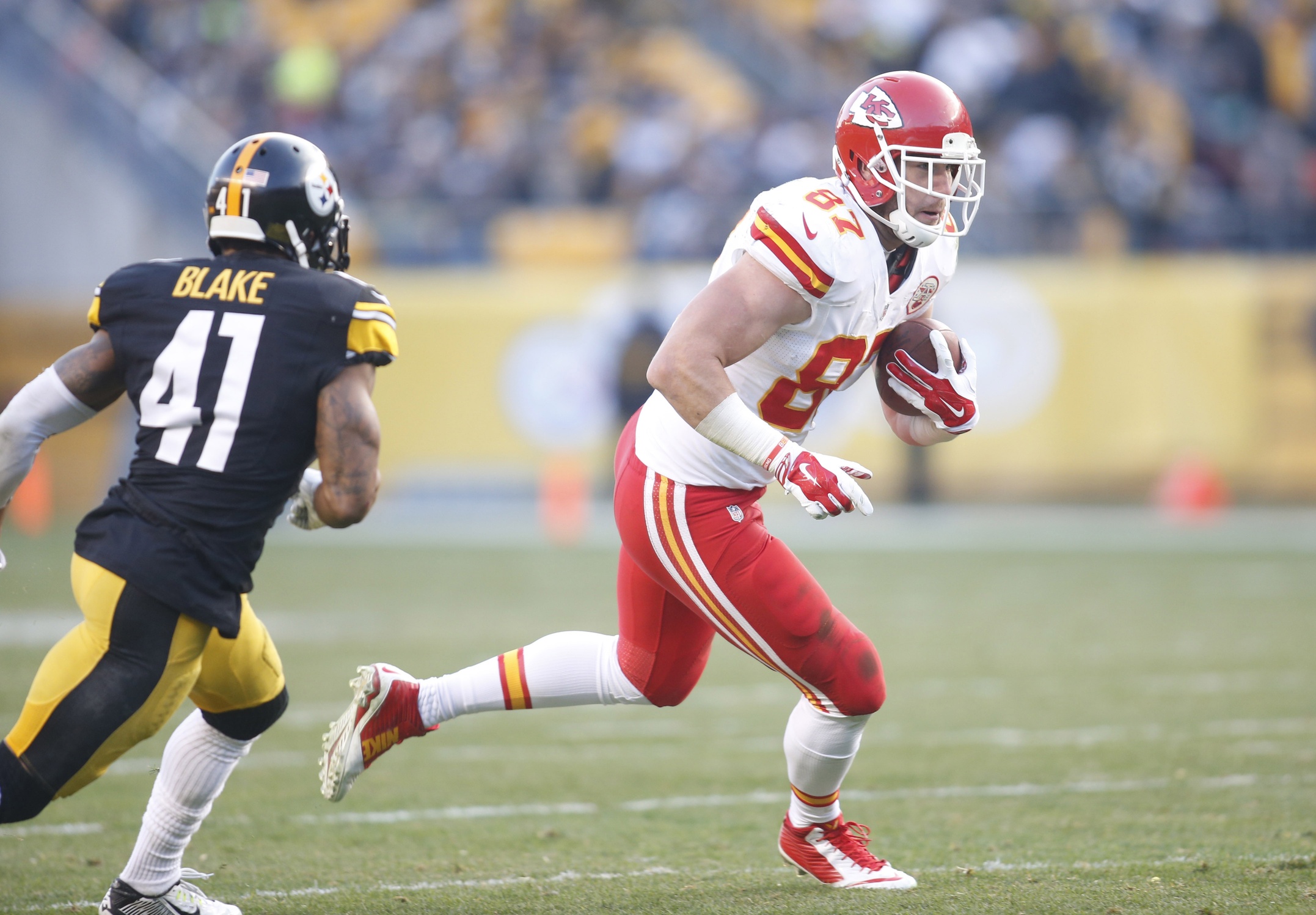 Travis Kelce. Photo courtesy of USA Today.
Kansas City (12-4) hasn't played in a snow game this season but the Chiefs are 2-1 in the rain and 1-1 in freezing conditions. Weather wasn't a factor when they were pummeled at Pittsburgh in week four, 43-14, so KC will be aiming to use that to their advantage, having already hosted three weather-related games since early December so factoring Mother Nature into the game plan shouldn't be much of an issue. Especially coming off of a bye, where head coach Andy Reid is 19-2 following a bye over the course of his career.
But in order for sweet redemption over the Steelers, the offense will need to do what it couldn't against them earlier, and that's move the ball and reduce the three-and-outs which were allowing Pittsburgh entirely too many opportunities on offense.
Quarterback Alex Smith, who completed 30-of-50 attempts for 287 yards with a pair of TD's and a turnover against Pittsburgh, has an impressive 65% completion percentage in weather impacted games this year and will need a turnover free game in order to advance to the AFC Championship. This year on average when weather is a factor, Smith still drops back over 32 times per game and racks up close to 240 passing yards with a touchdown-to-interception ratio of 1:1. Not necessarily intimidating statistics, but it's evident he still gets the green light to pass often even in unfavorable conditions so Travis Kelce, Jeremy Maclin and Tyreek Hill will see plenty of targets against an inconsistent secondary.
Smith has been fortunate to have a formidable backfield behind him, even in the absence of Jamaal Charles all year. Spencer Ware has stepped up and served as the top back and even though he's only averaged under 18 carries a game in weather games this season, he'll see a heavy workload against a Steelers' D that's surrendered 405 rushing yards over the last three games. Despite his limited carries in crummy conditions, Ware still has managed to average 80 yards on the ground per game.
One player that certainly won't have to worry about his offensive involvement is the focal point of Pittsburgh's entire offense, running back Le'Veon Bell. In his short career, spanning only five weather-related games, Bell has tallied a remarkable 673 yards (134 ypg) and five touchdowns. His talent was best showcased in the wintery Buffalo snow back in week 14 when Bell barreled thru the Bills defense for 236 yards on 38 carries and a trio of TD's. He's the ideal back for rain or snow and if KC doesn't keep him contained, the Steelers are headed to their first AFC Championship game in six years and ninth in 23.
According to the NFLWeather.com Historical Analytics, since 2009 Pittsburgh (12-5) is 15-5 when precipitation is a factor and much of that can likely be credited to the stoic and scrambling play of Ben Roethlisberger. Despite poor conditions, Big Ben still averages over 30 passing attempts and almost 245 passing yards per game. But his most impressive rain game stat is a remarkable TD-to-INT ratio of 28:9.
It's no secret who Ben's top target will be, as Antonio Brown went off last week against Miami for 124 yards and two scores en route to a 30-12 Wildcard drumming of the Dolphins. Against KC weeks ago, AB only had four receptions but he turned half of those grabs into scores. Brown and Bell will be the one-two punch but speedy slot receiver Eli Rogers and, if Ladarius Green can't go, tight end Jesse James could see another opportunity to find the end zone for the second time against KC this season.
It's only fitting that both black and blue style defenses will clash in Ice Bowl-like conditions, and whichever defensive unit can create the most turnovers will likely be headed to the AFC Championship in New England (barring a miracle). With possibly two NFL Divisional Playoff games in the cozy confines of indoors (No word yet on the Dallas Dome), the best of all four games could end up being the sloppy slugfest in KC.
Both sides are two of the AFC's best in bad weather outings, posting a combined 24-10 record in weather impacted games since 2009. Neither team seems to let the natural elements get to them but we'll see if a little playoff pressure mixed with freezing rain will change that.