11-11-2016 10:00
COWBOYS vs STEELERS: RIVALRY RENEWED
by Will Strome, Columnist, NFLWeather.com | 11-11-2016 10:00
Once considered to be the NFL's greatest rivalry, having clashed in a pair of Super Bowls during the 1970s and again in 1995; the Steelers and the Cowboys are a classic heavyweight bout and for this particular round with a fall chill in the air, both storied franchises are sitting atop their respected divisions. The stage seems very fitting for two organizations that share 11 Super Bowl victories between them.
According to NFLWeather.com, clear skies are currently in the forecast for Sunday's late afternoon kickoff at Heinz Field in Pittsburgh. Temperatures will linger in the lower-50s but come fourth quarter, temps could dip into the 40s with a wind chill that could feel close to freezing. With Heinz Field's open end zone, along the banks of the Ohio River, once the wind picks up the kicking game notoriously turns to absolute rubbish that will likely be the case Sunday evening.
Dallas (7-1) has been red hot all season but once the temperature dips into the 40s or below, the Cowboys are 8-10 since 2010. In fact, the last time Dallas played in Pittsburgh was a frigid December night in 2008 where the Steelers scored 17 unanswered fourth quarter points en route to an improbable comeback. It didn't help the Cowboys' cause that Deshea Townsend picked off Tony Romo and returned it to the house for the go-ahead TD with less than two minutes in regulation.
Speaking of Romo, whether it's the veteran or rookie sensation Dak Prescott under center, Dallas will rely heavily on their bruising rookie running back who leads the entire league in rushing, Ezekiel Elliot. Dallas averages over 185 rushing yards per game and against Pittsburgh's front seven that surrenders just under 100 rushing yards per game, if the Cowboys can find daylight between the tackles and dominate the time of possession battle then the Steelers are in big trouble. Pittsburgh has also struggled to shut down the tight end and top wide-outs all season so expect Jason Witten and Dez Bryant to see 10+ targets a piece.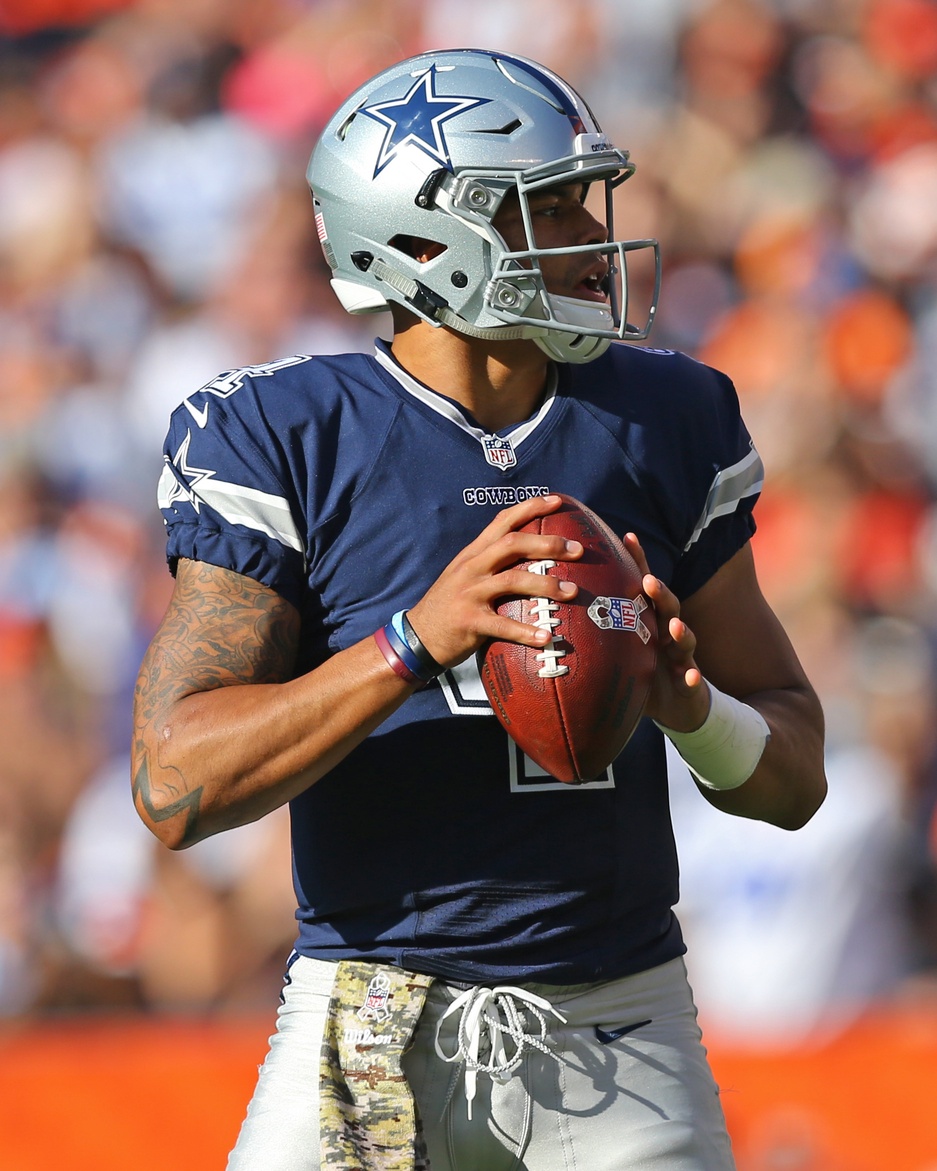 Dak Prescott. Photo courtesy of USA Today.
Pittsburgh (4-4) doesn't feel like a .500 team but having only played one full game with all three of their coveted offensive weapons (Big Ben, AB, Bell), the offense just isn't as intimidating or effective without one of their three playmakers. However, when cold weather is a factor, the offense doesn't seem to cool down, averaging over 25 points per game since 2012. Much of this can be contributed to their immovable QB.
It's tough to find a better quarterback for games in crummy playing conditions than Ben Roethlisberger. The veteran QB has a 6' 5'' frame and looks seemingly impossible to bring down while he's shaking off defenders and extending plays. The two-time Super Bowl winner might not be the most graceful scrambler, but he somehow manages to get the win when it matters most. Even in unfavorable passing conditions, he's led Pittsburgh to an 8-2 record in his last ten weather impacted matchups and 10-4 in freezing conditions since 2009.
According to NFLWeather.com Historical Analytics, Big Ben averages roughly 33 passing attempts in weather impacted matchups and over 240 yards per game over the last six seasons. He's also thrown for 21 touchdowns over that span and astonishingly only four interceptions. He looked atrocious last week but beat writers in Pittsburgh suspected he came back a week too early. A healthier Ben means plenty more offensive production from Antonio Brown and his new favorite red zone target, tight end Jesse James.
Here's to hoping this is a Super Bowl preview but don't expect it. A fourth meeting between two respected franchises in the Super Bowl would be both historic and riveting, but it isn't going to happen. In a game featuring two elite running backs and mediocre [at best] defensive units, the weather might be brisk but the intensity will be electric.