11-19-2016 08:00
BATTLE OF THE BIRDS. WEEK 11
by Will Strome, Columnist, NFLWeather.com | 11-19-2016 08:00
Four years have passed since the Philadelphia Eagles last competed in a rain game and come Sunday, they'll have an uphill battle against a stout Seattle Seahawks side that spends half the year in a seemingly endless monsoon.
According to NFLWeather.com, rain is expected to hit the Pacific Northwest all weekend with swirling winds topping out around 10-12 mph and temperatures in the mid-50s. CenturyLink Field is no stranger to rain, having hosted 10 rain games since 2011, but with a FieldTurf playing surface it's unlikely the field would get slick. The ball on the other hand, well, we'll find out early if Carson Wentz did any damp-football prep work before this massive NFC showdown.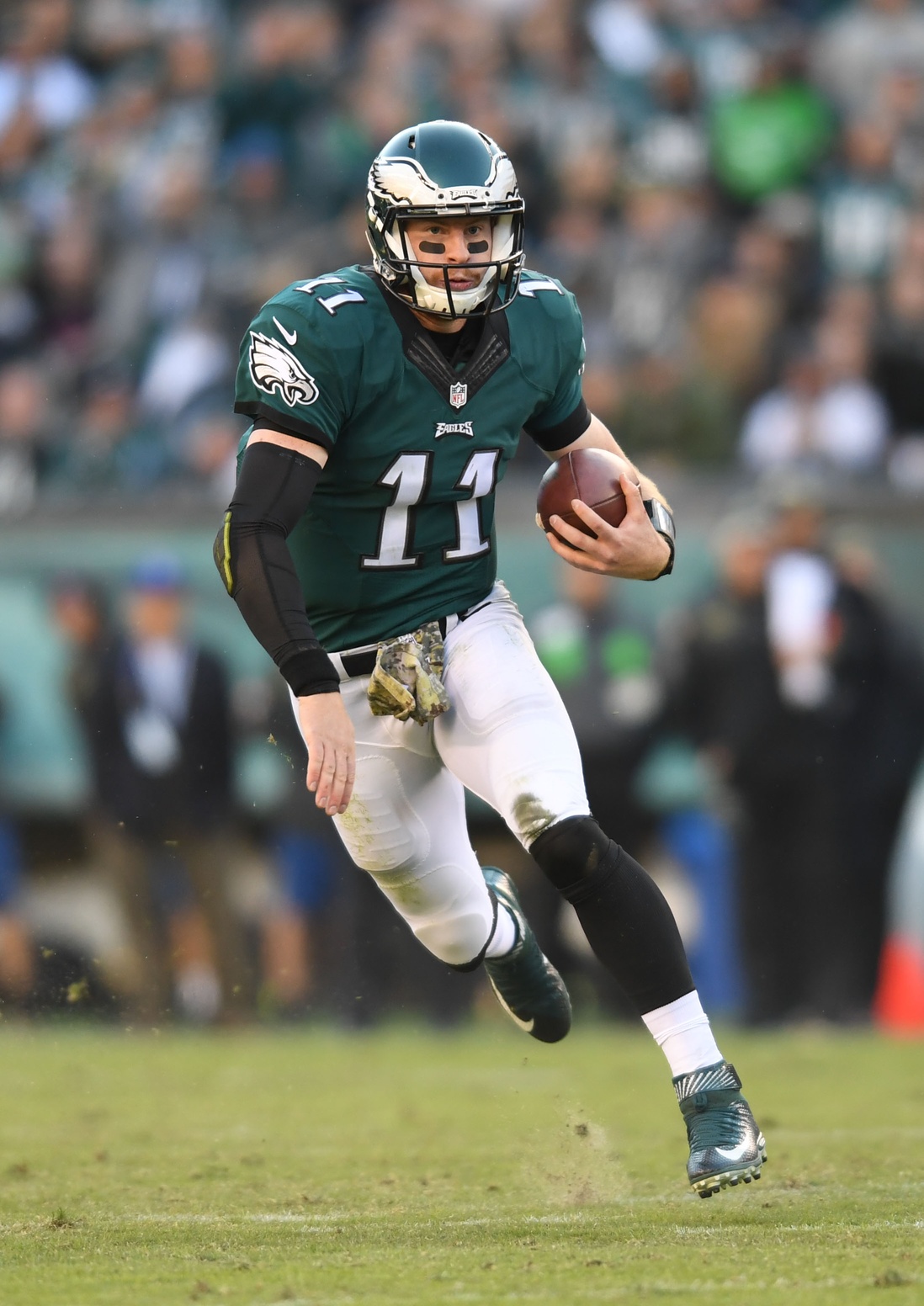 Carson Wentz. Photo courtesy of USA Today.
The rookie quarterback was outstanding early on but has tapered off the last few weeks which most fans and experts alike expected. The Seahawks defense might get to him a little but the elements shouldn't, having played his college ball at frigid North Dakota State University. Wentz has yet to play in a weather impacted professional game so it's yet to be seen if the coaching staff trusts him to drop back 30+ times but through week 11 he's averaged almost 35 passing attempts per game. However, with a total of four interceptions and six fumbles over the last four weeks, a turnover is almost as much a guarantee in this game as the impending rain itself.
To take the pressure off the young franchise QB, the unpredictable running back committee of Ryan Matthews, Darren Sproles and Wendell Smallwood will be relied upon heavily to eat up clock against a front seven that surrenders less than 100 yards rushing on a weekly basis. Sproles has emerged as the more versatile back and is especially dangerous in the passing game. With a drizzle looming, short passing routes will be Philly's focus and Sproles has been targeted 26 times in his last three games.
Seattle (6-2-1) on the other hand, has an experienced QB in Russell Wilson who historically has thrived in weather-related games. Armed with an accurate cannon and quick, decisive footwork, the former Wisconsin Badger is a multi-tool weapon at Pete Carroll's disposal. As unpredictable as the weather in Seattle, Carroll's game plan for utilizing his QB's arm is next to impossible to plan for.
According to the NFLWeather.com Historical Analytics Database, in four of the Seahawks' last nine poor weather outings, Wilson has dropped back 19 times or less. In the other five, he's averaged over 30 passing attempts. He might be a tough guy to bank on in daily fantasy, but he's a lock for pulling out a win in crummy climates.
As equally as unpredictable as Wilson's rain game performances is who will be the top wide-out in Seattle's passing attack? Doug Baldwin consistently sees plenty of action while Tyler Lockett is still battling back to full health, but Jimmy Graham has risen up as Wilson's most trusted target. Primary RB entering the season, Thomas Rawls, has returned but will compete with C.J. Prosise has the lead back for week 11. With rain in the forecast and uncertainty in the backfield, Graham is the lone must-start this week.
Philadelphia's (5-4) been fading fast but a big win on the west coast could turn around this downward spiral. We saw it before when a dismal Rams team stormed into Seattle last year and shocked the 'Hawks in the rain. If Case Keenum can pull it off, why can't Wentz?