11-23-2016 21:00
Chiefs & Broncos Battle for the Wild West
by Will Strome, Columnist, NFLWeather.com | 11-23-2016 21:00
A pivotal battle for the AFC West summit alongside Oakland is on the line when the Kansas City Chiefs visit their heated and hated rivals, the Denver Broncos in what the forecast is calling close to freezing temperatures in the Mile High City.
According to NFLWeather.com, temps will start in the lower 40's and trickle down close to freezing for Sunday evening's kickoff. Both the wind and wind chill shouldn't be much of a problem, topping out around 6-8mph. Precipitation is currently 0% but who knows what could happen come Sunday, we've seen some flurries in a handful of games already but right around this time of year is when the Denver home games regularly feature weather issues.
About two weeks ago, we started to see NFL games dip into arctic-like conditions. The cold weather hit the rust belt hard last week, where Pittsburgh at Cleveland and Buffalo at Cincinnati endured below freezing temps and all four offenses struggled tremendously. The most concerning stat was that in both those games a total of three extra points were missed. Despite the thin air from the high altitude in Denver, the kicking game could really be an issue on Sunday.
But both Denver (7-3) and Kansas City (7-3) are plenty familiar with competing in the cold. According to the NFLWeather.com Historical Analytics, the Chiefs are 4-2 since 2013 when the temperature dips below 32-degrees with Denver 5-2 over the same span. In 2014, both sides battled in less than ideal winter conditions with the Broncos escaping KC with a 29-16 road win.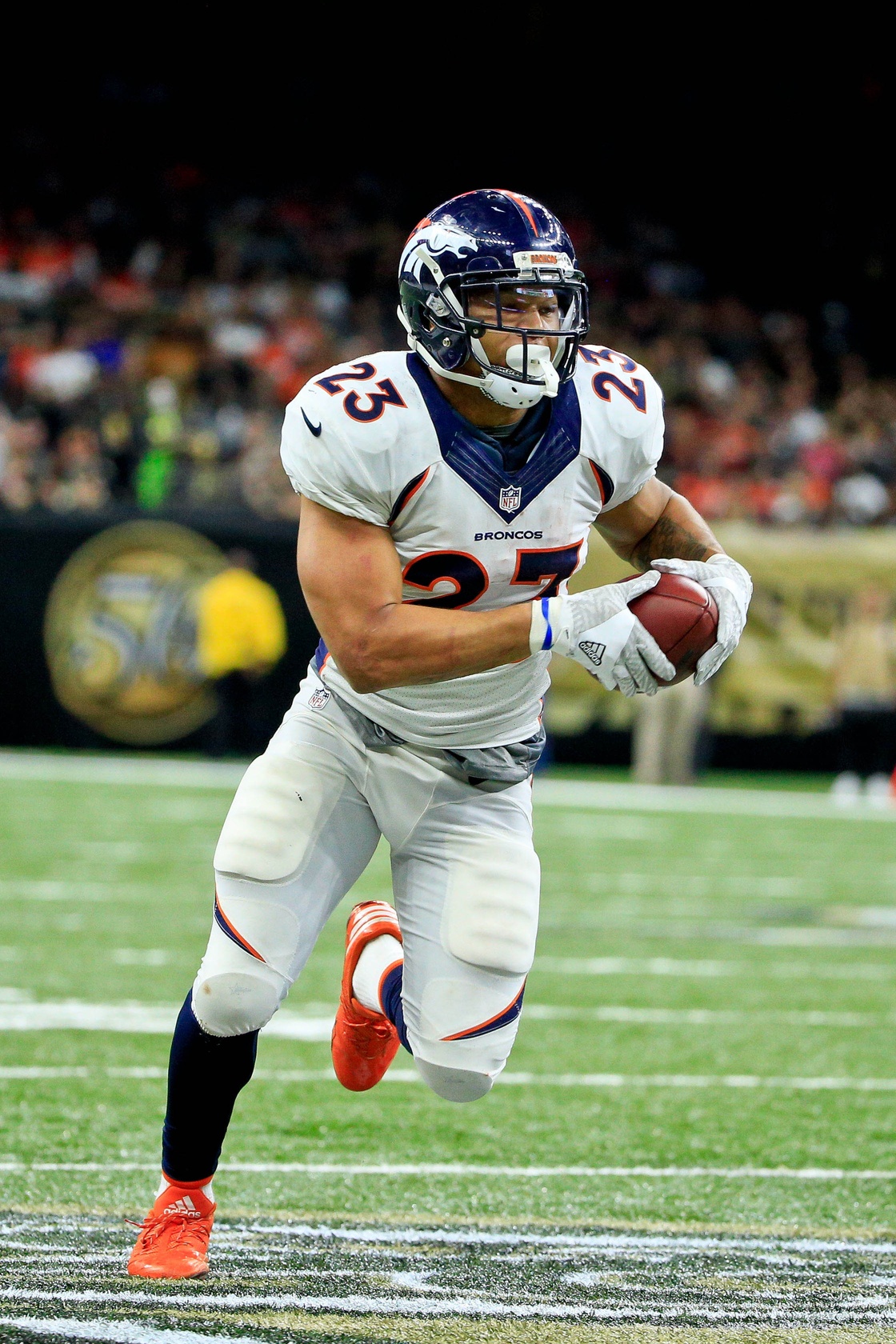 Devontae Booker. Photo courtesy of USA Today.
This might be Denver's first cold weather impacted matchup this season and it certainly won't be the last. Rookie QB Trevor Siemian has already played in a weather-related game this season but the team focused on the running game tallying 32 total carries. Coming off a bye, the well-rested Broncos offense will be looking to do the exact same against a KC D that allows over 120 rushing yards per game. Devontae Booker will be the workhorse and will easily see 20+ touches but that doesn't mean Denver is going to avoid Siemian taking shots downfield. The Chief's D just isn't what it used to be so if they stack the box, Emmanuel Sanders and Demeryius Thomas will have an absolute field day despite the frigid temps.
Kansas City might not have the most intimidating or high octane offenses in the league, but KC does have one of the most consistent QB's in crummy conditions. Veteran Alex Smith is notorious for protecting the pigskin and making smart decisions, and in his six career games with the Chiefs in freezing temperatures he's only tossed five INT's and fumbled once compared to his eight touchdowns. Smith has a completion percentage of 64% in the cold and 167 yards on average per game, not the most herculean numbers but enough to get the win.
The Chiefs backfield has taken a number of hits this season but Spencer Ware has seized his opportunity and has done everything but cool off. Charcandrick West will get a handful of touches if he's healthy but West didn't practice Wednesday so his status is looking grim. In his last seven games, Ware has averaged roughly 16 carries and will see substantially more than that on Sunday night. Like West, Jeremy Maclin didn't practice and if the Chief's most dynamic offensive threat can't go, all eyes are on Travis Kelce and Tyreek Hill to cause problems in Denver's secondary.
This is a must win game for both sides trying to keep pace with the 8-2 division-leading Raiders. A win simply means the division title is within grasp while a loss indicates plenty of work needs to be done to even be mentioned in the AFC West title discussion. Sunday night we have a bitter rivalry in the bitter cold to look forward to, what more could you ask for? Well, maybe a change of pace from the Thanksgiving leftovers for dinner.