12-01-2016 18:00
Giants at Steelers - Week 13
by Will Strome, Columnist, NFLWeather.com | 12-01-2016 18:00
They were ten picks apart from each other in the 2004 draft and share four Super Bowls between them.
To some, they already have an in to the Hall of Fame at the end of their decorated and memorable careers. But on Sunday when the weather conditions will be anything but favorable in the damp and dreary Steel City, Ben Roethlisberger and Eli Manning will clash in what will be a classic heavyweight bout in the rain between two of the league's most storied franchises.
According to NFLWeather.com, a drizzle is expected and temperatures will be in the high-30's at kickoff but come fourth quarter, it will likely dip below freezing (just like we saw when Pittsburgh hosted Dallas two weeks ago). As of Wednesday, the wind didn't seem to be much of a factor but the open end zone at Heinz Field is notorious for creating a wind tunnel and causing major trouble for either side's kicking game. The real issue could be freezing rain as the temperature plummets and once that happens, snow could make a second half appearance.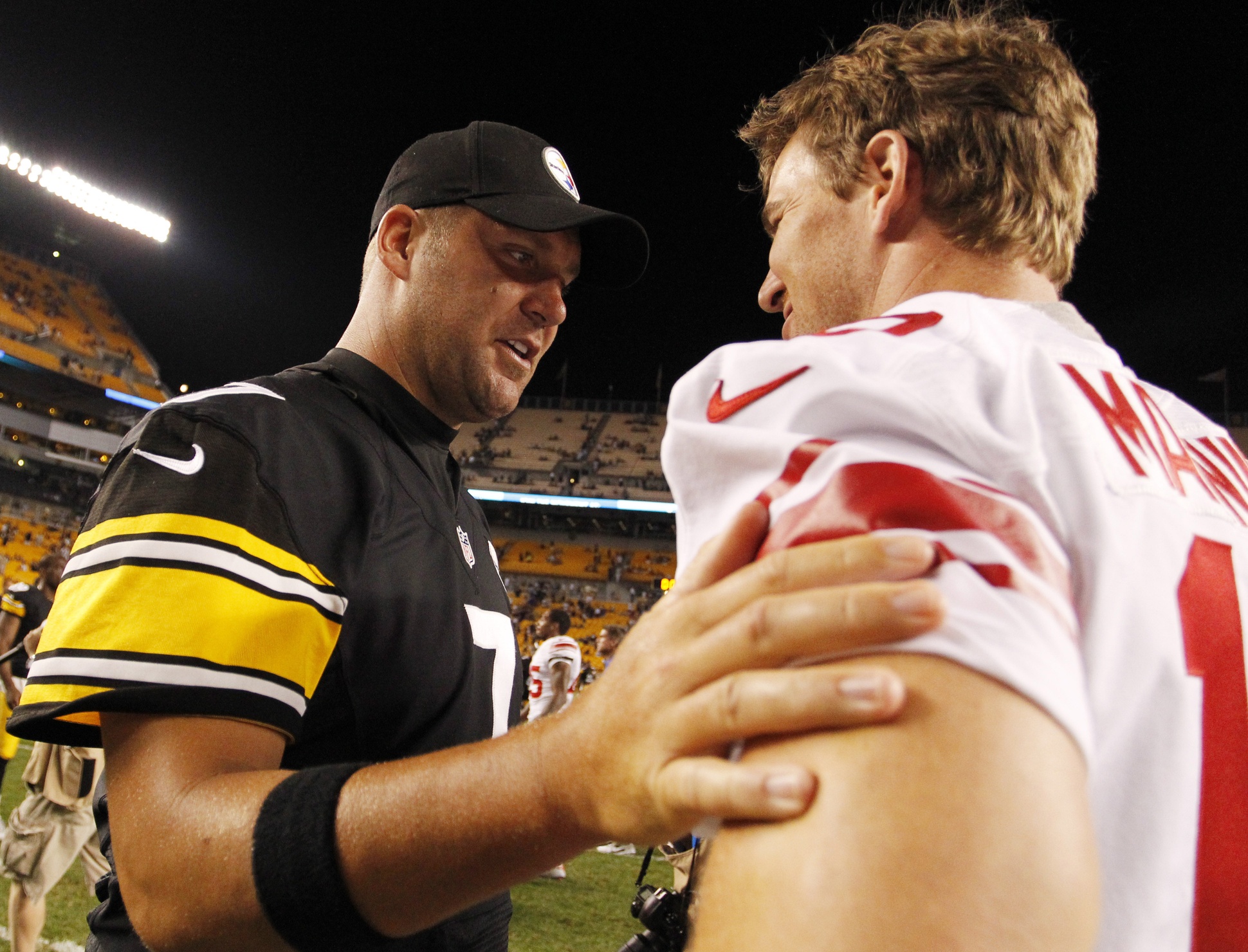 Manning - Roethlisberger. Photo courtesy of USA Today.
The visiting New York Giants (8-3) have played in plenty of weather impacted games over the last few seasons but the difference between their performances at home and away is night and day. Since 2009 in rain games, the Giants are 5-4 but only 1-3 on the road. According to the NFLWeather.com Historical Analytics, offensively the team averages almost 29 points per game at home compared to only 17 on the road.
One might speculate this 12 point difference could be because the team wants to run the ball more in an effort to win the time of possession battle while decreasing the possibility of throwing an interception. However, statistics show that on average Manning drops back only 29 times per game at home versus 43 on the road. Could this be from having to play catch up on the road thus having to abandon the run earlier than expected? Not likely, because New York is a traditionally tough rushing team to stop in crummy conditions. Since 2013 in poor weather outings, Big Blue is 3-0 when handing the ball off 35 times or more.
Over the last few seasons Pittsburgh (6-5) has also had plenty of ground game success in the rain. Since 2013 when Le'Veon Bell entered the league, the Steelers are 5-1 in the rain while averaging roughly 115 rushing yards per outing. Of those six, Bell only played in three and has managed 270 yards from 50 carries. He'll be a major factor in both the running and passing attack but don't count out his veteran backup returning to full health, DeAngelo Williams. USA Today's Steve Gardner mentioned in a recent piece that he's a must-have handcuff in fantasy leagues and given Bell's history of injuries late in the year, Williams could end up being the guy down the stretch. He's also been a stud in rain games, racking up 127 yards on 21 carries against New England last season.
But the main man in Pittsburgh's rain game attack is still Big Ben. Since 2009, the Steelers are 10-4 in the rain and haven't lost at Heinz Field in a drizzle since 2010. Not to mention, over those 14 games the offense has averaged just under 24 points per game but at home the average leaps to 30 ppg. Against New York's shaky D, Roethlisberger is going to spread the ball around but it's still safe to assume Antonio Brown will easily see over 10 targets. Keep an eye on a healthy Ladarius Green, Pittsburgh's big off-season acquisition who made his debut on Thanksgiving.
Neither of the two teams sits atop their divisions yet this still feels like perennial Super Bowl matchup. Pittsburgh and New York are the only two franchises in NFL history to win the Super Bowl as a six seed. They're two teams that are impossible to write off and frightening to go up against in the postseason. Here's to hoping these two link up in Houston in a couple months, under slightly more ideal weather conditions.