12-10-2016 12:00
BRONCOS & TITANS vie for Playoff Positions
by Will Strome, Columnist, NFLWeather.com | 12-10-2016 12:00
A handful of NFL games this weekend will likely see some snow but in a do-or-die clash between two AFC playoff hopefuls in Tennessee, neither the Broncos nor the Titans can afford a loss in what's expected to be a riveting rain-soaked showdown.
According to NFLWeather.com, the forecast has been wobbling back and forth between overcast skies and a light rain but precipitation is expected to hit Nashville sometime during Sunday afternoon. Wind shouldn't be much of a factor, topping out around eight mph, and same goes for the local temperature which should hover around the low-to-mid 40s. But if rain hits the 419 Tifway Bermuda grass inside Nissan Stadium early in the day, we could be in for a sloppy must-win matchup.
If the season ended today, Denver (8-4) would wind up as the sixth seed heading into Baltimore while Tennessee (6-6) would miss out on the postseason based on tiebreakers within the division. In order to make the playoffs, the Titans need to win out and have Indianapolis lose once. If the Broncos win their final four games, they're a lock for at least a wildcard spot but a loss on Sunday results in a remote chance for the AFC West crown and invites seven AFC competitors into contention for the sixth seed (pending Sunday's results).
That being said, we're in must win territory for both teams and Mother Nature won't be making it any easier for either side.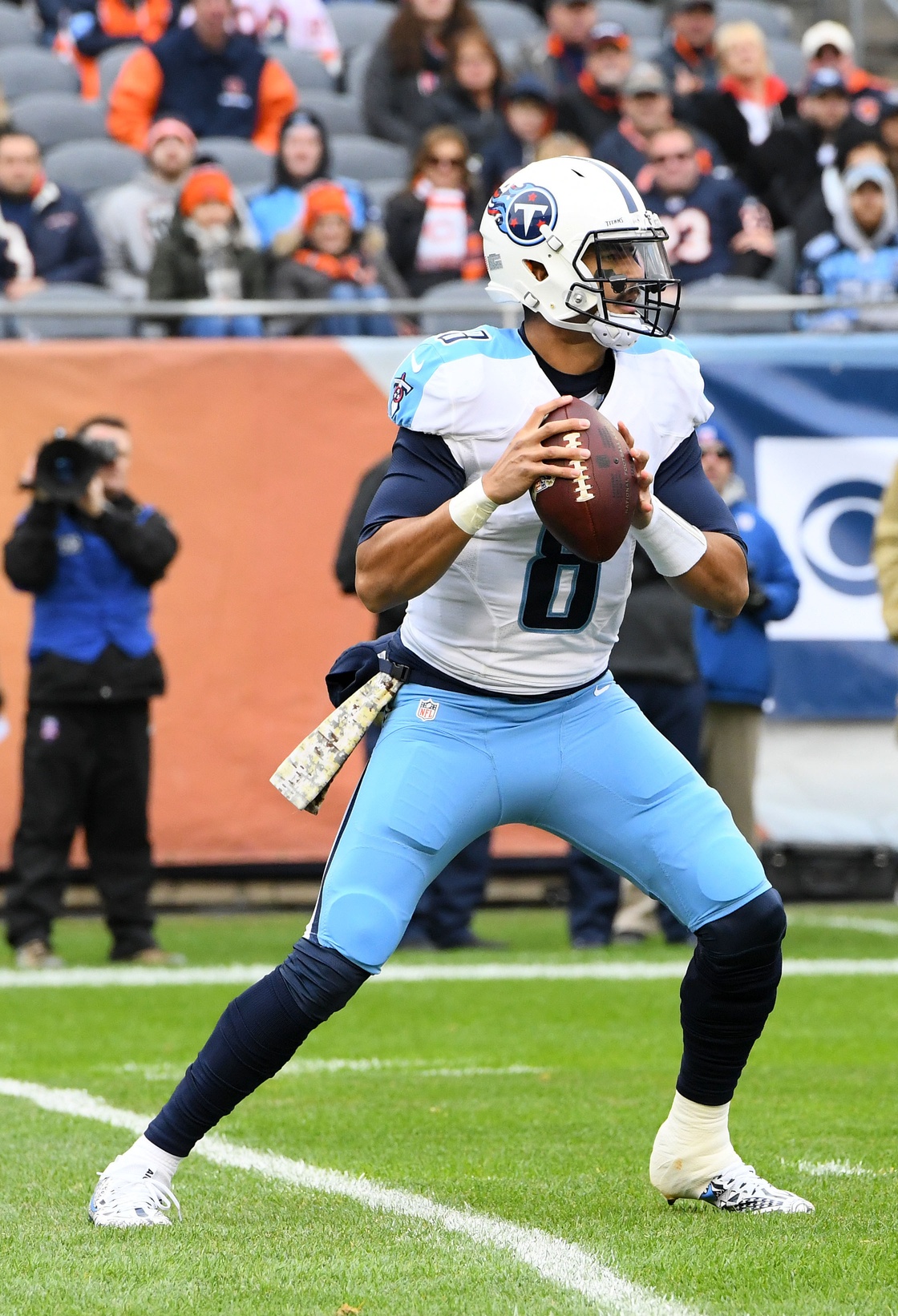 Marcus Mariota. Photo courtesy of USA Today.
Denver is historically a strong side in weather impacted matchups but the rain seems to cause problems. A few weeks ago heading into a weather-related game with freezing temperatures on the radar, NFLWeather.com stats showed the Broncos were 5-2 in recent cold weather matchups but in the rain over the last few seasons, the team is just 2-3 and has allowed 30 points or more in three of those five games. Denver's D has been pretty stout this season so the real concern could be on the other side of the ball with a QB under center still recovering from an injury.
However, USA Today's Steve Gardner made a promising point for Bronco's fans in his article this week regarding the health of quarterback Trevor Siemian, who missed last week's game in Jacksonville. "He's shed his walking boot which is good news for the receivers after Paxton Lynch threw for just 104 yards last week," Gardner wrote. Even with rain present, Emmanuel Sanders and Demeryius Thomas are poised for big afternoons against an inexperienced secondary that recently cut veteran cornerback Perrish Cox and has to scramble to find a youngster capable of stepping up and slowing down one of the NFL's most dynamic receiving duos. But a banged up Siemian could also result in Devontae Booker seeing close to 30 touches after having carried the ball 24 times in two of his last three games.
Unlike the Bronco's offense, the Titans are healthy and seem to be on the up and up. However, according to the NFLWeather.com Historical Analytics, the Titans have been victorious only once in their last five rain games and on average surrender close to 30 points per game. It certainly hasn't helped that the offense has been as stagnant as the rain puddles that will collect on the field on Sunday, averaging a mere 18 points per game.
But that was the old Titans, not the division title chasing Titans of today anchored by a Heisman winning QB that hasn't turned the ball over in three straight games. November's Player of the Month, Marcus Mariota, has thrown multiple TD's in eight straight games but will that trend continue in a downpour? Mariota played in one rain a year ago and finished the afternoon with three TD's but two INT's and a 46% completion percentage just won't cut it when you're competing for a division title. Unlike last year, Mariota has weapons in his arsenal with bruising running back DeMarco Murray in the backfield that not only still grinds out the tough yards but has also been a threat in the passing attack. Tight end Delanie Walker is still the go-to target and will be just that once again in Sunday's crummy conditions.
Not many people thought Tennessee would be in playoff contention at this point, but here we are. It's the biggest game of the Titan's season thus far and it'll also be the dampest. If they can avoid the weather disrupting their mojo and avoid Von Miller getting to Mariota, Tennessee could earn some major respect this week as they inch closer to the summit of the AFC South.