12-16-2016 12:00
Lions Take On Giants with Playoff Implications
by Will Strome, Columnist, NFLWeather.com | 12-16-2016 12:00
Both teams are 9-4 and few people are talking about either side making a deep run in the NFC playoffs, but don't sleep on the New York Giants or NFC North leading Detroit Lions who clash in the rainy Big Apple on Sunday in what could be a damp and dreary post season preview.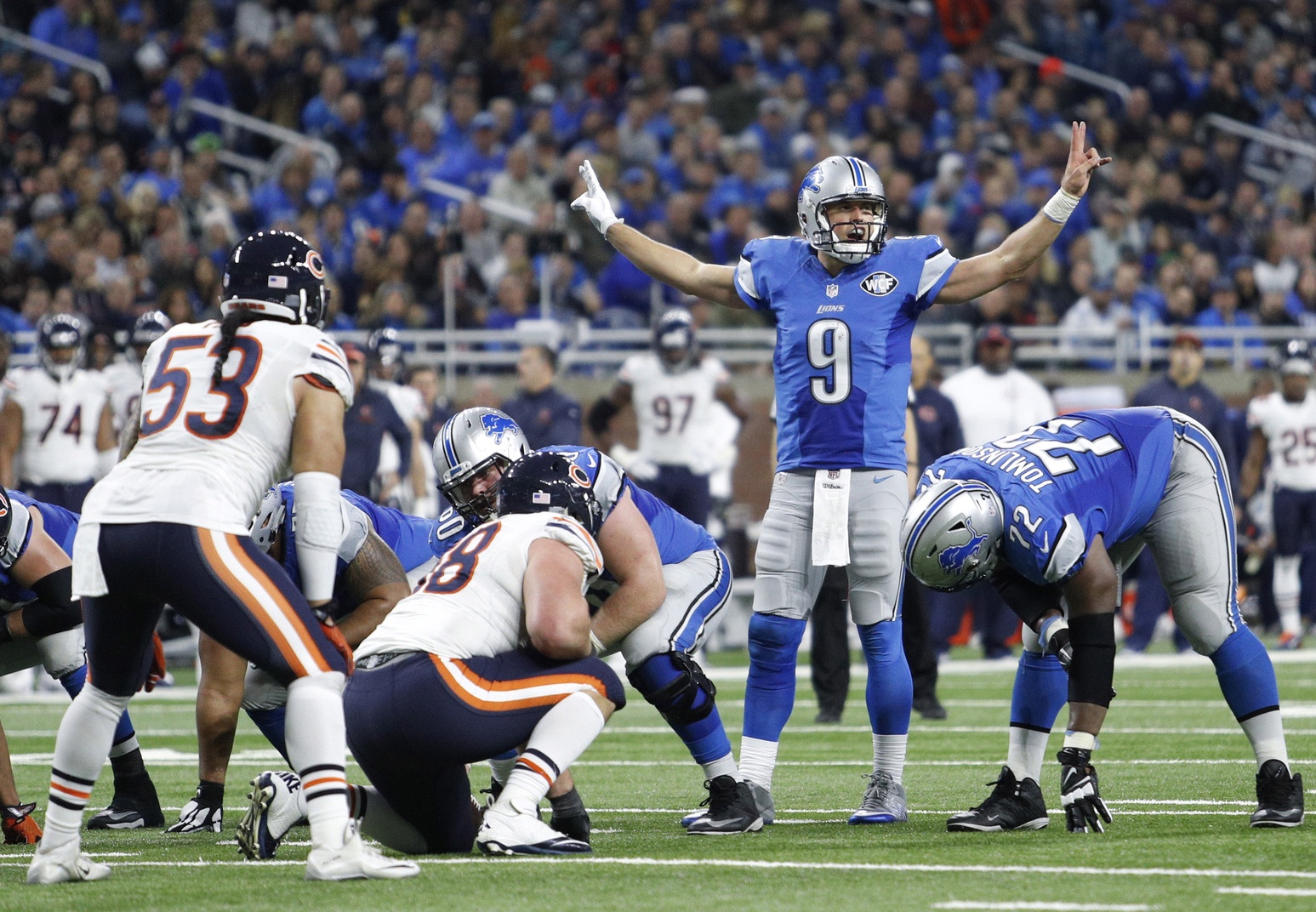 Matthew Stafford. Photo courtesy of USA Today.
According to NFLWeather.com, rain is in the forecast but temperatures appear to hover in the mid-to-low 40s so snow is unlikely. As of Wednesday, it didn't look like wind would be much of a factor; topping out around 10mph, but the real issue could be the slick field turf inside MetLife Stadium if the drizzle turns to downpour.
A few weeks ago, we mentioned how weak the Giants are on the road in rain games, but they're a completely different side at home where they average about 29 points per game. Eli Manning deserves a ton of credit for that, earning his best weather-related numbers in East Rutherford. In his last five home rain games, Manning averages 238 yards and two touchdowns while completing 19 of 29 attempts while posting a 4-1 record. Against Detroit's secondary that allows over 250 passing yards per game, Manning will have no issues spreading the ball around to superstar Odell Beckham Jr. and his other emerging young wide-out, Sterling Shepard.
Perhaps the most impressive weather stat of all has nothing to do with Manning, rather, the New York football Giants have not lost at home in the rain since 2009. Much of this is because of how well the team often times dominates the time of possession game while giving the opposition a heavy dose of the run in the rain. Rashad Jennings is a running back built for any era with his large frame yet quick, shifty feet. Lucky for him, he's on an offense that regardless of which back is taking snaps, the entire backfield seems to always find success. Since 2012, only once in six games did an individual RB not accumulate 100 yards or more.
As for Detroit's run game, the visitors might be without top running back, Theo Riddick, who missed last week's game against Chicago. USA Today's Steve Gardner believes Riddick questionable tag could mean that Dwayne Washington could be the lead back for the Lions.
The Lions, who play their home games in dome, are miserable in weather impacted road matchups. According to the NFLWeather.com Historical Analytics, in Detroit's four most recent games that features precipitation, the team is 0-4 and surrendered 34 points or more in three of those.
Offensively, with the exception of an absolute drumming they suffered to Baltimore in 2009, the team still manages to put up decent numbers in the rain or snow, averaging roughly 22 points per game. But with a banged up Matthew Stafford and Riddick heading into week 15, the offense doesn't seem quite as dynamic as it's previously been all season. If Stafford does play in the rain and tape up his injured finger, his numbers historically fall well short of impressive. Over his last two rain games, Stafford is 29-of-71 for 513 yards, two scores and a pick.
Both teams can afford a loss but that's the last thing on Detroit's and New York's minds. A win for the Giants inches them a game closer to leapfrogging Dallas in the NFC East. A loss means a division title is likely out of reach. A win for the Lions and it'll feel like one hand is already on the division crown. A loss and bitter rivals Minnesota and Green Bay are back in the division title discussion. Neither team can afford a mistake, but with terrible weather looming, that's easier said than done.