09-29-2016 18:00
More Storms in Tampa?
by Will Strome, Columnist, NFLWeather.com | 09-29-2016 18:00
Recognized as North America's hotbed for lightning storms, Tampa Bay has already experienced one weather delay at home this season and it looks apparent that yet another late-summer storm will be in full force when the undefeated Denver Broncos march into town this weekend.
According to NFLWeather.com, a light rain is possible throughout the entirety of Sunday's late afternoon showdown with winds swirling around 11mph. Humidity is expected to rise from 60% to close to 70% by the end of the game, indicating the likelihood of yet another Florida thunderstorm interrupting this outing just like last week and soaking into the already battered grass surface inside Raymond James Stadium. Most east coast NFL games kickoff around 1pm, however, both this and last week's home games for the Bucs have been pushed to 4pm in hopes of avoiding the daily end-of-summer showers. That certainly didn't happen last week against Los Angeles and it's looking more and more likely the same will occur for Sunday's week four nonconference matchup.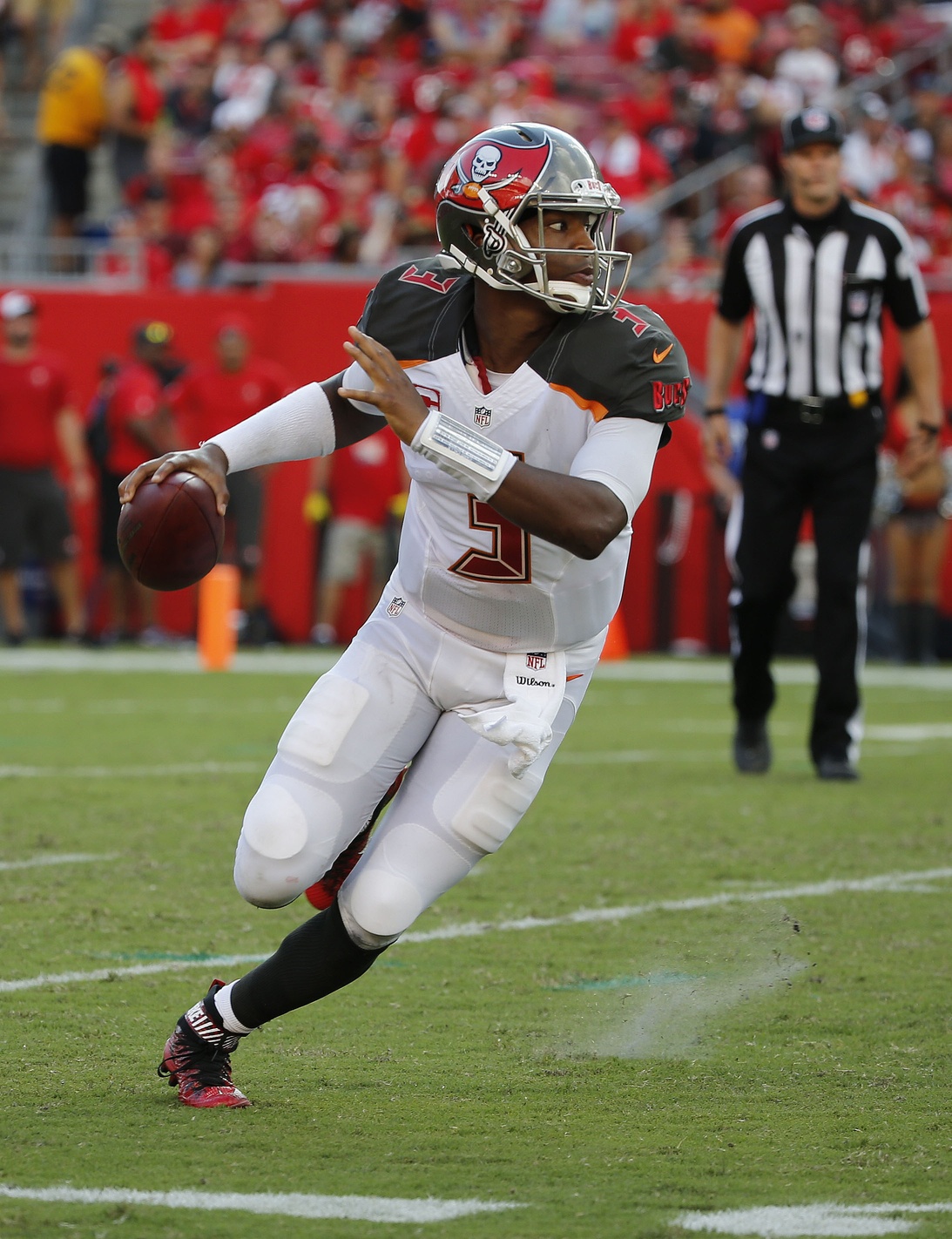 Jameis Winston. Photo courtesy of USA Today.
The delay lasted well over an hour and ultimately delayed the inevitable for Tampa as the Bucs squandered their final possession after forcing the Rams to punt once both sides returned to the field. But a loss in the rain is really nothing new for Tampa. According to the NFLWeather.com Historical Analytics, since 2011 the Buccaneers are a dismal 1-6 in weather-related games, on average surrender 27 points per game and held the opposition to 10 points or less only once. With such a swiss cheese D, the offense will desperately need to keep the defense rested by dominating the time of possession battle and establishing a ground game lead by Charles Sims who will continue to fill in for the injured Doug Martin.
Former Heisman Trophy winner Jameis Winston may only have one career rain game under his belt, but the young gun is no stranger to a slippery football in a Florida storm having played his college ball at Florida State. During the downpour last week, Winston even hit his career high in passing yards with 364 prior to the delay and 405 total yards on the afternoon. But his glaring kryptonite is his how often he turns the ball over; having already tossed six picks this season and lost a pair of fumbles. Despite having weapons like Mike Evans and Vincent Jackson tormenting the opposing secondary, if the young QB keeps giving the ball away as frequently as he does, Tampa (1-2) will continue to lose as frequently as they do.
Denver (3-0) has played impressively well over it's last six or so weather-related matchups but dating back to 2009, they post a mediocre 8-9 record. But it's tough to see them not cruise through this one en route to 4-0, given Tampa's D has allowed an NFL-high 101 points (almost 34 ppg) and the Bronco's offense has scored the fourth-most in the league this season (84 points, 28 ppg). On average in weather impacted games, the Denver offense averages 24 total points.
Trevor Siemian, who's been a pleasant shock to the 2016 season thus far, has found surprising early success in both the win column as well as with his top targets Emmanuel Sanders and Demaryius Thomas. Both wideouts are off to a pro bowl-like campaign as well as bruising running back CJ Anderson whose experiencing quite the resurgence. If Denver gets rolling on the ground and in the air on Sunday, Tampa will be stuck in the mud all afternoon.