10-19-2016 20:00
Buffalo at Miami
by Will Strome, Columnist, NFLWeather.com | 10-19-2016 20:00
Hurricane Matthew absolutely pummeled the east coast and corners of Georgia, Florida and the Carolinas are still picking up the pieces. Unfortunately, it doesn't appear that the late-summer Caribbean storms are done causing problems on NFL Sunday's just yet, specifically for the AFC East this week when the Miami Dolphins host the Buffalo Bills.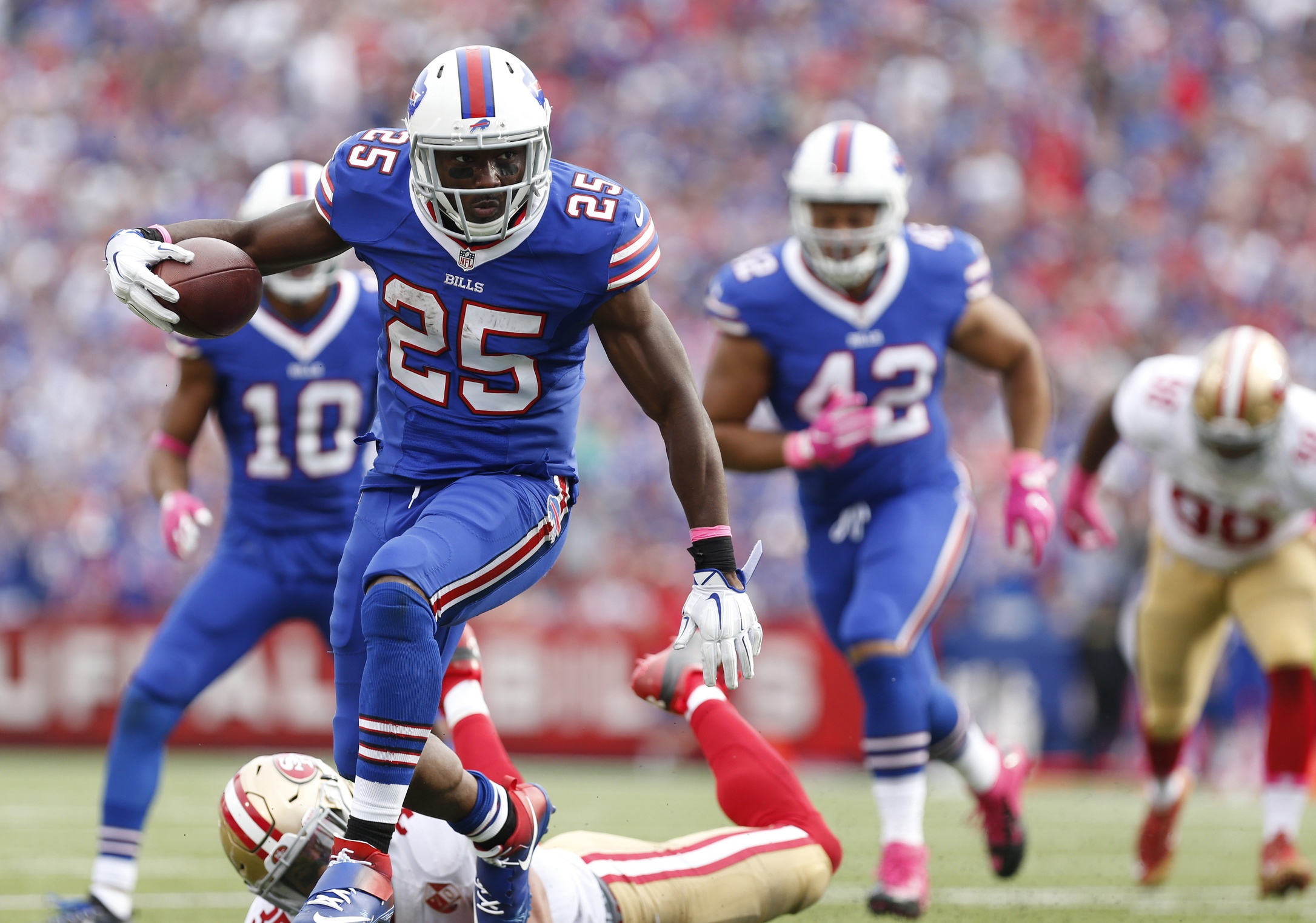 LeSean McCoy. Photo courtesy of USA Today.
According to NFLWeather.com, a 20-mph breeze is expected to be swirling inside Hard Rock Stadium for Sunday's game with temperatures lingering in the upper-70s. As of Tuesday, there was a small percentage chance of precipitation, however, the most recent tropical storm east of the Bahamas is projected to become a cyclone in the next few days and could easily force a rainstorm northwest towards Miami and the southeastern coast.
The Dolphins (2-4) are coming off a dismantling of a well-rounded Pittsburgh Steelers team and appear to be turning a corner after a lousy start. If they can keep momentum going into week seven's bout with Buffalo, Miami is right back in AFC contention instead of a dismal 2-5 start. But history doesn't bode well for the 'Phins who post a 2-5 record in rain games since 2009 and haven't won a rain game at home since 2011. Ironically, that was a 35-8 drumming of the Bills.
Quarterback Ryan Tannehill, 0-4 in his last handful of rain game starts, only averages 194 passing yards per game but his most concerning weather-related stat is he's sacked on average 3.75 times per game. Against a Buffalo D that's already tallied 20 sacks this season (2nd best in the NFL), quick drop backs and shorter routes are crucial to aerial success. So far this season it's felt like a one-man show in terms of receiving threats as star wideout Jarvis Landry has averaged roughly 10 targets a game. Fellow WR DeVante Parker and tight end Jordan Cameron desperately need to have more of an offensive impact and assert themselves more in this offense. What better time to do so than a pivotal divisional game in the rain?
But the 'Phins may not need to relay on Tannehill's arm following Jay Ajayi's sensational performance on the ground last weekend against Pittsburgh where he amassed over 200 yards on 25 touches and found the end zone twice. Arian Foster was slated to return but Ajayi may have earned himself the starting role for at least one more game while Foster continues to rehab.
Like Miami, the Bills (4-2) haven't had much success recently in the rain either. Buffalo hasn't won a rain game since 2013, where they convincingly crushed Miami, 19-0, and according to the NFLWeather.com Historical Analytics, post a 3-6 record in the rain since '10. The man they need to step up and reverse this trend is their coveted workhorse, LeSean McCoy, who's rushed for over 100 yards in three of his last four games. McCoy has reestablished himself as an elite back in the NFL and if rain and wind affect the passing game, it wouldn't be a surprise if Shady gets 30+ touches.
The Bills have a passing attacked currently ranked 31st in the league and should anticipate Miami stacking the box and forcing Tyrod Taylor to beat them with his inconsistent arm. Ideally, Buffalo would prefer to ground and pound (especially against a defense that surrenders 147 rushing yards per game) but with heavy wind in the forecast they'll need Taylor to make a few plays on his own. Whether that be with his legs or being more accurate with the ball, missing Sammy Watkins is no longer a legit excuse for lack of production. Now is the time for Robert Woods to prove he's capable of carrying the starting role.
The x-factor in this AFC East matchup could ultimately be the kicking game, where both Dan Carpenter (BUF) and Andrew Franks (MIA) have been far from flawless. Carpenter is 4-of-6 from 40+ yards this season while Franks is only 3-of-5 from between 20-29 yards and 0-for-1 from 50+. With brutal wind and rain a possibility, points could be at a premium in Miami on Sunday.