10-22-2016 08:00
Week 7 Start 'em / Sit 'em
by Will Strome and Matt Aloisi | 10-22-2016 08:00
Quarterbacks
Start 'em: Andy Dalton, Jameis Winston
Over the last four consecutive weeks, the dreadful Browns D has allowed opposing QB's to toss for at least three touchdowns a game. With clear skies in Sunday's forecast, expect Dalton to eviscerate the in-state rival Browns' atrocious secondary.
Playing against the 49ers means Winston's fantasy floor is very high this week. A fast paced game means more offensive plays and creates more opportunities to score points. A great streaming option if your QB is on a bye this week.
Sit 'em: Carson Wentz, Alex Smith
Last week against Washington, Wentz was sacked five times and completed only half of his passes. If Philly's offensive line doesn't get it together against Minnesota's stout D that only surrenders 12 points per game this season, another poor performance by the Wentz is in the cards. Winds could kick up to 15-20 mph which could also create some problems for the rookie.
Ok, hear me out… Yes, he is at home against the Saints, but keep this in mind... The Saints are more prone to allowing rushing TD's in the red zone as opposed to giving it up thru the air. Temper expectations here.
Running Backs
Start 'em: Jacquizz Rodgers, Spencer Ware
After seeing what Shady McCoy did the 49ers did last week, I can see Rodgers racking up good numbers here. Head Coach Dirk Koetter will always ride the running back no matter who it is. Until Doug Martin returns from injury, keep Rodgers starting in your lineup.
Even with Jamaal Charles back, Ware out touched the veteran RB last week 26 to 11 and is still very much an important factor of Andy Reid's offense. Heading into week seven's bout against a New Orleans defense that allows 117 rushing yards per game, Ware is a must-start and with wind expected to be a factor, Reid will prefer the traditional ground and pound attack.
Sit 'em: Jay Ajayi, Lamar Miller
Expect Ajayi to come back down to earth this week at home to Buffalo. That, along with the fact Arian Foster is a week healthier, I can't expect a large point total here this week. Wind and rain could end up being a factor here as well.
With only one rushing touchdown under his belt, it's safe to say the expectations set for Miller in Houston this season were exceedingly too high. He'll have his occasional 100-yard performances but against Denver's lights out defense, there's a minimal chance he'll hit triple digits on Monday night.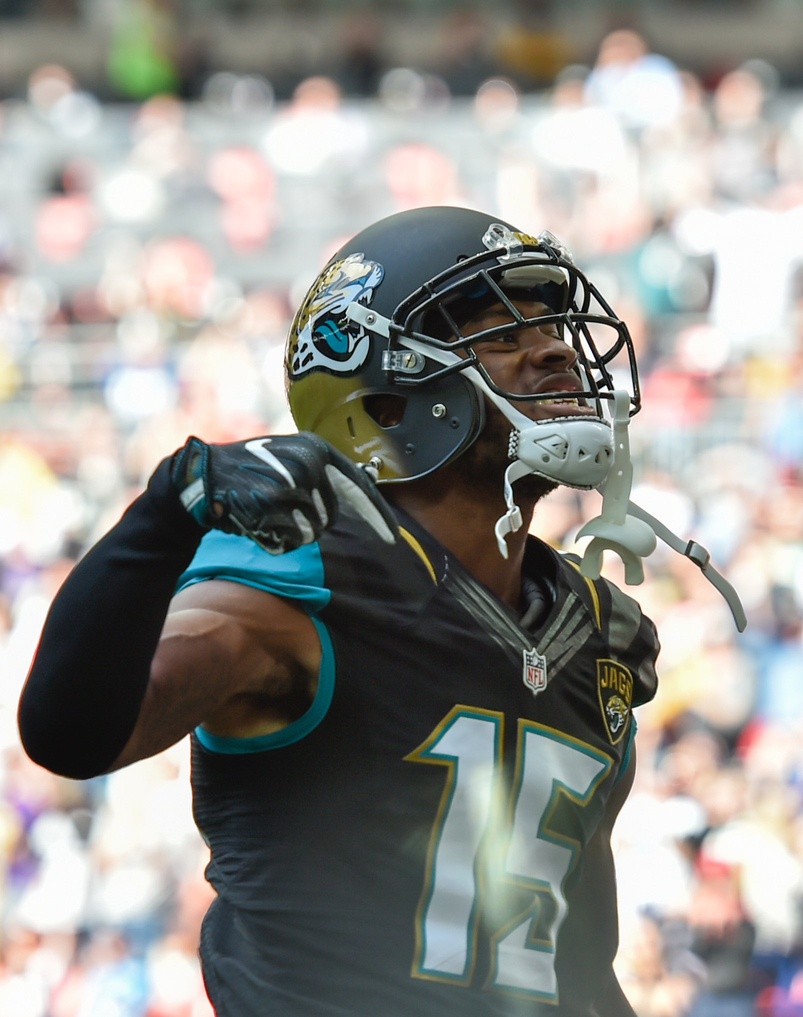 Allen Robinson. Photo courtesy of USA Today.
Wide Receivers
Start 'em: Brandon Marshall, Allen Robinson
Geno Smith, Fitzmagic, PeeWee Herman, or Carlton Banks.. It could be anyone under center but regardless of which clown is taking snaps, Marshall will get his looks and targets regardless. Expect a Brandon Marshall kinda game here.
Robinson, who was taken in most fantasy drafts in the third round, is a sleeping giant just waiting to put up big numbers against a sorry defensive unit. A visit from Oakland's awful secondary that gives up over 312 passing yards per game might just do the trick. With clear skies in the forecast, Blake Bortles has perfect passing conditions to reignite his chemistry with his top wide out.
Sit 'em: DeAndre Hopkins, Michael Floyd
At this point in the season, Hopkins has been touchdown dependent. It gets worse this week when they arrive in Denver for a matchup nightmare. Hopkins was probably your first round pick, but sad to say he might not perform this week.
Aside from future Hall of Famer Larry Fitzgerald, Arizona receivers can't be trusted. Against Seattle's stellar defense and with Carson Palmer dinged up from last week, Floyd's two targets from last week could be an indication he's being phased-out of the Cardinal's offensive game plans.
Tight Ends
Start 'em: Gary Barnidge, Hunter Henry
Finally, Barnidge is once again a key factor in Cleveland's [limited] passing attack. Over the last four weeks, Barnidge's targets-per-game has leaped to 6.5 after averaging just over three a game following the first two weeks. With the Browns expected to be trailing the Bengals and forced to play catch-up, Cleveland will be compelled to abandon the run.
Henry's production has been unbelievably consistent over the last month or so. Atlanta has two rookie LB's and one rookie strong safety starting. Expect a lot of points put up in this game and Henry will be a part of it.
Sit 'em: Dennis Pitta, Zach Ertz
The Jets can be beat through the air but with Flacco not 100% and this most likely being a low scoring game, the ceiling is low here for Pitta.
Since returning from injury, fantasy and Philly fans alike have been waiting for Ertz to live up to his hype. Well, both parties are still playing the waiting game and not much is expected to chance against Minnesota's tenacious defense. Wind could be a factor on Sunday and if the Viking's D-line causes the same problems Washington's did last week (five sacks), Philly may need Ertz to help out in pass protection.