10-28-2016 10:00
Week 8 Start 'em / Sit 'em
by Will Strome and Matt Aloisi | 10-28-2016 10:00
Quarterbacks
Start 'em: Sam Bradford, Trevor Siemian
With so many teams on bye this week, you might find yourself with the need to stream a few players. Bradford is in a good spot here in week eight against a poor Chicago secondary. With just an average run game, I can see Bradford filling in nice here with a healthy Stefon Diggs back.
After three straight modest starts, Siemian has the opportunity to improve and impress this week at home against San Diego's defense that's surrendered 30 points or more in three of the last four games. A cheap play in daily fantasy and with weather a nonfactor this week, Siemian will have plenty of drop backs and should spread out the ball nicely to his numerous offensive weapons.
Sit 'em: Carson Palmer, Phillip Rivers
Anyone who struggled to sit through Arizona's dismal draw against Seattle last week isn't debating if Palmer should start. They're thinking who they can find on the waiver wire so they can rid themselves of the inconsistent train wreck that Palmer has sadly become. Against a well-rested Carolina D coming off a bye week, an already questionable Palmer will be under pressure all afternoon.
Denver's defense will be ready for this one. In this divisional matchup at home, I can see Denver forcing a few turnovers and getting to Rivers.
Running Backs
Start 'em: LeGarratte Blount, Matt Asiata
Could this be the NFL's best goal line and shortage back that no one is talking about? He's getting plenty of touches and if rain hits Buffalo on Sunday, those touches will only increase.
With a huge bye week combined with some other running back injuries around the league, Asiata will be a good fill in. Now, he might not accrue a mass amount of yards but he will be the guy to punch it in near the goal line.  Also add the fact McKinnon might not play ups his opportunities for scores.
Sit 'em: Melvin Gordon, Matt Jones
We've returned to our faith in Denver's defense again. If you have a different option at RB, think hard on this one. Gordon might not be a lock for starter points here on the road.
Jones has been handed countless chances to take the reins as the top back in Washington but he just keeps finding a way to blow it. With two fumbles last week and Chris Thompson impressing more and more, Jones' touches, and opportunities, could be decreasing.
Wide Receivers
Start 'em: Michael Crabtree, Emmanuel Sanders
The guy is averaging almost 9 targets per game. Playing against a terrible TB secondary, Oakland will be throwing a ton here. Crab all day.
It's tough to think of a #2 receiver on any other team in the league that's more lethal than Emmanuel Sanders. For a little guy, he fearlessly goes across the middle and can burn corners on a deep route. San Diego's pass defense gives up over 275 passing yards per game and Sunday in sunny Mile High Stadium will be no different. Averaging over 10 targets per game, Sanders might see even more than that.
Sit 'em: Alshon Jeffery, DeSean Jackson
Going against a stout Minnesota D here plus add the fact that he might be on the trading block? Ugh, I cannot imagine he puts up great numbers here. Pass.
He's only been targeted 10 times or more once this season and he's racked up only one 100-yard receiving game. DeSean Jackson is no longer the most dangerous weapon in Washington's attack. Averaging only 32.5 receiving yards over the last four games, Jackson isn't even worth FLEX consideration against Cincinnati.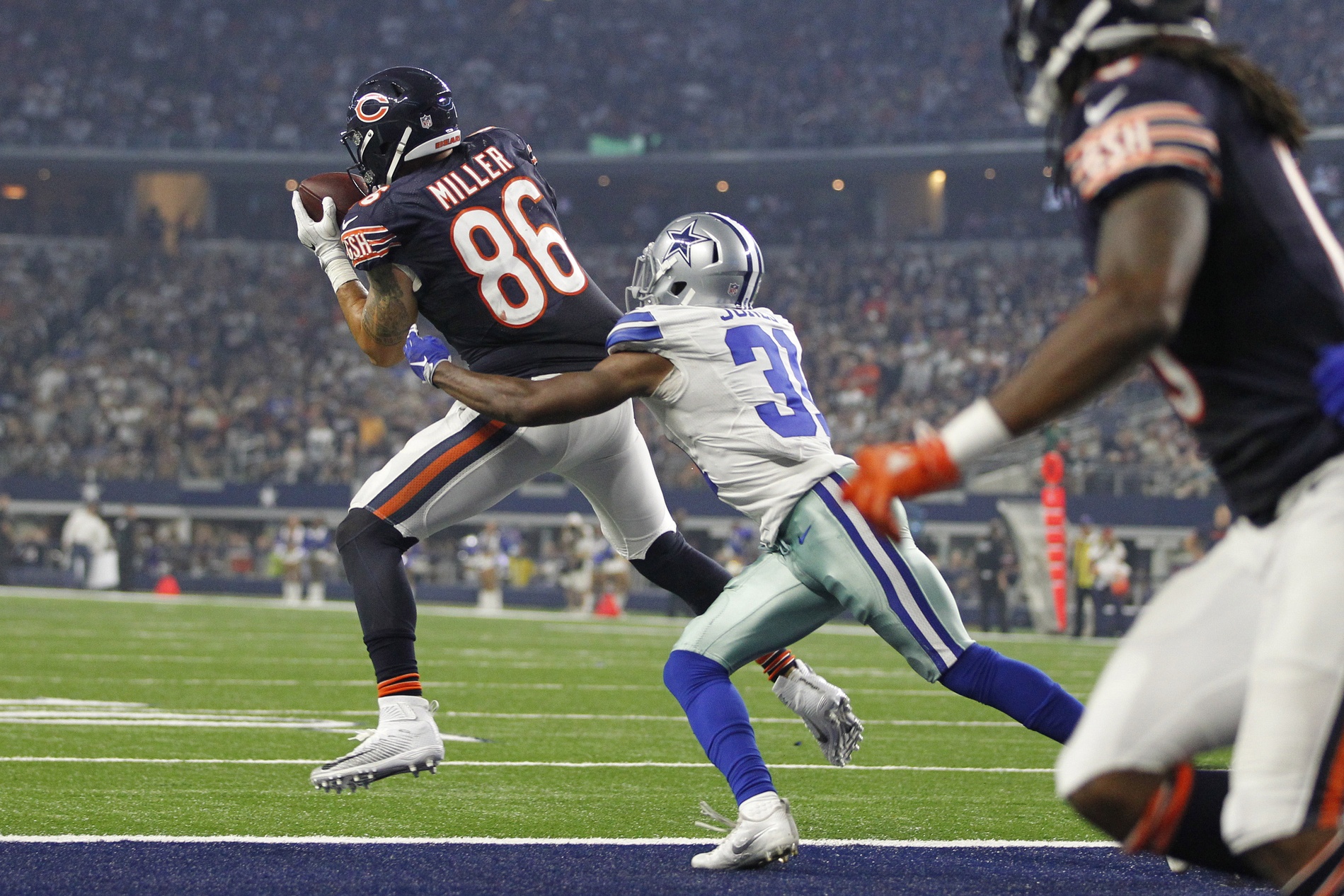 Zach Miller. Photo courtesy of USA Today.
Tight Ends
Start 'em: Zach Miller, Zach Rudolph
By now, Miller is no longer the best kept secret at the TE spot in 2016. He's been Chicago's only reliable receiving option and Monday night with Jay Cutler returning under center, Miller will be his go-to red zone security blanket. Unless the Windy City gets a little too windy in the evening, passing conditions will be prime for this bitter NFC North bout against Minnesota.
Don't need to repeat myself here for Rudolph against Chicago. Bears' defense is weak sauce. Start him.
Sit 'em: Antonio Gates, Hunter Henry
Just because Hunter Henry shouldn't be started in fantasy lineups doesn't guarantee Antonio Gates should either. Gates saw plenty of targets last week but the dinged-up veteran dropped all the vital ones. He's losing a step, he's losing his chemistry with Phillip Rivers and he's losing his starting role to Henry. The once great Gates shouldn't even be rostered at this point.
Man, I am jumping all over Sand Diego here but with Henry being a little banged up and Rivers really relying on Gates last week, maybe stream another tight end on this one.