11-03-2016 18:00
BEST OF THE WEST : BRONCOS VS RAIDERS IN AFC SHOWDOWN
by Will Strome, Columnist, NFLWeather.com | 11-03-2016 18:00
The Oakland Raiders are primed to host their most pivotal home game in roughly a decade. Knowing how inconsistent the Bay Area weather can be, the visiting Denver Broncos could be in for a chilly and/or damp evening but most importantly, the AFC West summit is on the line Sunday night.
According to NFLWeather.com, temperatures will dip into the high-50s for the evening kickoff at the Oakland Coliseum with minimal wind expected. There's currently about a 20% chance of precipitation, as of Tuesday ,but Bay Area weather can be unpredictable and sporadic so despite party cloudy being the current forecast, there's a decent chance the east bay could see some drizzle. It feels like every season the Raiders host an absolute mud bowl on their battered bluegrass playing surface and hopefully Sunday night's heavyweight divisional bout will provide us fans with another.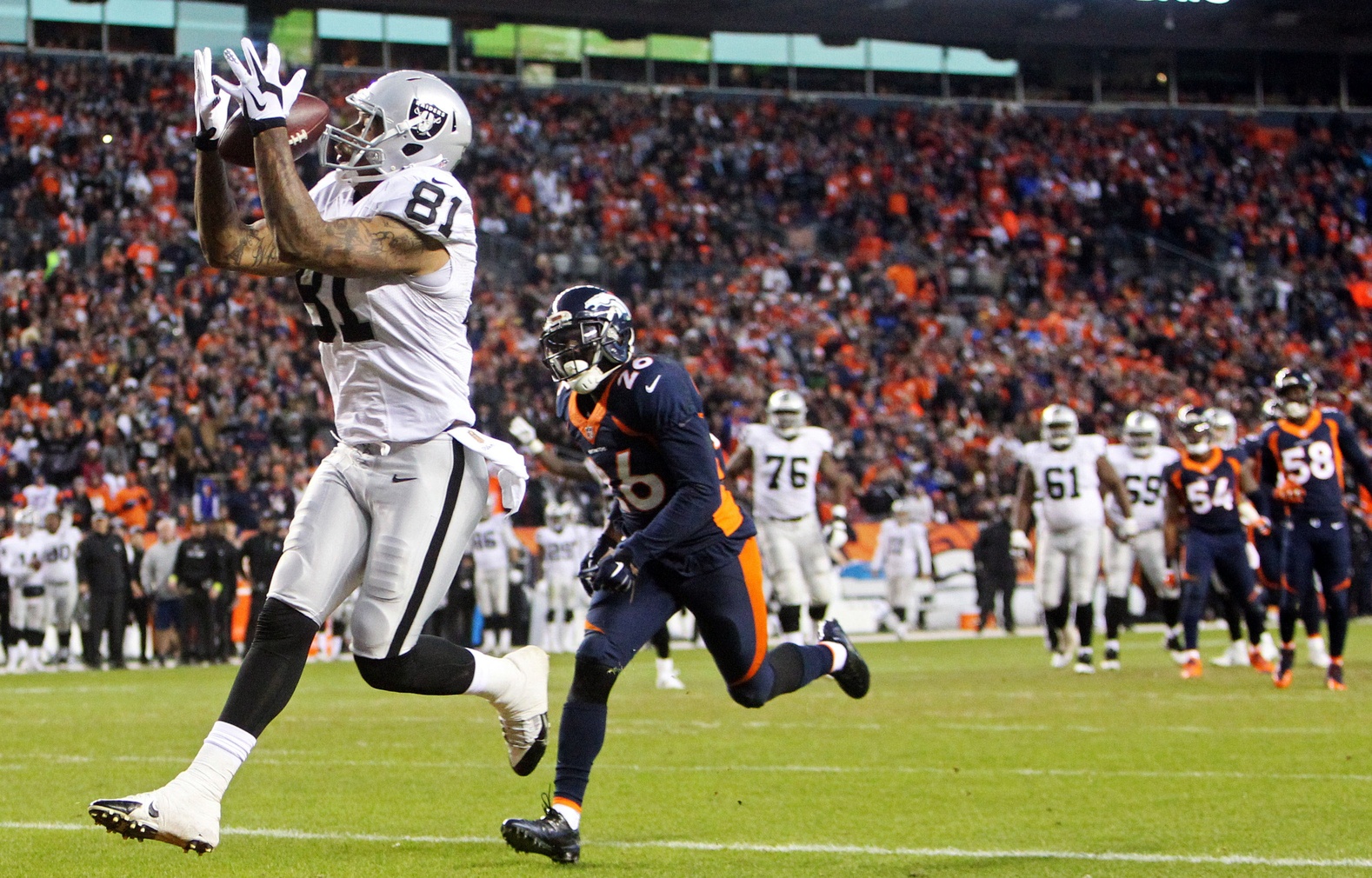 Mychal Rivera. Photo courtesy of USA Today.
After hiding in mediocrity for so many years, who in their right mind would have thought that Oakland would be sitting at 6-2 right now?!?! The Raiders are fifth in the league in total offense with over 400 yards per game and average over 285 passing yards. However, having already played in and lost one weather impacted game, 26-10, at home to Kansas City in the rain; it was glaringly apparent the offense was struggling to battle both the elements and the Chiefs' mediocre defense.
Another concern is the Raiders are 3-5 in rain games since 2009, according to the NFLWeather.com Historical Analytics. Of those games, quarterback Derek Carr has been under center in three and posts a career rain game record of 1-2. But, miserable weather and a little drizzle doesn't seem to deter Carr from dropping back on average in weather-related games over 36 times. He also still manages to average at least one TD per game. Even with his decent passing stats, Carr will still be handing the ball off plenty to a now healthy Latavius Murray, but expect Michael Crabtree and Amari Cooper to get still their targets regardless of playing conditions.
Denver (6-2) has also played in a rain game already this season, thumbing the Buccaneers 27-7 after an excruciatingly long weather delay. During that nonconference road win, despite racking up 32 total carries, the team only rushed for 89 total yards. It was clear the offensive game plan was to take the pressure off first year starter Trevor Siemian but the former Northwestern QB still managed to thrive in the crummy conditions prior to exiting the game with a shoulder injury. Backup Paxton Lynch came in and picked up where Siemian left off, leading the Denver offense downfield with ease en route to Denver's fourth win of the season. The two QBs combined for 19 completions from 31 attempts while finding the endzone twice and accumulating 218 total passing yards. Not bad for a pair of inexperienced quarterbacks.
With CJ Anderson done for the year, the Broncos rushing attack will now relay on Devontae Booker to carry the load. Booker, averaging 4.3 yards per carry and has scored in each of his last two games, is an ideal bruising back for goal line and short yardage situations yet he's still surprisingly shifty and elusive. In only two games, Booker has earned defense's respect and if Oakland starts putting eight or nine defenders in the box, Siemian will have a field day finding Demaryius Thomas and Emmanuel Sanders tormenting a secondary that surrenders over 285 passing yards per game.
When Denver hosts Oakland on New Year's Day, it's probably safe to assume weather will be a factor in that week 17 battle. But week nine in the East Bay might feature far from flawless conditions. If that's the case, points might be hard to come by but big, tenacious hits certainly won't be in this heated and bitter division rivalry.