01-05-2017 17:00
NFC Wild Card Match-Up: Seahawks and Lions vs The Rain
by Will Strome, Columnist, NFLWeather.com | 01-05-2017 17:00
Visiting teams traveling to the Pacific Northwest understand rain is almost a given once November rolls around but freezing temperatures and snow flurries aren't always on the radar. That will change during the opening NFC Wildcard game on Saturday when the sixth-seed Detroit Lions head to the third-seed and NFC West Champions, Seattle Seahawks.
According to NFLWeather.com, mixed precipitation and frigid temps are expected in and around the Pungent Sound for Saturday's late kickoff. An early drizzle could potentially turn to snow during the fourth quarter but wind shouldn't be much of a factor, swirling under five mph at the max. Temperatures for game time will start in the mid-to-high 30's but by the third, CenturyLink Field will feel closer to 30 degrees.
Seattle (10-5-1) is no stranger to playoff games in unfavorable conditions. The 'Hawks had no trouble with the Saints in the rain at home in 2014, downing Drew Brees and company 23-15. Even arctic conditions on the road couldn't stop them as they beat the Vikings, 10-9, in the third coldest playoff game in NFL history last season. But they're not unstoppable, a week after beating Minnesota the defending NFC champions were downed by Carolina on a slippery, soggy and re-sodded field in the NFC playoffs less than a year ago.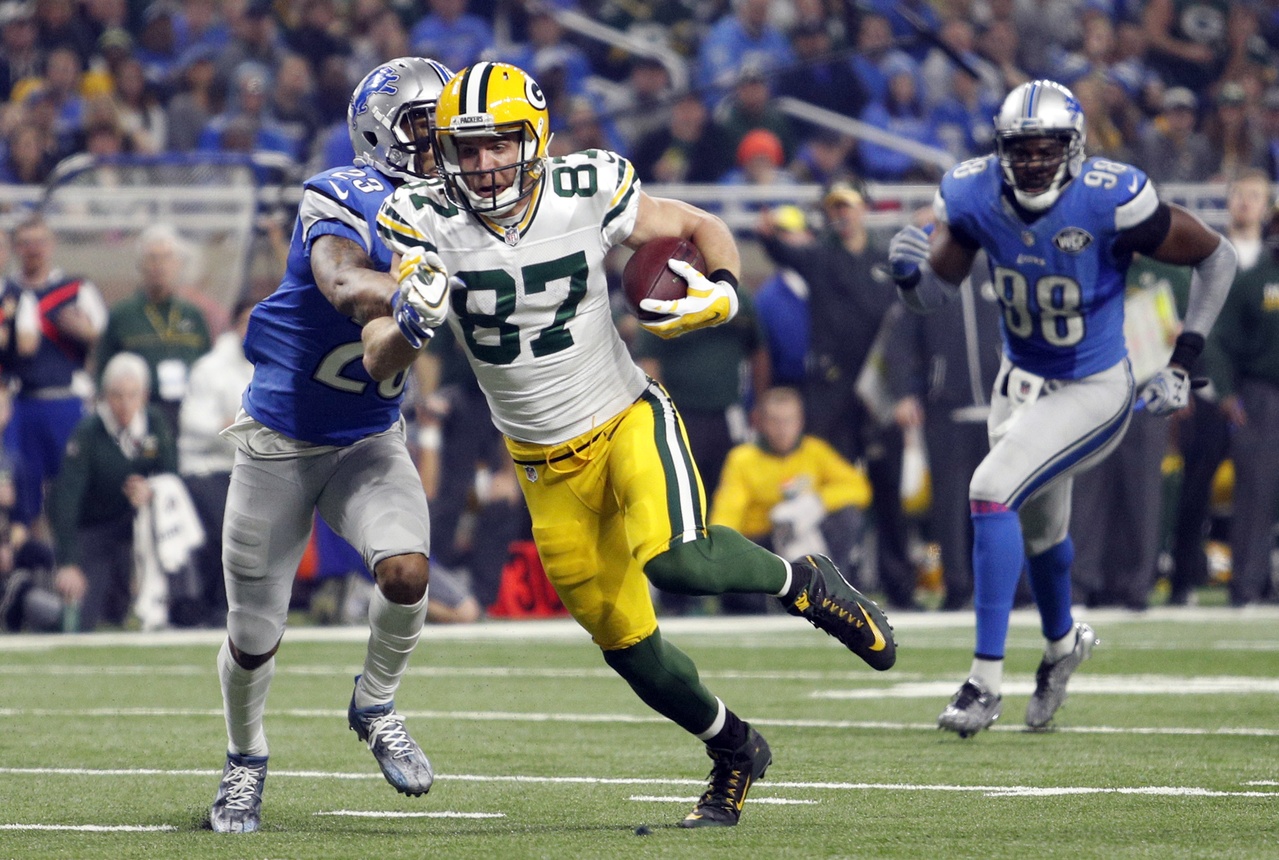 Jordy Nelson. Photo courtesy of USA Today.
What's intimidating about the Seahawks is their record in the rain, especially at home. According to the NFLWeather.com Historical Analytics, Seattle is 8-2 over the last ten rain games and average close to 30 points per game. But when freezing temperatures are the factor and precipitation is nonexistent, the 'Hawks are only 1-4 in their last five matchups and the offensive production is cut in half to roughly 15 points per game.
Similar results are seen with Seattle's usually stout defense. In the rain, the D only surrenders 15 points per game while in strictly frigid conditions the average leaps to almost 31. In order to pull off the upset, Detroit better hope for a chilly and dry afternoon if they have any intention of downing a team that's been to two of the last three Super Bowls.
Quarterback Russell Wilson has produced a rock solid record in the rain, despite completing only 55% of his passes and having a 13:10 touchdown to interception ratio over his professional career. But a win is a win is a win. In chilling conditions, Wilson's completion percentage remains roughly the same at 56% but his ratio flip-flops to three interceptions for every two TD's. With weather a factor, his security blanket will be tight end Jimmy Graham who surprisingly has only averaged four targets a game over the last four weeks while Doug Baldwin, his clear cut top target, saw a staggering 19 looks two weeks ago.
Wilson will desperately need the running game to establish itself against a Detroit D that's allowed 110 yards or more on the ground over each of the last three weeks. However, Seattle hasn't had an individual 100-yard rushing performance since Thomas Rawls did just that back in week 13. Rawls hasn't been much of a threat, averaging a measly 35 yards per game since week 14 and if that trend continues, rookie Alex Collins will likely steal some touches.
Detroit (9-7) is far from impressive in the snow or rain, posting a winless 0-4 record over the last few seasons. As for playing in the cold however, conventional thinking would be that a dome team like the Lions would instantly struggle in the near-freezing temps but competing in the NFC North means playing in plenty outdoor games in the Midwest in December. When precipitation is in the forecast, the Lions offence averages only 17.5 points per game but in chilling temps the offense puts up four points a game more and posts a 1-6 record since 2010.
Matthew Stafford needs to be the Lions' saving grace under center. Having dropped back 40 times or more in almost half of the regular season games this season, regardless of what the conditions will be, he'll be airing it out plenty. In his most recent frigid game on the road, Stafford completed 28-of-39 attempts for 298 yards and three scores en route to a 24-20 win.
It's felt like Stafford's top targets have fluctuated every week. Tight end Eric Ebron has seen 25 targets over the last three weeks but hasn't found the endzone since week one. Off season acquisition Marvin Jones Jr. appeared to be the number one option for a few weeks but has taken a back seat to Golden Tate who prior week six, Tate averaged only six targets a game. Since then, the speedy wide-out has asserted himself as the number one and has seen almost 10 targets a game.
But despite the passing game's success all season, if the running game can't get rolling, Detroit is in trouble. With Theo Riddick on injured reserve, Zach Zenner has leapfrogged Dwayne Washington as the top back. Zenner over the last two weeks has tallied a total of 136 yards on 32 touches and three scores. If the rain and snow picks up, Zenner and Washington will feature more than if the conditions solely called for cold.
Seattle may be the heavy favorite but don't sleep on Detroit's ability to unleash a powerful aerial assault. Earl Thomas, who is out with an injury, believes the Lions have no chance of winning in the cold. The last time I remember a Seahawk making a bold prediction in a frigid playoff game, Matt Hasselback did just that and promptly threw a pick six to end his season against another NFC North team. Let's see if Thomas just jinxed the 12th Man.