11-09-2017 08:00
Rain Expected for Saints, Brees in Buffalo
by Will Strome, NFLWeather.com | 11-09-2017 08:00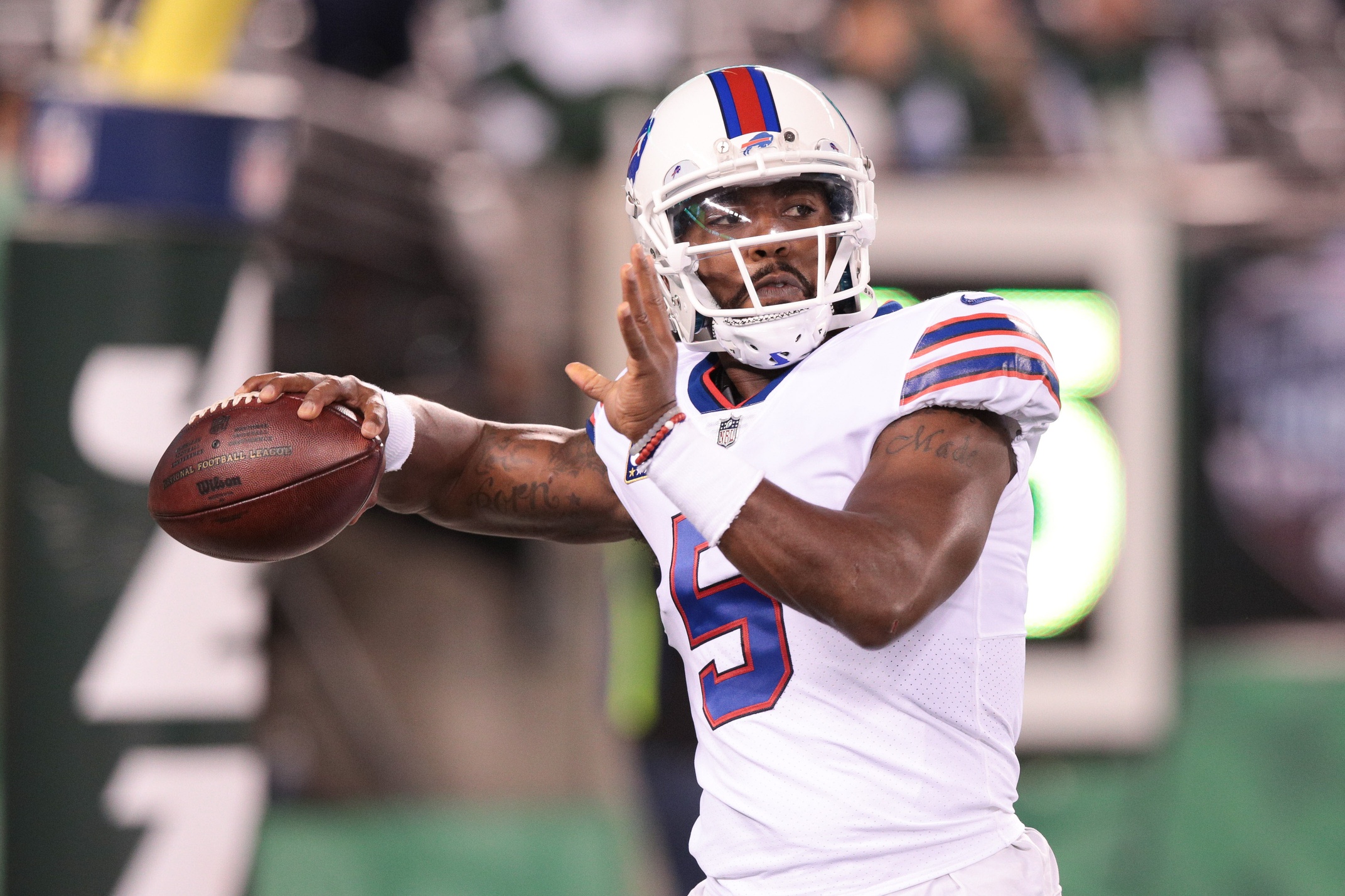 Tyrod Taylor. Photo courtesy of USA Today.
Fall is fading fast and now that the foliage has come and gone, snow will slowly creep into the forecasts and Sunday afternoon when the Bills host the Saints in the rain, as temperatures drop the likelihood for sleet or even snow is very much a frigid possibility.
According to NFLWeather.com, Buffalo will be blanketed by overcast skies on Sunday with rain expected for the 1pm kickoff. Too bad the game isn't the primetime match up since the potential for snow is very likely. Temperatures should be in the mid-to-low 30s with minimal wind of around 8-10 mph.
This will be the Bills' (5-3) third rain game of the season, having lost 20-16 at Cincinnati but the team bounced back by handling the Raiders and the rain at home nicely for a 34-14 win. According to NFLWeather.com Historical Analytics, the Bills are 4-8 in the rain since 2010 and if flurries happen to fall, the team has posted a snowy 2-3 record at home since '10.
Buffalo has an offense built for bad weather. They're anchored by a mobile and versatile quarterback, Tyrod Taylor, who despite only a 1-3 career record in rain games is an underrated fantasy start when weather is an issue given Taylor has 35 or more passing attempts in three of his four career rain games. Running back LeSean McCoy will see plenty of carries but the shifty running back has also snagged six receptions in each of his last two rain games.
Buffalo's balanced rushing and passing attack has been solid all season and with Kelvin Benjamin joining the mix, the Bills are a legitimate force in the AFC. USA Today's Steve Gardner thinks Deonte Thompson could be the sneaky fantasy play of the week, especially in daily fantasy where the Buffalo wide-out is only $3,600 on Draft Kings. "The addition of Kelvin Benjamin will cut into Thompson's targets, but his seven catches for 81 yards and a touchdown last Thursday may help keep Thompson on the field," Gardner wrote.
New Orleans (6-2) doesn't compete in many matchups featuring precipitation, but a few weeks ago the Saints waltzed into Lambeau Field and escaped the Green Bay storms with a 26-17 victory. Veteran QB Drew Brees, who normally wears gloves when weather is a factor, ditched the gloves against the Pack which resulted in a huge road win. Well, maybe it wasn't the glove that was the problem, but whatever was causing the Saints rain game woes is no more.
The Saints' offense over recent years has basically been the Drew Brees show but in the victory against GB where weather was an issue, it was the RB's in the backfield behind him that reigned supreme. Mark Ingram was the lead back who racked up 105 yards on 22 carries and a touchdown with Alvin Kamara chipping in nine touches for 57 yards. Both backs also aided the passing game with a combined nine receptions but it was Ted Ginn Jr. and Michael Thomas who stole the show with a combined 14 receptions for over 220 yards.
New Era Field's A-Turf Titan has already hosted one rain game this season but here's to hoping we see some flurries stick to the artificial surface in Orchard Park. We've seen wind, rain and lightning feature in NFL games this season; maybe this week we'll get the first glimpse of a snowy winter wonderland.