11-16-2017 12:00
Tennessee Titans and Freezing Rain Possible in Pittsburgh during Steelers Game
by Will Strome, NFLWeather.com | 11-16-2017 12:00
Pittsburgh gets pretty cold come mid-November and that's not even factoring in the potential rain bound for the Burgh on Thursday night when the Steelers host the AFC South leading Tennessee Titans.
According to NFLWeather.com, it will be overcast and rain is probable with the temperatures dipping below freezing overnight. There's a good chance freezing rain could be in the mix for the 8:25pm Thursday night kickoff. Wind should only top out around 8mph but the unpredictable open end zone at Heinz Field could cause some issues in the kicking game. Snow hasn't been mentioned just yet but with flurries in Cleveland's Sunday forecast, who knows just how bad the weather can get on Thursday night.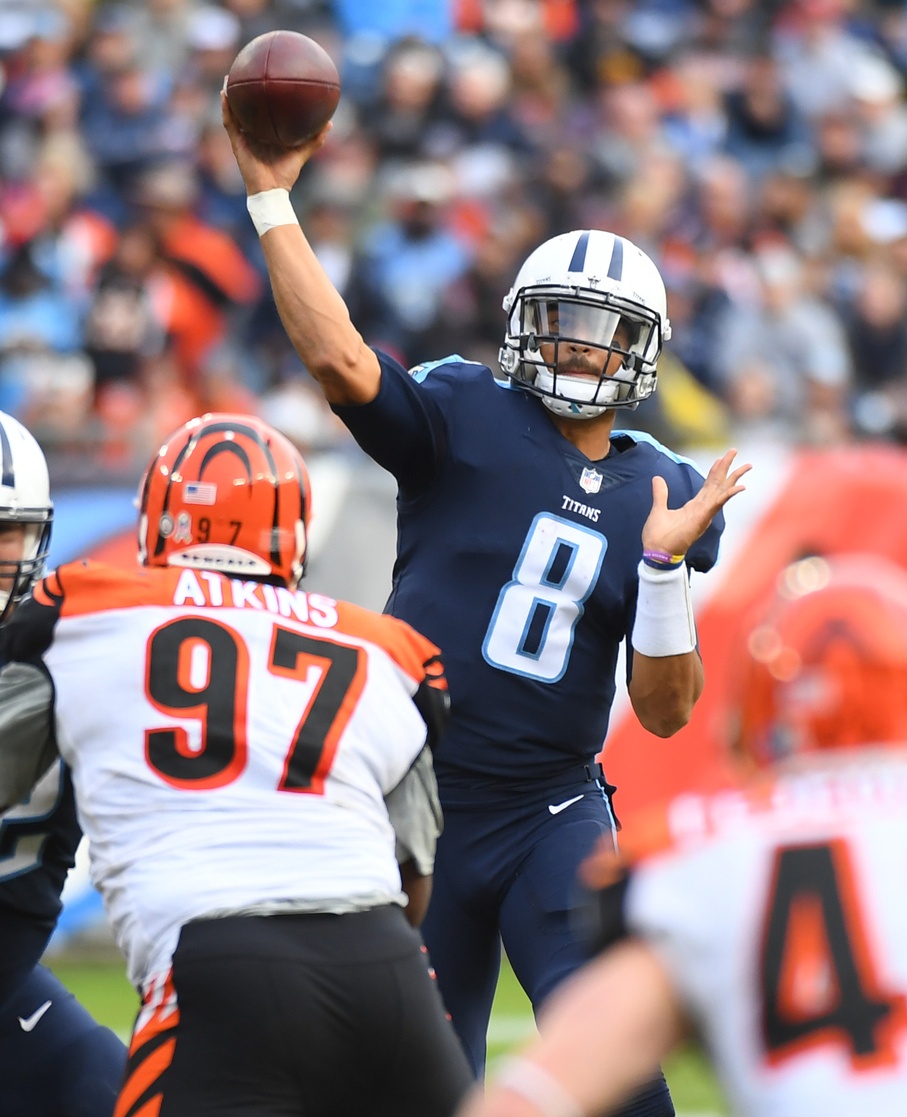 Marcus Mariota. Photo courtesy of USA Today.
Pittsburgh (7-2) historically has been a tough team to beat when rain or freezing temps are a factor, let alone both. Since 2010, the Black and Gold are 10-3 in rain games including victories in eight of their last nine. More impressively, according to the NFLWeather.com Historical Analytics, Pittsburgh has won seven straight games when the temp is below freezing and the team is 14-4 since 2009.
Much of the Steelers' success can be attributed to veteran quarterback Ben Roethlisberger who with his large frame and ability to shrug off defenders makes him a top QB for competing in crummy conditions. Since 2012, Big Ben is 12-3 in weather impacted games and over that 15 game span, he's only turned the ball over seven times. Roethlisberger has had his troubles this season but against a secondary that surrenders over 230 passing yards per game, this could be the matchup to get Big Ben back on track. With Le'Veon Bell in the backfield and Antonio Brown running routes with rookie sensation JuJu Smith-Schuster, Roethlisberger has no excuses for an inability to move the football.
Tennessee (6-3) has quietly been sitting atop the AFC South and now that the team is finally starting to see its stars at full health, this could be a dangerous team to see in January. The recent bye week looks to have done tight end Delanie Walker some good as well as lead back DeMarco Murray whose name seems to pop up on the injury report on a weekly basis. But as the weeks go by, Murray appears to be sharing more of his carries with Derrick Henry who now has double digit carries in three of his last four games. With rain in the forecast, expect both backs to see plenty of touches.
Quarterback Marcus Mariota might not have the rain game NFL experience as Big Ben has but the former Heisman winner played his college ball at Oregon so the young gunslinger knows a thing or two about prepping for rain. One thing that Mariota does have in common with Roethlisberger is his mobility in the pocket and in a rain game like Thursday's, don't be surprised to see a few Cam Newton-like designed QB runs.
But without help from his receivers, Mariota could be in for a long, frigid night. USA Today's Steve Gardner was high on Corey Davis last week and for all the right reasons, Gardner was spot on with Davis seeing double digit targets. Rishard Matthews is the other receiving threat (Eric Decker has been non-existent) but Walker at TE is Mariota's primary go-to.
Heinz Field is notorious for having one of the more battered and bruised playing surfaces in the league and with weather a factor on Thursday, this game, ultimately, could come down to which kicking game messes up the least.