11-23-2017 08:00
Washington Redskins host NY Giants and Early Signs of Winter for Thanksgiving
by Will Strome, NFLWeather.com | 11-23-2017 08:00
The Turkey Bowl is as synonymous with Thanksgiving as the pumpkin is with Halloween. Whether it's a game of touch or tackle football in the yard or park, the only proper way to do the holiday is to start it with football and it end with football.
With three NFL games spread beautifully across the holiday afternoon, there's no shortage of action to catch when sneaking away from the family. Of the three NFL Thanksgiving Day games, the only outdoor game is at FedEx Field where the Washington Redskins (4-6) host the New York Giants (2-8) in what will certainly be a sizzling battle between bitter division rivals in extremely frigid conditions.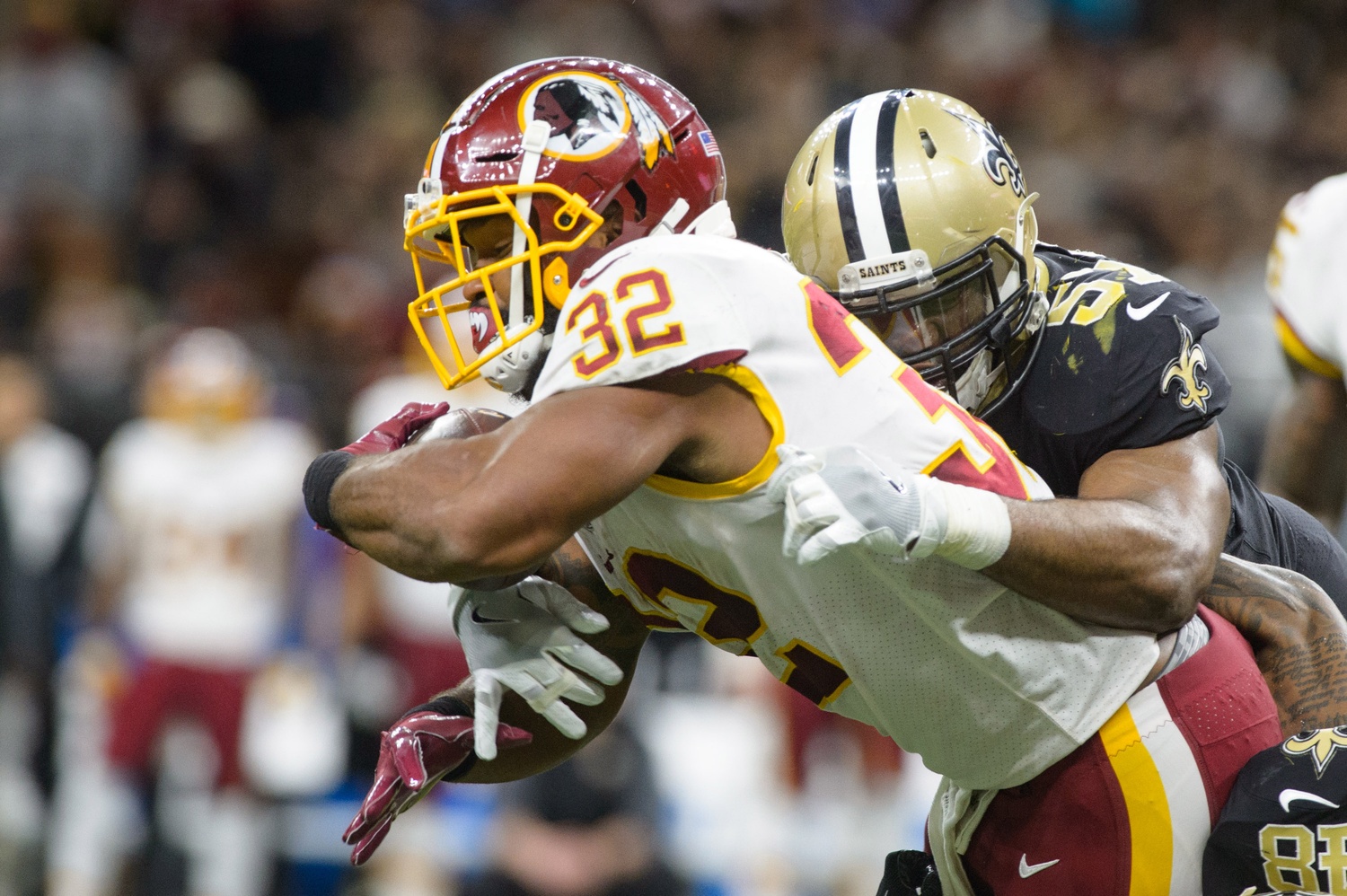 Washington Redskins. Photo courtesy of USA Today.
According to NFLWeather.com, temperatures for the 8:30pm kickoff will begin in the mid-30s but could potentially dip into the 20s. Even if the thermometer might not show 20 degrees, the players and fans will definitely feel the below freezing temps since the wind chill will be unavoidable. Rain isn't likely but weekly forecast have seen a fluctuation from a 10-30% chance of precipitation so it won't be a huge surprise if flurries or freezing rain make an appearance on the grass surface.
If the partly cloudy skies indeed send rain, both the Redskins and Giants have already played in at least one rain game this season. Washington lost at home to Dallas, 33-19, but downed the Seahawks in Seattle, 17-14. The New York Football Giants beat Tampa Bay with Eli Manning having one of his best games of the season by completing 30-of-49 passes for 288 yards and two touchdowns. The passing attack has been the strength of the NY offense but it'll take more than a solid Manning performance to beat the 'Skins in an icy D.C.
The Giants' offensive issues start with an extremely shaky and constantly changing o-line that hasn't been able to help any of the countless players who have lined up in the New York backfield this season. Orleans Darkwa, if healthy, will likely be the lead back on Thursday with Wayne Gallman, Shane Vereen, Paul Perkins and Shane Smith as the other potential victims for the Washington defense to gobble up. Wide-out Sterling Shepard and rookie tight end Evan Engram are Giants fans' last lone hope for possible players to find the end zone but as conditions worsen on Thanksgiving, the team might be forced to resort to the ground game.
Washington's offense has been up and down all season and absolutely plagued by injuries. USA Today's Steve Gardner wrote about the crushing injury to the 'Skins backfield with Chris Thompson suffering a season-ending injury. But as Gardner mentioned, "the silver lining is that fellow rookie RB Samaje Perine had by far his best game, rushing for 117 yards and a TD on 23 touches." Gardner also noted in his most recent article that Byron Marshall might be a worthy pickup as Perine's backup who will see "plenty of third down action" and if rain is a factor, QB Kirk Cousins might favor checking down to his backs.
Gardner offered another piece of advice regarding Redskins players by keeping an eye out for wideout Josh Doctson on the waiver wire. Now that Terrelle Pryor is out with an injury, Doctson is the clear number two option behind Jamison Crowder who's been targeted an average of almost 11 times per game over the last three weeks. There's a chance TE Jordan Reed may miss another week, allowing veteran Vernon Davis to step up as Cousins' go to in the redzone.
According to the NFLWeather.com Historical Analytics, Washington is 2-3 in freezing temps since 2009 while the Giants are 2-5. Neither has necessarily found a ton of success in recent seasons but maybe this matchup in freezing conditions will spark a hot streak for either struggling side.