11-24-2017 08:00
East Bay Expecting Wind and Rain for Raiders-Broncos Bout
by Will Strome, NFLWeather.com | 11-24-2017 08:00
Weather in the Bay Area is always unpredictable and what better time for a potential rain storm than when the Raiders host the Broncos for a classic showdown featuring one of the NFL's most beautifully black and blue rivalries.
According to NFLWeather.com, overcast skies will be present for the 1:25 PST kickoff inside the Oakland Coliseum but a light rain is expected in the early evening. Temperatures will be in the mid-to-low 60s but a swirling wind of 10-12mph could be an issue if the gusts pick up. With the addition of some drizzle, the bluegrass surface routinely torn up when the weather turns nasty will hopefully do just that on Sunday, much like all the Turkey Bowl fields scattered across America on Thanksgiving Day.
Even though both sides are struggling mightily, this week's matchup is absolutely crucial if either team has any postseason ambition. Denver (3-7) is making a change at Offensive Coordinator while Oakland (4-6) is doing the same defensively. Will that have a major impact on the Broncos offense against the Raiders defense? Well, it will probably feel like the change couldn't have done any worse.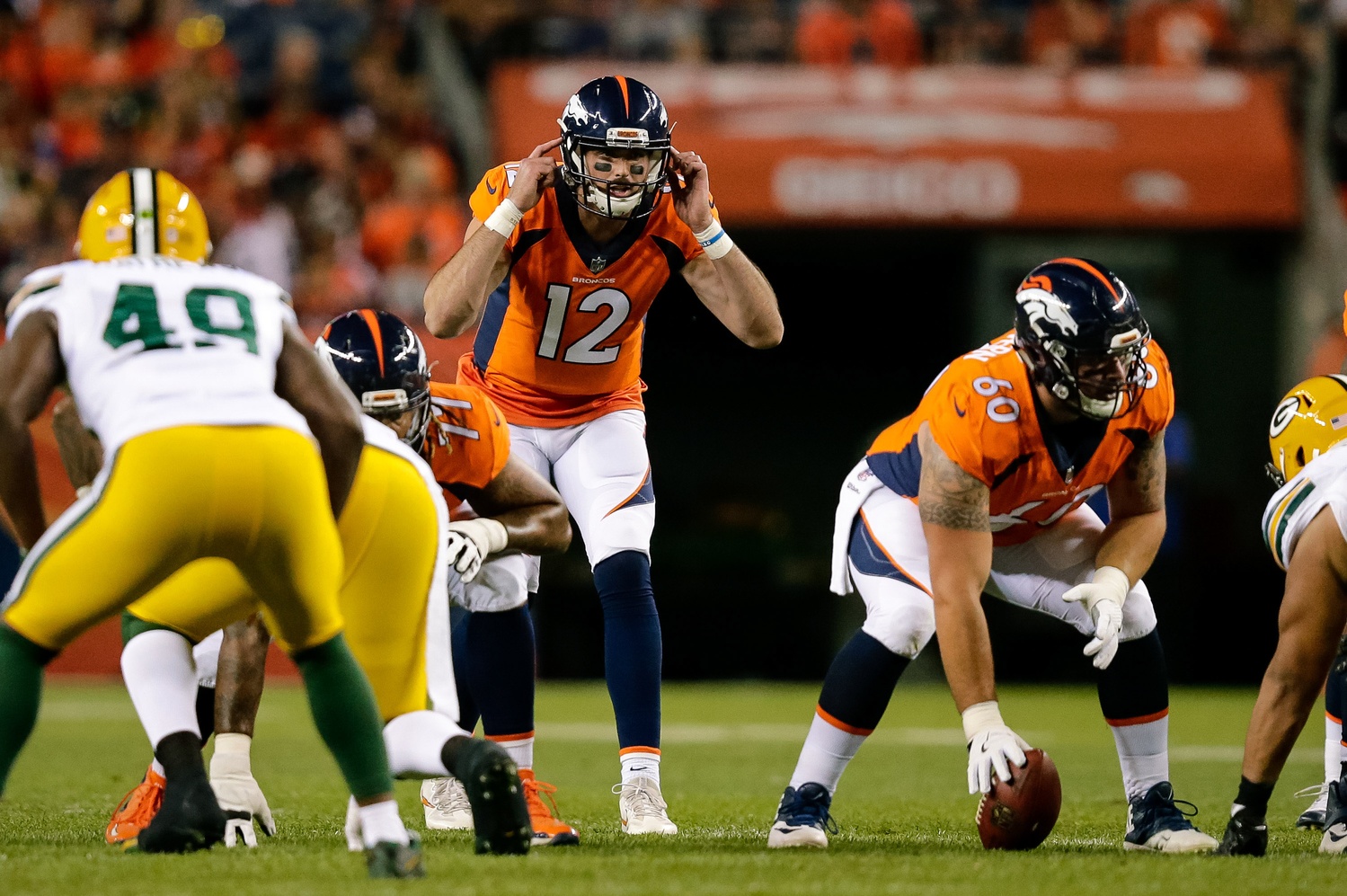 Paxton Lynch. Photo courtesy of USA Today.
Denver started the season strong but the recent cold streak has resulted in Paxton Lynch getting the nod under center this week. If wide receivers Demaryius Thomas and Emmanuel Sanders can't shake off the secondary and find some space in the seams for Lynch, the Denver passing game is in real trouble.
That being said, a lot lies on the stagnant Broncos rushing game that's currently ranked 29th in the league. C.J. Anderson will likely share some carries with Devontae Booker but maybe this will finally be the week Jamaal Charles shows us the unstoppable Charles of old. With wind and rain a potential factor, it was afternoons like this where the veteran shined his brightest.
According to NFLWeather.com Historical Analytics, the Raiders are 3-6 in the rain since 2009 while the Broncos are 3-3. Oakland has already played and lost in one rain game this season, a 34-14 drumming by the Bills in Buffalo, but the Raiders are a team built for rain games and a win on Sunday leaves them only one game shy of getting back to .500.
Quarterback Derek Carr appears to be back to full health, and given that the Fresno State grad has 49 or more passing attempts in three of his last four outings, there's no reason to believe he won't come out gunning; despite going against a Denver D that surrenders less than 200 passing yards per game. With Carr back to 100% and the duo of Amari Cooper and Michael Crabtree on both of his flanks, the Raiders passing attack still seems like a sleeping giant ready to go off.
But the rain could force Oakland to the ground game where bruising back Marshawn Lynch will see the majority of carries over Deandre Washington and Jalen Rishard. All three backs are simply boom-or-bust fantasy plays, but a high ceiling this week with wind being a factor could make one of them a very sneaky play, especially Lynch who is only $4,000 in Draft Kings.
A loss for either Denver or Oakland this week basically would bring each of their respective seasons to a disappointing close. Well, not necessarily, but what more motivation does either of these two rivals need than to gloriously rain on the other's entire 2017 parade.