11-30-2017 16:00
Winter Wonderland is Buffalo Bound for Bills-Patriots' Snowy Showdown
by Will Strome, NFLWeather.com | 11-30-2017 16:00
Only the Buffalo Bills could manage to freeze out their starting quarterback, bring him back, and still somehow be in the thick of contention for a playoff spot. With a pivotal divisional matchup on the horizon against the seemingly unstoppable Patriots is a tall task but with the help of a cold front and flurries in the forecast, maybe Mother Nature can help the Bills pull off a desperately needed upset in the snow and keep their postseason hopes alive.
According to NFLWeather.com, snow flurries are possible for the 1pm EST kickoff at Orchard Park, NY inside New Era Field with light winds around 10mph. The thermometer may only show mid-30s but the wind chill will feel much more like the high-20s for the bundled up fans and players.
New England (9-2) has been an absolute juggernaut in the snow for a number of years now but the Pats are definitely beatable, though highly unlikely. New England did lose in Denver, 30-24, back in 2015 but prior to that loss to the Broncos the Pats won their previous two snowy road games by outscoring the opposition a ridiculous 70-10.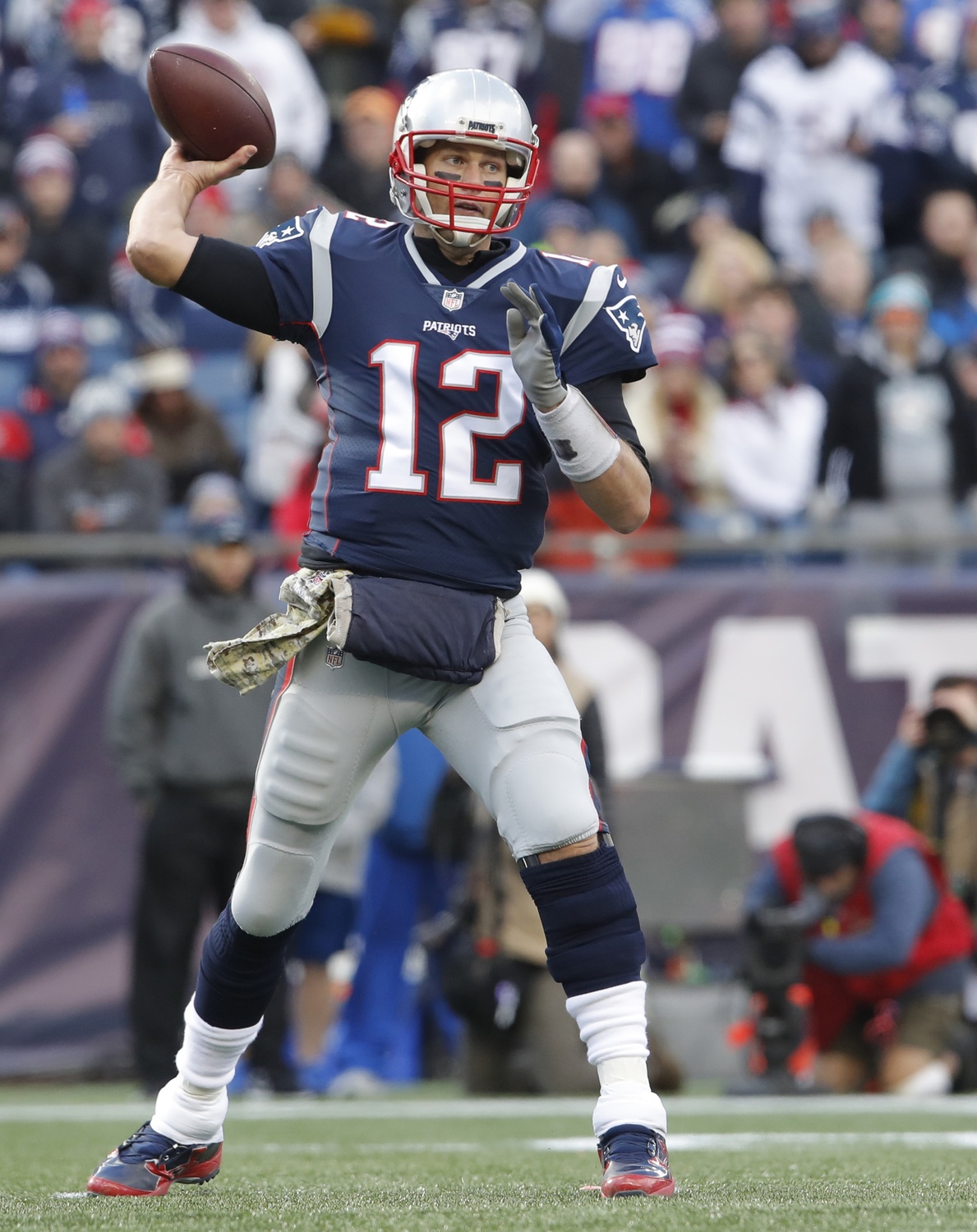 Tom Brady. Photo courtesy of USA Today.
Quarterback Tom Brady deserves much, but not all of the credit, for New England's terrific success in weather impacted match-ups. There's no question he'll be heavily targeting tight end Rob Gronkowski, especially if the weather worsens, but the weekly debate continues of which WR will step up as Brady's top target alongside Gronk and emerging superstar Brandin Cooks? Since Chris Hogan is listed as questionable, count on Danny Amendola to surprise fantasy owners against a secondary that surrenders over 240 passing yards per game.
Like the receiver situation, it's been tough to predict the lead dog in the Pats' crowded backfield. But USA Today's Steve Gardner believes Rex Burkhead is the top fantasy play lining up behind Tom Terrific. "He's getting consistent touches in the red zone," Gardner wrote. "Even though Dion Lewis is the primary ball carrier (for now), Burkhead's additional value in the passing game makes him the Patriots back to own in fantasy." Despite Lewis seeing double digit touches in six straight games, being $500 cheaper in Draft Kings makes Burkhead an attractive play in a game featuring crummy playing conditions.
On the opposing sideline, Gardner believes Zay Jones could be a sleeping giant in the Bills' passing attack. "It's taken awhile for Jones' role in the offense to expand, but injuries to Kelvin Benjamin and Jordan Matthews have led to an uptick in targets," Gardner said in his most recent article. "The rookie is coming off a career-high 10 targets and his second career touchdown." The rookie may see more targets, but bank on running back LeSean McCoy and tight end Charles Clay being the primary focal points of the Bills offense.
Jones will desperately need to provide some support to QB Tyrod Taylor who has seen his fair share of successes and failures in the falling snow. Last year in a 33-13 snowy win over Cleveland, Taylor completed 17 of 24 attempts for 174 yards and touchdown, while also adding 49 rushing yards from seven carries. Most importantly, Taylor avoided turning the ball over, something he couldn't do in a 27-20 loss to Pittsburgh in the snow in 2016. Taylor's only tossed three picks all season, but the shifty QB has fumbled on a number of occasions and simply can't afford to do so on Sunday.
Buffalo (6-5) this season has been about as unpredictable as the local weather. After dropping three straight to beatable opponents, the Bills stunned the Chiefs in Kansas City and are immediately back in the hunt for a postseason berth. According to NFLWeather.com Historical Analytics, the Bills are 2-3 in their five most recent snow games including 1-1 last season. If Buffalo can win the turnover and time of possession battle, maybe they'll have a chance this week.
The A-Turf surface in Buffalo has hosted plenty of great snow games over the years and here's to hoping we see another snowy classic. A win for the Bills might not exactly add them to the conversation of AFC East title contender, but a wildcard possibility would be just as likely to feature in the upcoming forecast as the inevitable upstate NY winter blizzards.