09-21-2016 21:00
FORECAST FOR PANTHERS vs VIKINGS GAME: CAROLINA BLUE SKIES AND MUD
by Will Strome, Columnist, NFLWeather.com | 09-21-2016 21:00
The weather is day by day in Charlotte for Sunday when the undefeated Minnesota Vikings when the defending NFC North champions battle both the southern storms and the reigning NFC titleholders, Carolina Panthers, in a crucial conference showdown. According to NFLWeather.com, clear skies are currently in the forecast for Sunday's game but that could easily change as Charlotte is expected to get pummeled with rain all week and who's to say that the drizzle won't linger around for another day with Tropical Storm Karl heading towards the southeastern coast.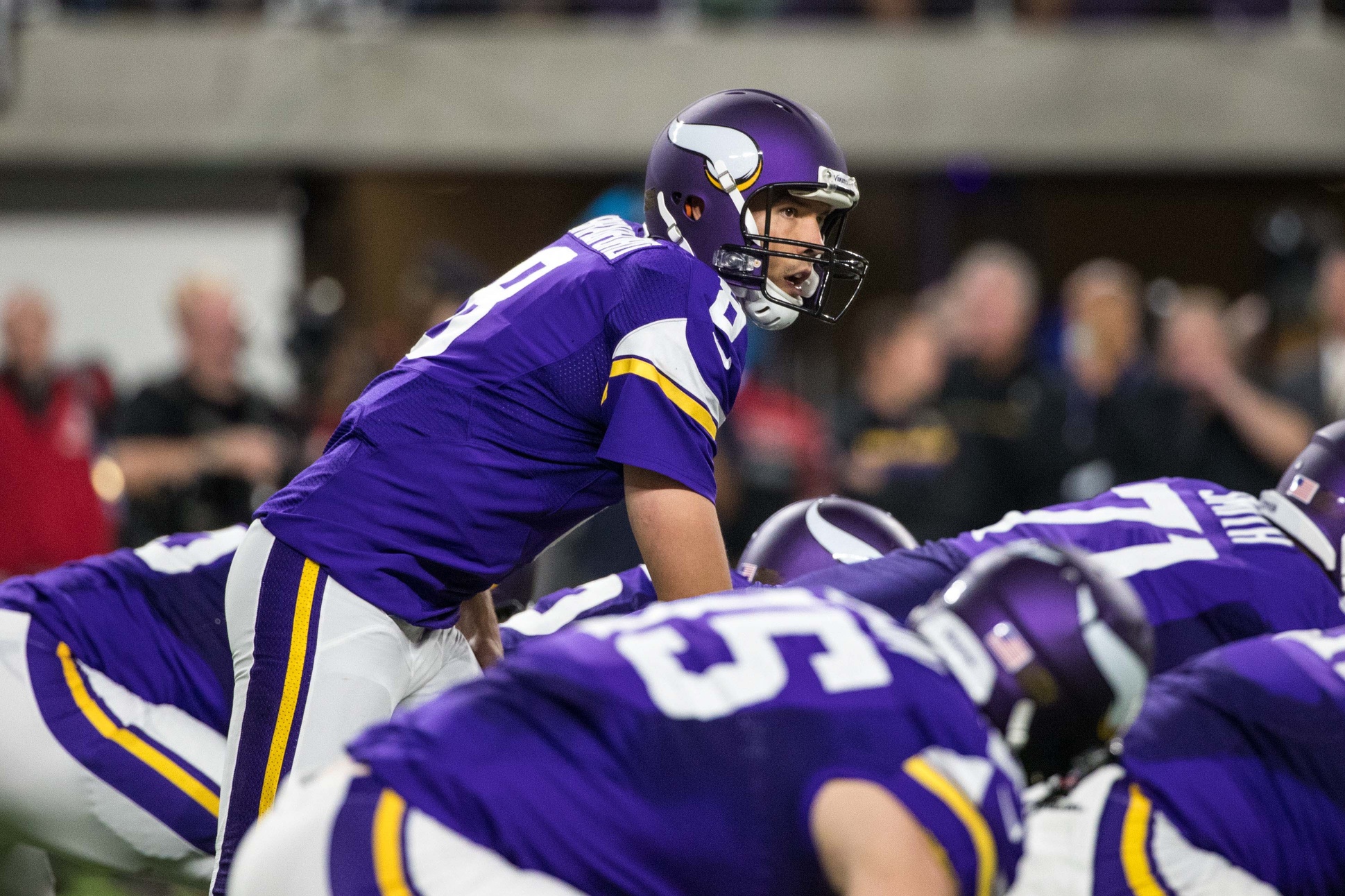 Sam Bradford. Photo courtesy of USA Today.
It doesn't help either side that the Panthers are now notorious for having a less than favorable field following last season's playoff run where both the visiting Seahawks and Cardinals had to change cleats midgame for better traction. The grass surface inside Bank of America Stadium will likely be covered by a tarp during the midweek rainfall but once it's removed for the game, we could see a surface similar to that of Pittsburgh's battered field from a week ago. Wind won't be much of an issue though and temperatures should be in the low-80's.
When it comes to rain games, Cam Newton is the real deal, having scored at least once in each of his six career outings while posting an impressive 5-1 record. But the former Heisman Trophy winner is prone to turning the ball over, also averaging at least one fumble or pick per weather-impacted game. He, alongside his running back committee of Fozzy Whittaker, Mike Tolbert and Cameron Artis-Payne, will need to keep a solid grip on a slippery pigskin as they fill in for injured veteran Jonathan Stewart who may miss time with a hamstring injury.
Carolina (1-1) is an extremely tough team to beat in crummy conditions, especially at home where they're 5-0 over the last five seasons. Defensively, it's hard to find a better team in weather impacted matchups than the Panthers who have surrendered 20 or more points only once since 2011, according to the NFLWeather.com Historical Analytics. Despite the departure of Josh Norman, the Panthers D is seventh-best in the NFL, allowing just over 300 total yards per game and will need a lights out performance to avoid a 1-2 start.
The Vikings (2-0) have a pretty stout defensive unit as well, holding the opposition to less than 290 ypg is currently fifth-best in the league. But, all eyes are on an offense that will be without their most coveted weapon, Adrian Peterson. Jerick Mckinnon is expected to get the bulk of the carries in AP's absence with Matt Asiato sprinkled in as well. Both backs will not only have the opportunity to capitalize on a rare opportunity to start and carry the workload, but they'll also need to take the pressure off a quarterback making only his second start for his new team while having to endure the elements.
Sam Bradford, who shined in his domed debut last weekend against Green Bay, has minimal professional experience in rain games. His last was back in 2012 where Bradford went 22-of-30 for 205 yards with both a touchdown and a pick in a crushing loss to New England. Expect tight end Kyle Rudolph to be Bradford's security blanket in the red zone and go-to option but if Minnesota's talented young wide-outs Stefon Diggs and Laquon Treadwell fail to create some havoc in the secondary, the Vikings will continue to struggle in poor weather games where they currently post a 4-8 rain record since 2011. Vikings fans will continue to reminisce about Bud Grant, Fran Tarkenton, Ahmad Rashad, the Purple People Eaters and the good ole' days before the dome.