08-26-2015 16:00
NFLWeather's Pre-season Rookie Quarterback Review
by Will Strome, Columnist, NFLWeather.com | 08-26-2015 16:00
Half way through the NFL pre-season, the rosters are slowly taking shape as teams trim down the rosters to 53. So, how are the rookie quarterbacks performing?
Two weeks ago, NFLWeather.com broke down the top five rookie QBs who could have lined-up under center in week one. Let's review how all five newbies held up through their first two exhibition games and in some of the best weather conditions they will see all year.
After a rocky debut against Minnesota, the former Florida State Seminole shined on Monday Night Football against Cincinnati, despite limping off the field in the second quarter. Removing Winston was merely precautionary so no need for Bucs' fans to fret or fantasy footballers to alter their draft picks.
In pre-season game #1, the Vikings, downed Tampa Bay 26-16. Winston played the entire first half but struggled at times despite throwing for 131 yards. He fumbled two snaps, resulting in -19 yards, and tossed a pick. But the difference was night and day in Tampa's 25-11 victory over the Bengals where Winston completed 8-of-13 attempts for 90 yards and a rushing touchdown. The first overall draft pick showcased his velocity, strength and pocket awareness that helped him flourish at the college-level.
Marcus Mariota
Like Winston, the former Heisman Trophy winner was shaky in his first start but exceptional in his second. Mariota struggled against Atlanta who picked off the rookie early in the first quarter and forced a fumble that was returned for a TD on the very next series. The former Oregon Duck rebounded nicely, though, completing 7-of-8 attempts for 94 yards and orchestrating a touchdown drive following the turnovers.
Following his first game jitters, Mariota showed his poise against one of the toughest front sevens in the NFL, the St. Louis Rams. Mariota completed 5-of-8 attempts for 59 yards and would have thrown a touchdown had Dexter McCluster not dropped an easy ball in the end zone. But the real story was after the second play from scrimmage when Mariota's headset malfunctioned. The rookie QB had to sprint to the sideline to communicate with coaches after every snap.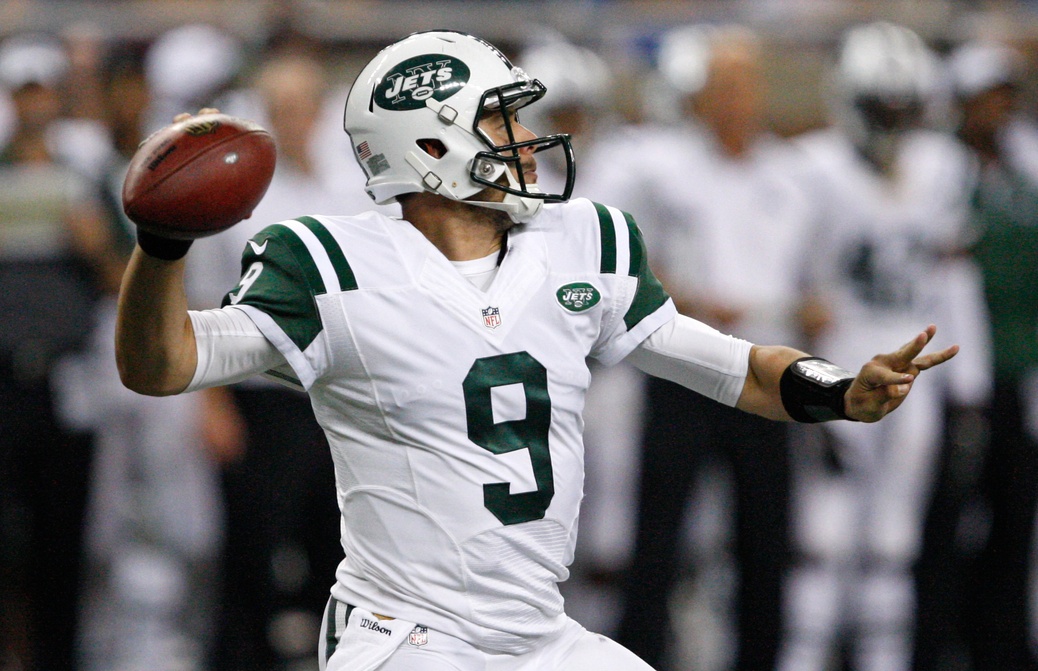 Bryce Petty. Photo courtesy of USA Today
Bryce Petty
Geno Smith is out. Matt Flynn iss out. Ryan Fitzpatrick is expected to be the week one starter but Bryce Petty is still very much in the mix. If the rookie QB can continue to impress the coaching staff, he should be in the discussion to start. The kid is a proven winner and that's something that's been noticeably lacking in the Jets organization for quite some time.
In order to ensure Fitzpatrick will be healthy week one, the Jets have been limiting his Harvard's snaps, allowing the former Baylor gunslinger has reaped the benefits. Thus far, Petty is 22-for-37 for 218 yards, one TD and zero picks in two games. Petty set the tone in New York's 30-22 win over the Falcons by driving downfield in the opening series for a 10-play 51-yard drive to set up a field goal.
Sean Mannion
There's a quarterback controversy in St. Louis but it doesn't seem to include Sean Mannion. The record-setting Oregon State QB looks to be a lock for the third string spot while veterans Case Keenum and Austin Davis battle to be Nick Foles' backup. But based on Mannion's preseason performances, most would think he should 2nd string.
During the Rams' dismal offensive performance in the 18-3 loss to Oakland, Mannion had a mediocre performance, going 8-of-13 for 53 yards. But his second start raised some eyebrows after a 27-14 victory over Tennessee. The former Beaver had a passer rating of 158.3 after completing 6-of-7 passes for 93-yards including a 54-yard TD strike to Malcolm Brown. Look for Mannion to move up the depth chart mid-season.
Brett Hundley
Green Bay suffered a massive blow to their passing game with the loss of Jordy Nelson for the season. But, that won't affect Brett Hundley who will be the designated clipboard holder for the Packers this season.
Scott Tolzien will likely be Aaron Rodgers' backup with Hundley pegged to ride the pine. In two games, the former UCLA stud completed 7-of-11 attempts for 79 yards including a 10-yard touchdown pass to John Crocket in a 22-11 win over the defending Super Bowl New England Patriots. Then again, Belichick doesn't actually try to win the pre-season games. Get all of this week's live forecasts at NFLWeather.com.