10-14-2016 16:00
NFL RAPTOR ROUND-UP FALCONS AT SEAHAWKS
by Will Strome, Columnist, NFLWeather.com | 10-14-2016 16:00
With fall comes foliage for most of the country. But in the Pacific Northwest, the seemingly endless rainy season is about to begin and just in time for a pivotal NFC showdown and potential playoff bout when the soaring Atlanta Falcons visit the Seattle Seahawks on Sunday.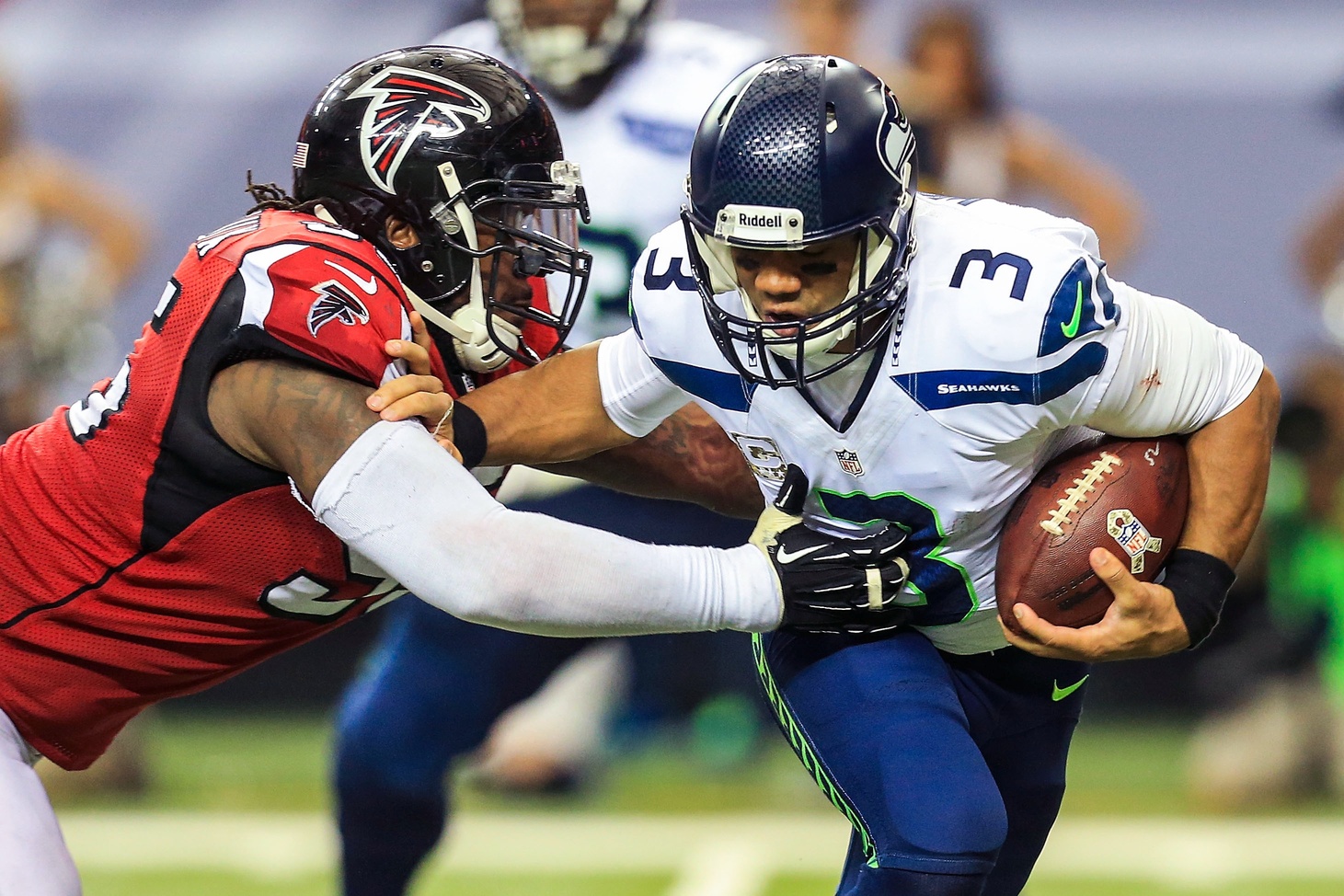 Russell Wilson. Photo courtesy of USA Today.
According to NFLWeather.com, rain is likely to hit Seattle hard on Thursday and isn't expected to let up until the middle of next week. Temperatures will be in the mid-50's come kickoff but a chilly 14-15 mph wind could play a factor for both teams' passing and kicking games. Falcons head coach Dan Quinn, former defensive coordinator for Seattle, is well aware of how the elements will impact his new indoor side.
As you would expect, the Seahawks (3-1) have played in the most weather impacted matchups in the league since 2009 and post an impressive 9-2 record at home. According to the NFLWeather.com Historical Analytics, the Seattle offense averages over 30 points per game in the rain while the notoriously stingy defense only surrenders 15 per game. Seems next to impossible to storm into Seattle and pull out a win in crummy conditions, but the Rams did just that last season, something that hasn't been done to the 'Hawks at home since 2011.
Coming off a bye week, Russell Wilson and company have had plenty of time to prep for Atlanta's high-octane aerial attacked. But Wilson himself needs to be the smarter of the two elite QB's and avoid turnovers at all costs. In 12 career weather impacted matchups, Wilson has tossed ten picks and coughed up four fumbles. That won't fly during Sunday's downpour so the running game will need to be established early against a Falcons D that allows roughly 100 rushing yards per game. Christine Michael will carry the workload but Alex Collins and newly-acquired CJ Spiller may chip in with a handful of carries.
The Falcons (4-1), a dome team, haven't fared very well in the rain with a 2-3 record since '09. But quarterback Matt Ryan has put up impressive numbers in rain games on the road. In five career weather impacted matchups, Ryan has a 68% completion percentage, has a touchdown-to-interception ratio of 10:2 and averages almost 240 passing yards per game. For an indoor QB, the former Boston College gunslinger has been a bright spot for Atlanta on ugly days.
But if the offense expects to rely solely on Ryan and the unstoppable Julio Jones against Seattle's immovable front seven, they're destined for a loss. Despite the Seahawks' defense allowing only 80 rushing yards per game and swirling wind in Sunday's forecast, Tevin Coleman and Devonta Freeman will need to grind out tough yards against the Legion of Boom. If Atlanta can get Seattle to respect the running game, the play action might create a few big play opportunities for Mohamed Sanu or tight end Jacob Tamme, pending the wind will allow it.
With the high-scoring offense that they do, it wouldn't be a huge shocker if Atlanta pulled out the win but it would still be an upset nonetheless. Last week, not many fans thought the Falcons could fly into Denver and pull out the win that they did. Maybe Atlanta can rain on another home team's parade for the second consecutive week.