02-04-2016 16:00
PEYTON MANNING's LAST STAND and the WEATHER FORECAST for SUPERBOWL 50
por Will Strome, Columnist, NFLWeather.com | 02-04-2016 16:00
It's the most celebrated sporting event in America and for only the 5th time in its 50 year history, the Super Bowl may be marred by rain. Levi Stadium in Santa Clara is located on San Francisco Bay, not far from the Santa Cruz Mountains and the southern tip of the Pacific NorthWest Rain Forest.
According to NFLWeather.com, partly cloudy skies are expected to be hovering over Levi's Stadium with temperatures in the mid-60s come kickoff. But, Bay Area locals are well aware of just how unpredictable Mother Nature can be this time of year, especially with El Niño lingering offshore. Inconsistent scattered showers have been off and on over the last few weeks which could cause problems for the stadium's most recent addition, a Bermuda grass hybrid surface.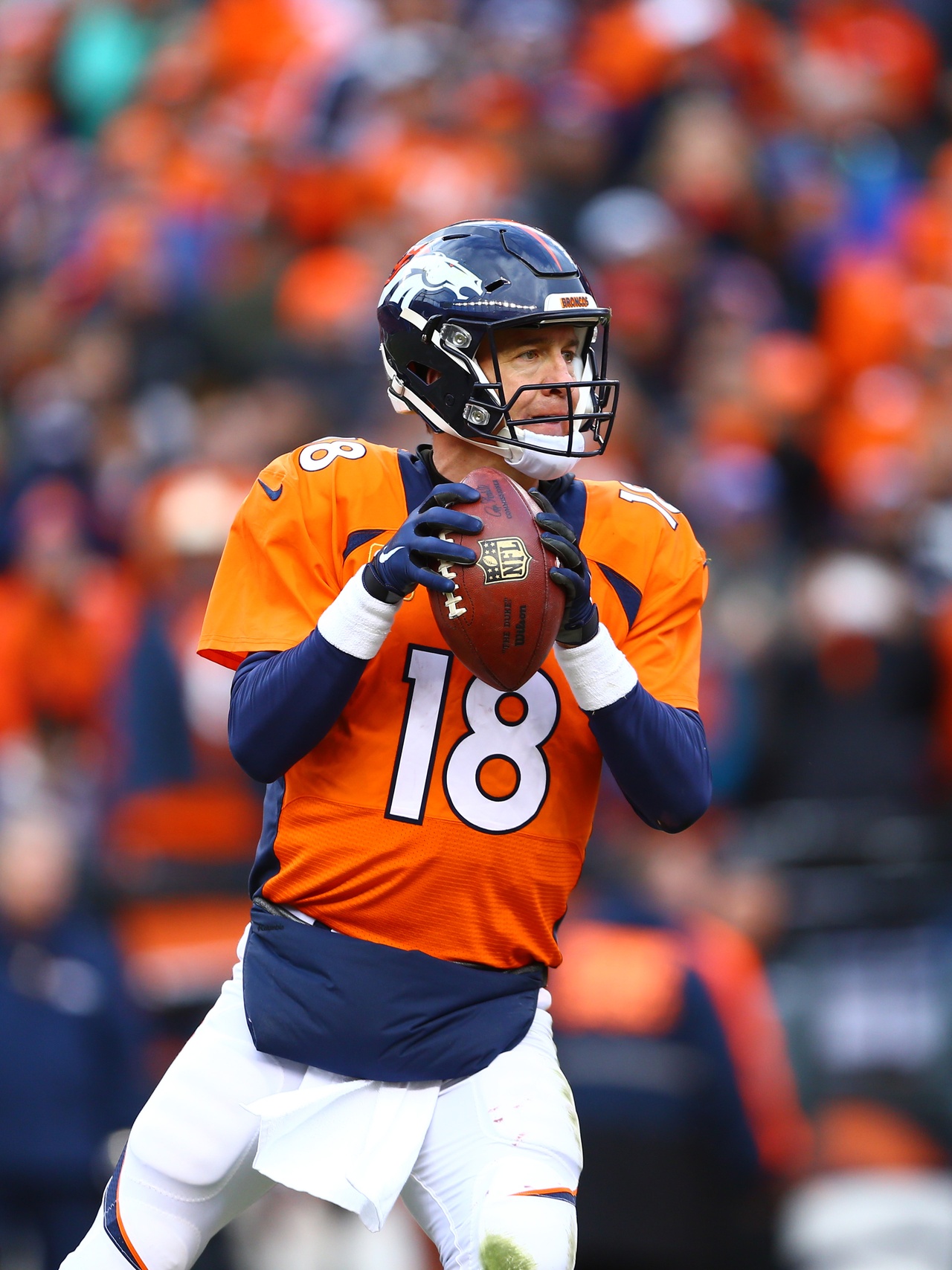 Peyton Manning. Photo courtesy of USA Today.
Since the stadium opened in 2014, Levi's Stadium has yet to host a rain game but players and coaches have been moaning about the awful playing surface since day one. However, the surface on Super Bowl Sunday will not be the same sod used during the regular season. In fact, the league replaces the playing surface each time the big game is played on natural grass, according to an ESPN report.
Weather has been a factor in only a limited number of Super Bowl matchups but none more memorable than in 2007 when the endless rain poured on the Indianapolis Colts and Chicago Bears in Miami, FL. Ironically, this muddy matchup was the single game that ensured Peyton Manning's legacy amongst the league's most elite quarterbacks following his gutsy performance in a downpour.
Since joining Denver, Manning is 3-1 in rain games and averages just fewer than three passing touchdowns per game with a completion percentage of over 70%. A rainy day doesn't seem to have an impact on the Broncos offensive play calling with Manning dropping back over 33 times and racking up over 250 yards on average each outing. He's throwing fewer long balls and more short out patterns these days, a combination that Bill Belichick and Tom Brady have near perfected in any weather.
According to NFLWeather.com Historical Analytics, Denver is 3-0 in rain games when Manning avoids throwing an interception. Not that a turnover will cost Manning and the Broncos a championship, having tossed a pick in Super Bowl XLI and still managed to down the Bears, 29-17, and return to Indianapolis with both the Lombardi trophy and the Super Bowl MVP honor.
Like Manning's passing stats, his receiver's production hasn't been deterred by the elements either. Over the last two seasons, Demaryius Thomas averages over 12 targets in the rain with Emmanuel Sanders targeted over 10 times per game. Whether it's a drizzle or a downpour, Thomas and Sanders will be relied upon heavily to alleviate the pressure on Denver's rushing attack.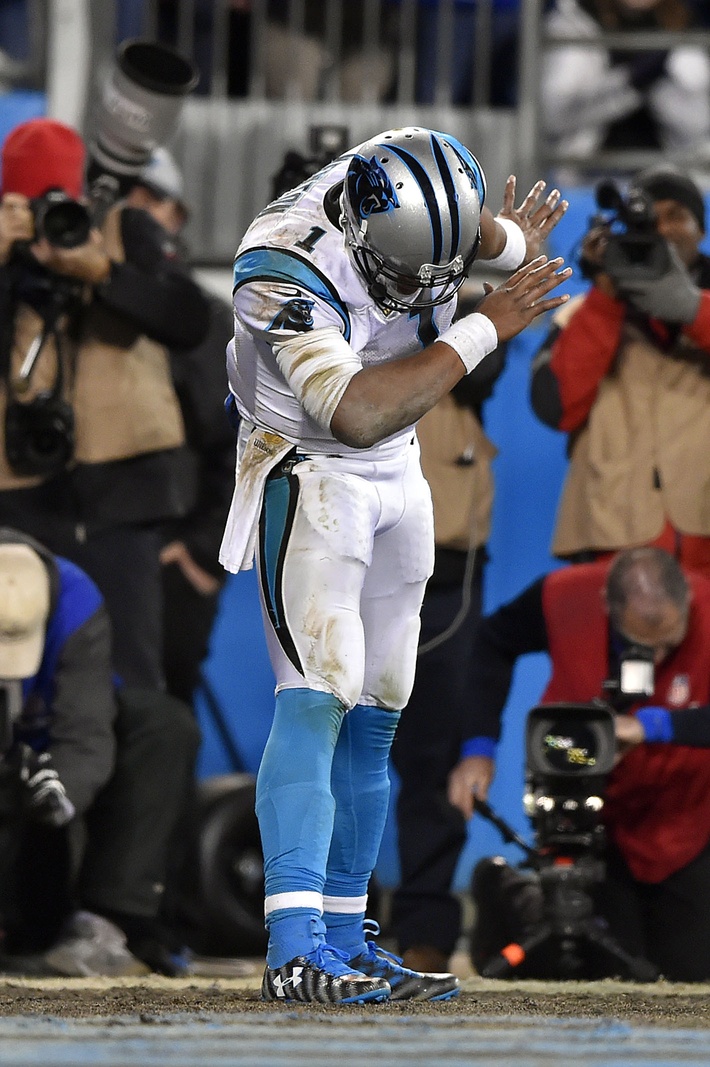 Cam Newton. Photo courtesy of USA Today.
Even though the Broncos pass extremely well in the rain, the team's zone blocking scheme creates glaring issues for the opposing defense as well. In the rain, Denver running backs average over 30 touches and well over 130 yards per game. Since 2012, the RBs have found the end zone eight times in six games. CJ Anderson, who rushed for 113 yards on 15 carries and two scores against New England in the snow, will be the lead back with Ronnie Hillman receiving a handful of touches as well.
Offensively in the rain, the Carolina Panthers don't quite put up the impressive numbers as Denver does (Denver averages 29.6 while Carolina averages 18.5) but the defense more than makes up for it. The Panthers surrender just over 17 points per game in the rain and have allowed 20 or more only once since 2011.
But against Denver's solid front seven, Carolina will need Cam Newton to give them a Superman-like performance if they want the Super Bowl trophy. In Newton's most recent weather related matchup, the former Heisman winner bounced back from two turnovers and responded by completing 16-of-35 attempts for 248 yards and two scores en route to a 29-26 overtime win over the Colts.
Over the course of his six career weather-impacted professional outings, Newton is 5-1 and found the end zone in every rain game. However, in those six matchups Newton turned the ball over eight times, five of which were interceptions.
Surprisingly when the weather gets ugly, Newton doesn't tuck any more often than he usually does. This season he averaged over eight carries a game but since his rookie season, Newton tallies roughly six carries a game in the rain. Not that the Panthers will need production from Newton on the ground, having the league's top rushing attack averaging 148ypg, but it wouldn't hurt and will definitely force Denver to respect the run and play eight in the box at all times.
The lead dog responsible for Carolina's unstoppable ground game all season has been veteran Jonathan Stewart. Despite racking up only three 100-yard performances all season, he'll be relied upon heavily if a torrential downpour hits the Bay.
Another key component for Carolina is Newton's security blanket, tight end Greg Olsen. In rain games, Olsen averages nine targets a game and hauls in over five. This matchup could be crucial since Denver is notorious for allowing tight ends to put up solid offensive numbers in the rain. In six rain games, while opposing tight ends get targeted almost 10 times per matchup, the Denver defense has surrendered five touchdowns.
It's too easy to assume that rain forces teams to hone in on the ground game and abandon the passing attack. If winds kick up, that could be the case. But don't expect that a little rain will slow down these two high octane offenses. It's a given that defenders will slip and passes will be dropped, but don't think for a second that the tenacity and passion we've seen in previous Super Bowls will be compromised.
This damp Super Bowl will end one of two ways. We'll either see a fairytale ending for arguably the greatest QB in NFL history, or we'll witness a changing of the guard from the successful and wily veteran to the exciting young maverick. Either way, it's going to rain on someone's Super Bowl parade, come Sunday night.