11-12-2016 12:00
Semana 10 Sientalos / Juegalos
por Will Strome and Matt Aloisi | 11-12-2016 12:00
Quarterbacks
Start 'em: Eli Manning, Jameis Winston
Manning has an average low total point at home this year of 16 in fantasy. Cincinnati is exploitable in the secondary where they do not have a person that can cover OBJ 1-on-1. Look for Eli to perform well in this spot.
The former Heisman Trophy winner might not be able to carry a fantasy team on his own, but he's a formidable backup when your #1 QB is unavailable. With players like Luck, Stafford, and Carr on a bye, Winston is a solid waiver wire grab.
Sit 'em: Ryan Tannehill, Jay Cutler
A week after recommending Tannehill, I believe to you should stay away this week. If he can't even perform well at home against the Jets secondary, what do you expect from him in week ten? Quite frankly, he is just not that good.
As mentioned above, there is a trio of top QB's on a bye this week and while free agents like Winston might be available to pick up, Jay Cutler isn't. Steer clear of this fading veteran.
Running Backs
Start 'em: Paul Perkins, DeVontae Booker
Last week, Perkins split carries with Rashad Jennings and was easily more effective. With the coaches talking about getting him more involved, I could easily envision 15 touches at least. He's a decent flex fill in during the bye week for some solid teams.
Once CJ Anderson went down, few people saw what John Fox saw in Booker. Against a high-octane New Orleans offense in the dome, the Broncos need balance and eating up the clock while Brees is on the sidelines is a recipe for victory against the Saints.
Sit 'em: Spencer Ware, Christine Michael
Kind of a crazy call but I could totally see Carolina stacking the box and making Alex Smith throw it here. Now that Ware is coming back from a concussion, will they give him the majority of the touches? I might not want to take a chance here.
He's been a workhorse all season but against New England's stout front seven with a banged up o-line, Michael will struggle to find seems between the tackles. Not to mention, there's a good chance they'll be playing catchup against Tom Terrific.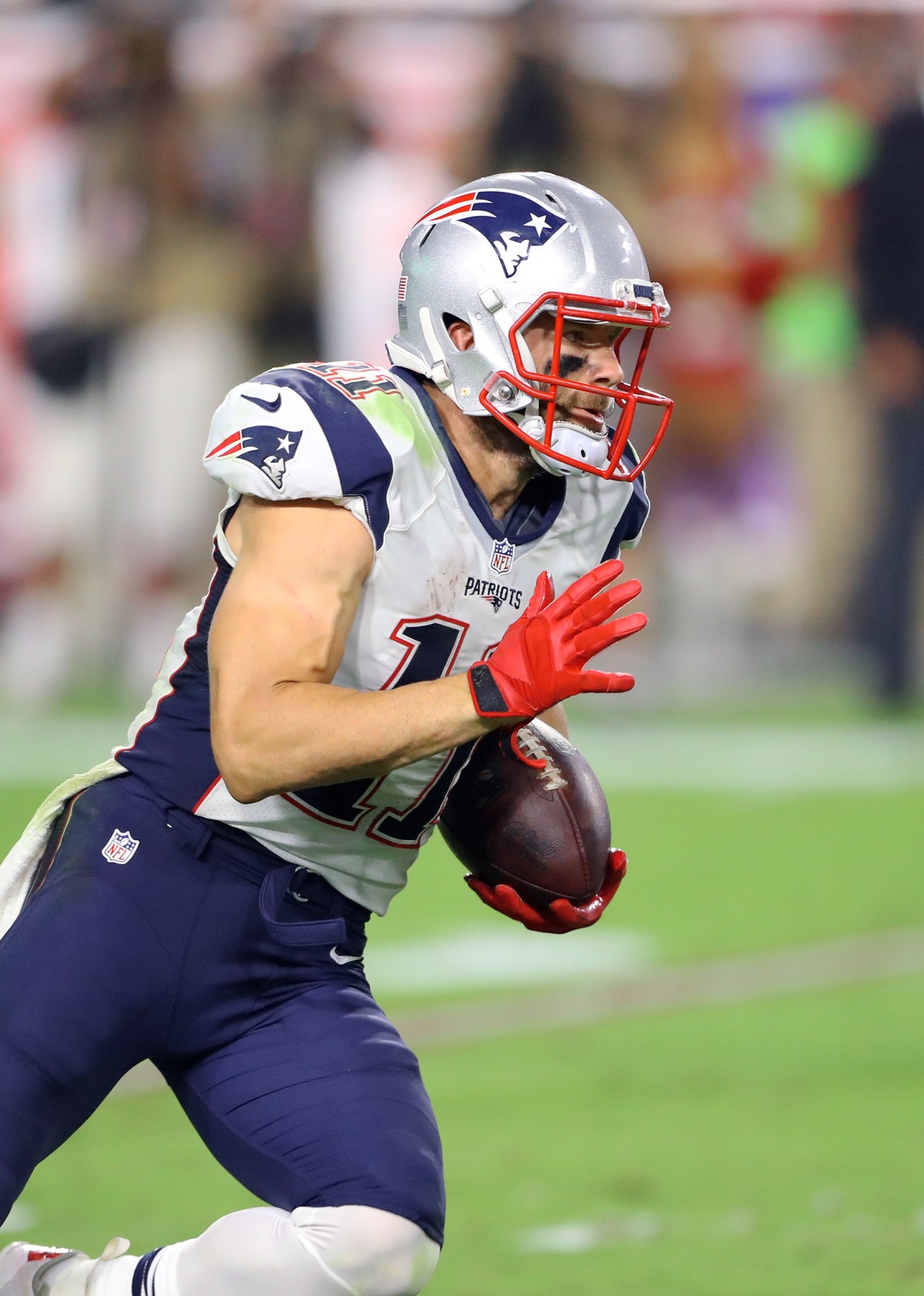 Julian Edelman. Photo courtesy of USA Today.
Wide Receivers
Start 'em: Julian Edelman, Alshon Jeffery
Speaking of Brady, Tom is not going to have all the time in the world here. Shorter routes and quicker plays will allow Edelman to be that guy for the Pats. Ten targets here is not out of the question.
Boy, we've really been hating on this guy for the last couple of weeks. But against Tampa's secondary and weather a nonfactor, I'm not saying Cutler will have great day but Jeffery might put up the 100-yard receiving numbers we've come to expect.
Sit 'em: DeAndre Hopkins, John Brown
I know since you drafted him so high he is a must start. Eh, I just can't expect much here. Jalen Ramsey is only a rookie but has been pretty affective shadowing team's #1 receiver. Please also let me remind you the Brock-star is just flat out wet sand for his offensive weapons.
This guy is plummeting down the depth chart. Even against the 49er's atrocious defense, John Brown is a must sit. Honestly, cut him loose for a waiver wire wideout with a higher ceiling.
Tight Ends
Start 'em: Delanie Walker, Zach Miller
In a shootout, every player is in play in the Tennessee offense but especially Walker. He is Mariota's favorite target and his floor will be very high in this one.
Miller is still seeing plenty of targets week in and week out and Tampa is notorious for surrendering TD's to TE's. Play him.
Sit 'em: Travis Kelce, Kyle Rudolph
Going out on a limb here but I believe this game will be very slow paced and I see limited opportunities for Kelce.  Maybe look elsewhere.
Rudolph has become the quintessential touchdown dependent tight end but it's doubtful he'll snag one here. Sit the big man.