12-02-2016 00:00
Juegalos / Sientalos Semana 13
por Will Strome and Matt Aloisi | 12-02-2016 00:00
Quarterbacks
Start 'em: Phillip Rivers, Colin Kaepernick
Tampa has been above average against the run this year and I see them forcing San Diego to thrown a ton in a potential shootout.  He has a high floor this Sunday, have no fear.
Kaep looked like his old self last week against a decent Miami defense that allowed him to rack up over 110 yards rushing on top of his 296 through the air. With rain in Chicago's forecast, Kaep could end up with 10+ carries.
Sit 'em: Ryan Tannehill, Trevor Siemian
Baltimore is going to force Tannehill to throw the ball rather than letting the Dolphins run on them. I do not see him winning you any match ups this week.
Jacksonville's D has eight sacks in the last two weeks and Denver's o-line is looking shaky. With drizzle expected on Sunday, Siemian might not be taking as many deep shots down field as he normally does.
Running Backs
Start 'em: Matt Forte, Jordan Howard
Simply put, Indianapolis just flat out stinks on defense this season. I can see Forte getting into the endzone this week and adding a few catches as well.
Even though SF held Miami to under 100 yards rushing last week, the Niners D has seen three teams rack up over 240 yards on the ground already this season. With Barkley under center in Chicago, Howard might end up seeing 30+ touches in the rain.
Sit 'em: Frank Gore, Jonathan Stewart
The Jets have a stout front seven that should eat the Colts' line alive. I do not anticipate Gore going off in this spot.
Stewart is a tough guy to sit because he dominates all the carries in Carolina but the Panthers will struggle mightily against Seattle's stout rushing defense in the rain. If J-Stew couldn't produce against LA's tough front seven, expect similar disappointing results against the Seahawks.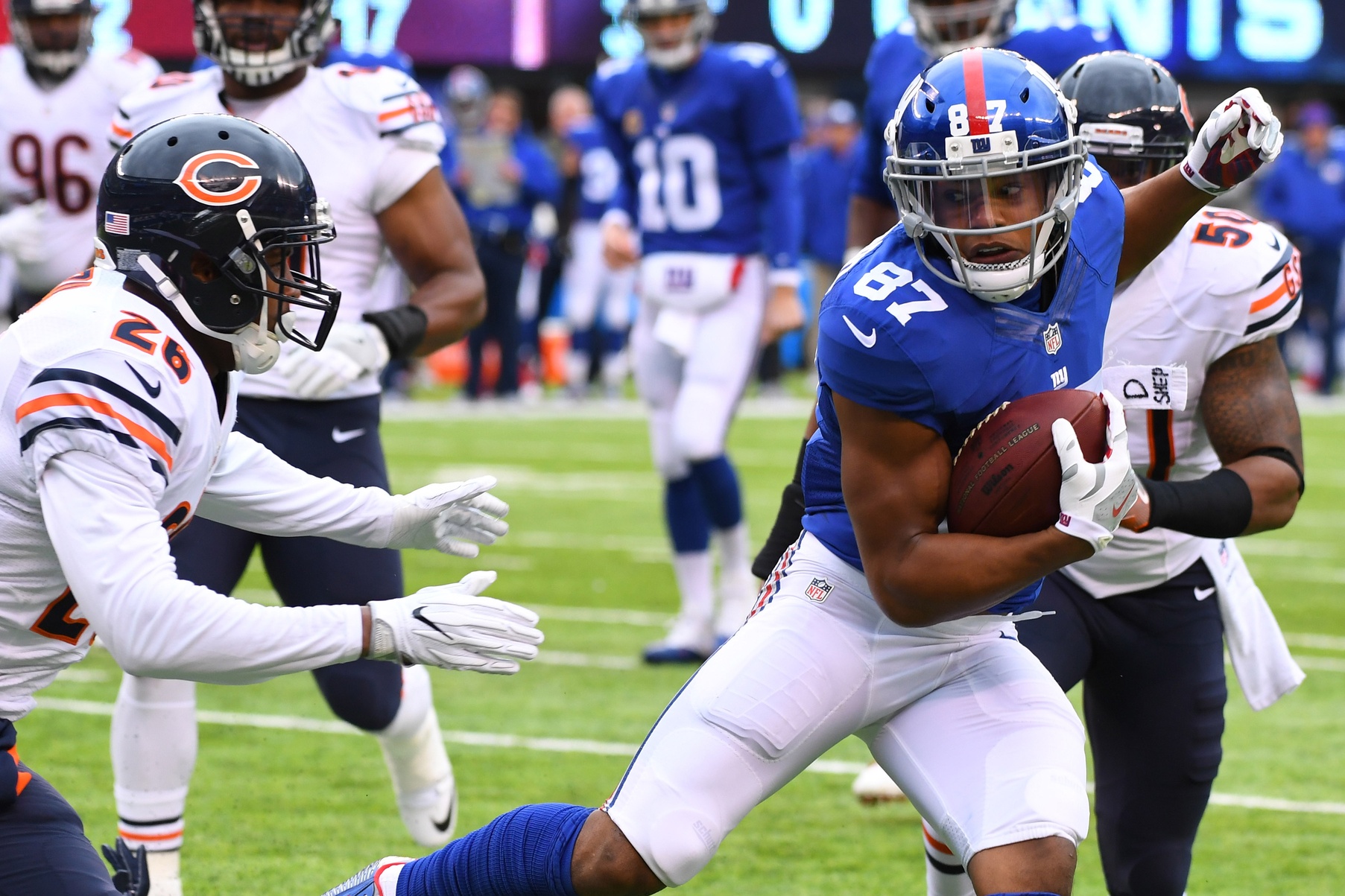 Sterling Shepard. Photo courtesy of USA Today.
Wide Receivers
Start 'em: Emmanuel Sanders, Sterling Shepard
Sanders has seen double digit targets in three of the last four weeks. Look for plenty of the same here against Jacksonville.
It's no secret that Pittsburgh's secondary is mediocre at best and regularly get lit up against strong passing teams like the Giants. Despite the crummy conditions, Shepard will see a ton of targets with safeties keeping tabs on Odell Beckham Jr. all afternoon.
Sit 'em: Jarvis Landry, Kelvin Benjamin
With one touchdown all season and seeing less targets than last year means Landry's upside is limited.  Find someone else because there's a good chance you will be disappointed by this play.
Like J-Stew, another tough playmaker to sit from Carolina's offense but as USA Today's Steve Gardner mentioned last week that the power of Richard Sherman is one to be feared as he allows a league-low 59.1 passer rating heading into week 12. There are better options in better weather games than Benjamin this week.
Tight Ends
Start 'em: Cameron Brate, CJ Fiedorowicz
Behind Mike Evans, Brate is the top receiving threat in Tampa's passing attack. With clear skies in San Diego's forecast, Winston will be airing it out early and often against the Charger's swiss cheese D.
Houston will be down in this game and will have to pass a ton.  Since Week five, CJ has not seen less than six targets. I like him a lot here..
Sit 'em: Julius Thomas, Jack Doyle
Thomas is banged up and only saw five targets last week at Detroit who's terrible against defending TE's. Even if he suits up, he won't be much of a factor against a solid Denver D.
With Allen back and the Jets pretty fair against the tight end, I see this play as a recipe for disaster. Anyone but Doyle will do.