12-17-2016 11:00
Juegalos / Sientalos Semana 15
por Will Strome and Matt Aloisi | 12-17-2016 11:00
Quarterbacks
Start 'em: Alex Smith, Tyrod Taylor
With the Tennessee defense playing pretty well against the run, I can see Smith doing pretty well here. Kelce has virtually been unstoppable and with Tyreek Hill's big play ability, I see the KC QB playing above average Sunday with clear skies expected.
Snow and/or fog will hit Buffalo on Sunday but Taylor showed last week against Pittsburgh he can handle the winter elements. Against Cleveland's awful defense, he'll have an absolute field day.
Sit 'em: Marcus Mariota, Matthew Stafford
Arrowhead is a tough place to play. The Chiefs did a fantastic job shutting down Carr and with 1st place on the line for the AFC West, plan on seeing more of the same. Mariota has been pretty good this season but I also believe the matchup between the Titans receivers and Chiefs defensive backs favor KC.
Stafford claims his finger is fine but if the Giants' D gets to him early and often, the entire Detroit offense will struggle. It also doesn't help his stock this week that rain is in the Sunday forecast.
Running Backs
Start 'em: Rashard Jennings, Kenneth Farrow
Players have come and gone in the New York backfield this season but Jennings continues to assert himself as the top dog. Rain will be relentless on Sunday so expect Jennings to see an increase in touches.
With Melvin Gordon doubtful, as USA Today's Steve Gardner mentioned in his fantasy injury report this week, Farrow is slated to see most of the touches for the Chargers. Against an Oakland D, the floor is pretty high here. He also caught balls out of the backfield so I love his chances for a score in this one.
Sit 'em: Jay Ajayi, all Philly RB's
I have been wrong every time I've mentioned to sit him. But this time, the Jets should been loading up the box since Miami is rolling out their backup QB, forcing Miami to throw the ball. This is one of the plays that will make or break your playoff dreams.
Despite rain expected in Baltimore which will likely result in more carries for Eagle's running backs, none of them are worth playing. Ryan Matthews still isn't 100%, Darren Sproles is going through concussion protocol and Kenjon Barner hasn't done anything to prove himself. Move along.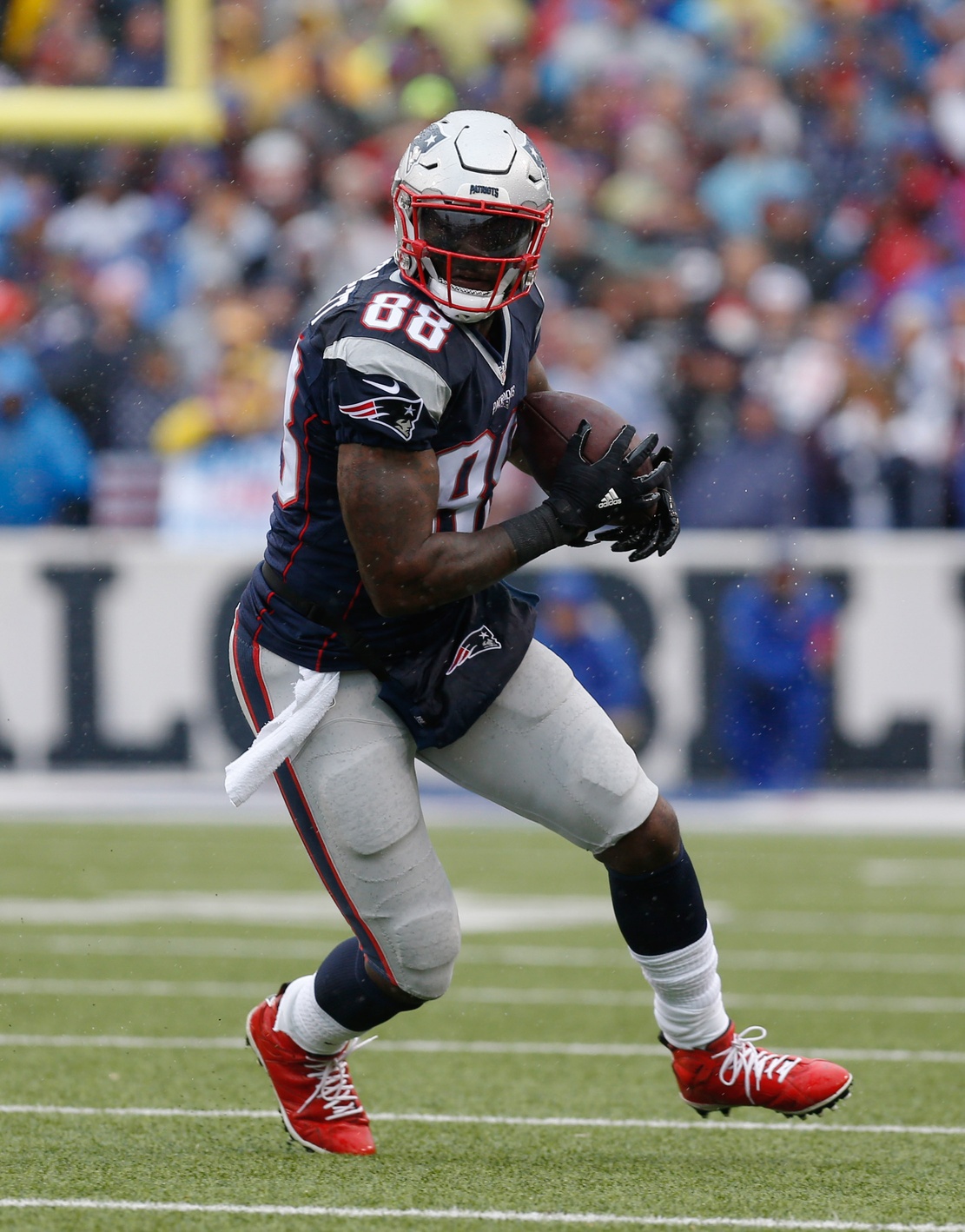 Martellus Bennett. Photo courtesy of USA Today.
Wide Receivers
Start 'em: Sammy Watkins, Robby Anderson
Forget the snow and his questionable tag; Taylor will be eyeing Watkins all afternoon.
Robby Anderson has seen 23 targets in the last 2 weeks. It's quite clear he and Petty have a connection. Anderson has really come on as of late for the Jets and why wouldn't he be able to do it again against a Miami secondary that is very exploitable?
Sit 'em: Jordan Matthews, Terrelle Pryor
Philly's offense can't seem to figure it out and rain won't help. The Ravens are back home and playing much better against the pass. I do not like Matthews' chances to score which makes him a liability for your championship run.
He's been the lone bright spot for the Browns all season but Pryor isn't a wise play again the Bills. Snow will be a factor on Sunday and the Cleveland offense has struggled mightily to get him involved the last few weeks.
Tight Ends
Start 'em: Antonio Gates, Martellus Bennett
With Gates approaching Tony Gonzalez's touchdown record, what better way to do it against one of your rivals? Oakland can't guard the tight end so look for SD to get him this record on Sunday.
Bennett is back and we saw last week that New England can rack up the passing stats, even if they hold off to do so until the second half. Bennett will be targeted heavily against Denver's solid D.
Sit 'em: Zach Ertz, Eric Ebron
See a trend here? I do not like Philly's passing game for so many reasons. Wentz will be running for his life and he will not have the time to throw to anybody. Sit this man!
If Stafford is healthy, Ebron is a great play. But if the Detroit game plan is to protect a banged up Stafford, Ebron could be used for pass protection more than usual.